5 Reasons Bill and Ted's Bogus Journey Is Too Rotten to Miss
Have an excellent time with Bill & Ted's Bogus Journey tonight at 8P during IFC's Rotten Fridays.
Posted by Brian Steele on
Photo Credit: Orion Pictures/Everett Collection
We live in an age of unimaginative sequels. Filmmakers know the easiest way to cash in is to trot out the same plot and characters and hope we don't notice. Which is why what we need now more than ever is Bill & Ted's Bogus Journey, airing tonight at 8P as part of IFC's Rotten Fridays.
Sure, the 1991 sequel to Bill & Ted's Excellent Adventure (coincidentally airing on IFC tonight at 6P before Bogus Journey) scored a meager 54% on the Rotten Tomatoes. (Even before the "Tomatometer" was a thing, Bogus Journey was the definition of a lackluster sequel.) But its mix of head-scratching craziness (Robots! Aliens! William Sadler as Death!) and solid gags ("You sunk my Battleship!") have earned the flick a cult following among fans of oddball sequels. Before you tune in tonight, check out some reasons why Bill & Ted's Bogus Journey earns the coveted title of being one of IFC and Rotten Tomatoes' movies that are "too rotten to miss."
5. It's Visually Most Triumphant.

Orion Pictures
The first movie may be a classic, but there's no doubt the look of this scorned sequel took things to a whole other level. Instead of resting on Excellent Adventure's laurels, new director Peter Hewitt decided to go for broke creatively, offering up a vivid visual style that highlighted the film's themes of life, death, failure and regret. While it may not be the popular opinion, there's no doubt that as pure eye candy Bogus blew the first flick out of the water. Just ask Michael Wilmington, who wrote in the Los Angeles Times that "Bogus Journey is better than the original: more imaginative, more opulent, wilder and freer, more excitingly visualized." Righteous review, dude!
---
4. Evil Bill and Ted Robots? Excellent!

Orion Pictures/Everett Collection
Bill and Ted have to be two of the most loveable doofuses to ever grace the silver screen, so it shouldn't come as a shock that seeing them go full-on bad guy is a real treat. The evil robot clones of Bill and Ted still have their sleepy-eyed, stoner outlook on life — they just also happen to be bad to the bone. This fun twist brings new life to the franchise, another example of how screenwriters Chris Matheson and Ed Solomon really mixed things up. Plus, they rock!
---
3. Bill and Ted Go To Hell. Outstanding!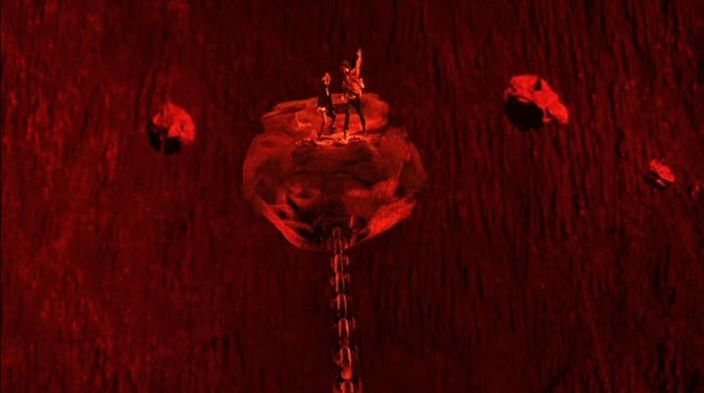 Orion Pictures
If Tim Burton ever directed a Freddy Krueger movie, it might end up looking something like Bill and Ted's journey to Hell. While the sequence is righteously funny — with an unending descent into Hades going from terrifying to boring in the blink of an eye — it also has a dark, nightmarish quality that's like an M.C Escher painting that knows your deepest, darkest secrets. Alex Winter's turn as young Bill's toothless "Granny Preston" wanting a kiss still gives us nightmares.
---
2. The Grim Reaper is Bodacious.

Orion Pictures
William Sadler, who's played everything from a badass terrorist in Die Hard 2 to a loveable convict in The Shawshank Redemption, kills it as, well, Death. Heavily influence by Ingmar Bergman's The Seventh Seal, Sadler plays the Grim Reaper as a stoic force of nature who learns to loosen up thanks to some righteous new friends. The scene where Bill and Ted best him in a batch of board games may seem a bit broad at first blush, but what are Ted "Theodore" Logan and Bill S. Preston, Esq. supposed to do? Play chess?
---
1. The Dudes Truly Become Wyld Stallyns.

Orion Pictures
One of the few shortcomings from the most unrivaled first film is that we never really get to see the boys become rock legends. Thanks to some time traveling shortcuts — and a 16-month sabbatical of guitar lessons and baby making — Bogus Journey ends with the Wyld Stallyns finally living up to their righteous reputation, ready to make the music that will put an end to war and poverty and align the planets into universal harmony. Also, it's excellent for dancing.
Catch Bill & Ted's Bogus Journey this Friday at 8P on IFC's Rotten Fridays!