Awesome Merchandise Every Alien Fan Should Own
Catch Alien Resurrection this month on IFC.
Posted by Luke McKinney on
Photo Credit: Super7/Funko
Ridley Scott's 1979 film Alien gave moviegoers an iconic action movie baddass in Ellen Ripley and spawned a franchise which would define sci-fi for decades to come. And like other big screen behemoths, it birthed a slew of awesome and sometimes downright bizarre merchandise. Before you catch Alien Resurrection on IFC this month, take a gander at some of the coolest Alien items ever sold. In space, no one can hear you shop.
1. Nostromo Disco
Released in 1979, this 7″ disco record version of Jerry Goldsmith's iconic movie theme is the most unexpected Alien item to attack your head since the facehugger. Taking their name from Ripley's ship, the group Nostromo went on to remix other themes, including Disney's The Black Hole. Grab a copy of this rare item and get your space boogie on!
---
2. Liquid-filled record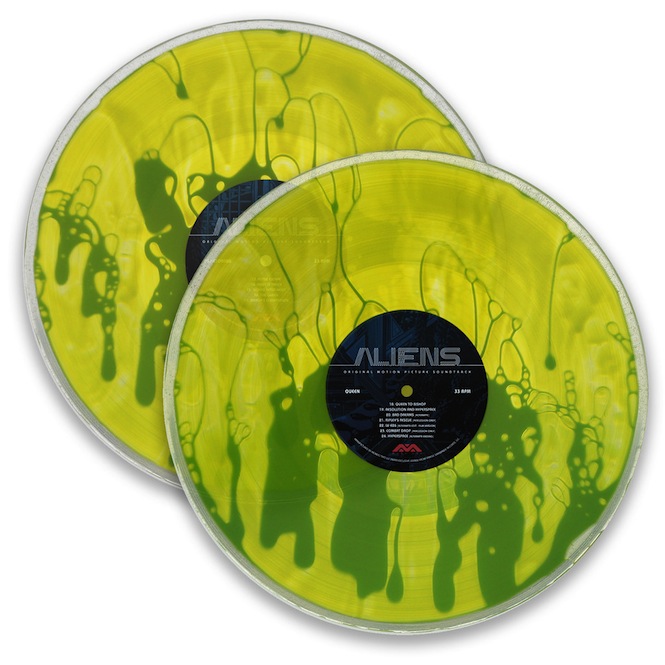 Mondo
The Alien soundtrack remains one of the most atmospheric scores ever recorded. Adding a visually slimy element to some chilling tunes, Mondo released an ultra-limited edition run of 75 vinyls filled with green liquid. Each record is hand-made and takes an hour to assemble, which is less time than it would take Ripley to wash off all that alien drool.
---
3. Retro Action Figures

Super 7/Funko
Back in 1979, Kenner Toys was hoping to ride the Star Wars wave with a line of Alien action figures. However, it proved to be a hard sell: kids may have wanted to play with tiny versions of Ripley, Dallas and the rest, but they were too young to see the scary R-rated movie. The line went unproduced, until the folks at Super7 revived the figures in 2013 for its Reaction series of retro-styled toys. Finally, we can act out Kane's screams of agony as a baby alien bursts from his chest.
---
4. Alien Micro Machines

Hasbro/Galoob
The Micro Machines line of tiny vehicles offered up plenty of licensed movie swag, but the Aliens toys from the mid '90s were some of the coolest. Score a set on eBay and recreate mini scenes of space carnage.
---
5. Seductively posed Alien Figure

Kotobukiya
Toy company Kotobukiya has been releasing some seriously detailed Alien figures. Featuring various types of aliens, the toys demonstrate incredible detail and can be posed in a variety of ways. This one above seems more interested in gossiping with Ripley about that dreamy Dallas than having her for dinner.
---
6. Alien Movie Viewer

Kenner
This was the last Movie Viewer Kenner ever made, released in 1979 and quickly removed from the shelves. (Unsurprisingly, a toy where kids could watch scary moments from Alien while alone in their dark bedrooms proved to be controversial.) It's a collector's item now, fetching steep prices on eBay.
---
7. Egg Chamber

Super7/Funko
Every '70s and '80s toyline worth its place in playrooms had awesome playsets for recreating iconic pop culture moments. The folks at Super7/Funko struck gold with this retro Egg Chamber playset that would've led to some hefty therapy bills if had actually sat on toy shelves next to Star Wars and He-Man.
---
8. Aliens Inflatable Bop Bag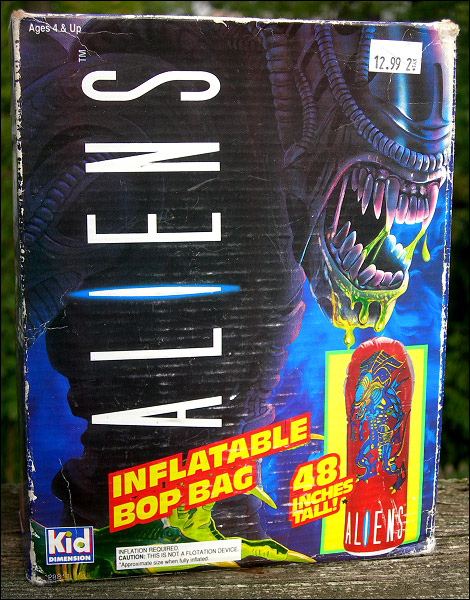 Kid Dimension
Released in 1993, this inflatable Aliens punching bag boasts 48″ inches of terror. Even creepier, the psychedelic painting on the bag suggests a peyote-crazed alien with rainbows instead of acid for blood. Of course, punching an alien in the face wouldn't be super effective what with its sharp teeth and deadly spittle. Grab one pretty cheap on eBay and work out your mother issues on ugly mother alien.
---
9. Chest-bursting Glasses

Super 7
Super7 understands the sheer joy of Alien-themed merch. These detailed drinking glasses aren't ancient relics from decades past — they debuted at Wondercon 2013 to capitalize on the recent retro resurgence. Hopefully whatever you drink out of these won't cause an imminent gut explosion.
---
10. Reebok Sneakers

Reebok
Reebok recently celebrated Aliens' 30th anniversary in the coolest possible way, offering up exclusive pairs of Ripley's famous sneakers. Following some controversy when the original release only included men's sizes, Reebok corrected the mistake by noting that the shoes are unisex and come in a variety of sizes. Good on ya, Reebok. You don't want to cross Ellen Ripley or her fans.