10 Classic Rotten Movie Moments
Catch "Too Rotten to Miss" movies Fridays at 8P on IFC.
Posted by Lindsay Ellis on
Photo Credit: Warner Brothers/courtesy Everett Collection
Sometimes you don't need to watch an entire movie to know how bad it is. Sometimes, just knowing about infamous scenes is enough to know why some movies have entered the cultural lexicon of badness. As we kick off a new month of "Too Rotten to Miss" movies on IFC, here are ten of the most infamous rotten movie moments — notorious even if you haven't seen the movie from which they spawned.
1. "Not the bees!," The Wicker Man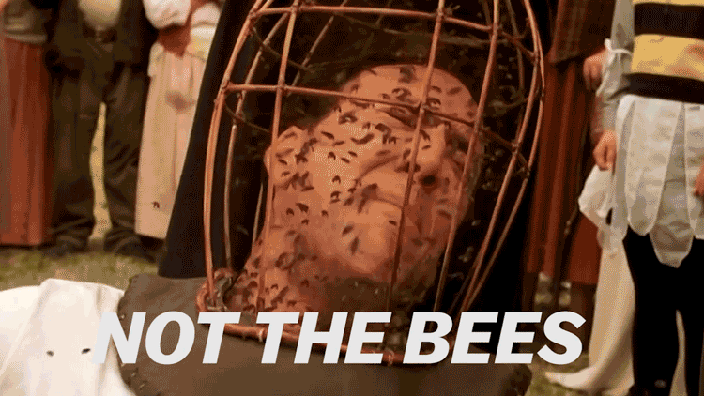 Warner Bros.
There could be an entire list of these moments starring just Nicolas Cage. But despite a wealth of moments to choose from, the actor's most infamous rotten moment comes from The Wicker Man, in which a fragile masculine fever dream in the form of a neo-pagan cult dumps a bucket of bees on Nic's head.
This one is particularly beloved in bad movie circles — it was even made into a techno remix.
---
2. "I was being trained…to conquer GALAXIES!," Battlefield Earth
Though I'm partial to all of the scenes on this list, this one has a special place in my heart. Battlefield Earth's badness is mostly stylistic, a film that positions itself as epic and badass but is really just…well, it's something.
In this scene, John Travolta's alien character Terl is getting drunk to drown his woes, so his line read is exceptionally ridiculous in a film full of already ridiculous line reads. And while you can't say the failure of Battlefield Earth is entirely Travolta's fault, he's not blameless, either.
---
3. "Man, everybody got AIDS and shit!," Showgirls

United Artists
Picking only one scene from this fruit salad of wonderful, terrible ideas was a challenge — what could possibly outdo "Different PLACES!"? Or Nomi's empowering beating of her friend's rapist while topless with lipstick on her nipples? Or any scene between Elizabeth Berkley and Gina Gershon?


United Artists
But really, one must go with that exercise in David Lynchian surrealism where Nomi is warned off by her friend/mentor(?) James against…unsafe sex? Metaphorical promiscuity? Actual promiscuity? Because everybody got AIDS. AND shit. #90s.
---
4. "Daddy would you like some sausage?," Freddy got Fingered
Like with Showgirls, Freddy Got Fingered is also a stacked deck — do I choose, for instance, the scene in which Gord (Tom Green) manually stimulates a horse while merrily shrieking, "Look at me, daddy! I'm a farmer!"? Or, perhaps I could go with the one where he shoots elephant semen at Rip Torn out of an ejaculating elephant like an anti-aircraft missile? But no, perhaps because it's more absurd than disgusting, Gord trying to tap into his creativity by chanting a monotone "Daddy, would you like some sausage?" has probably become the most infamous scene from an already infamously terrible movie.
---
5. "They're eating her…," Troll 2
Troll 2 is so terrible it even has a documentary (Best Worst Movie) chronicling its terrible-ness. But the truth about Troll 2 (which happens not to really be a sequel to Troll, or have much at all to do with it, really) is that, unlike Freddy Got Fingered and Showgirls, Troll 2 doesn't have a litany of delightfully terrible sequences to choose from, and is comparatively forgettable. But the scene in which Arnold (Darren Ewing) witnesses a girl turn into plant matter, and reacts…accordingly(?) is definitely one for the books.
This one also has a dubstep remix!
---
6. Basketball scene, Catwoman
Catwoman is cited by many as the film that single-handedly killed superhero movies starring women, a genre which has been basically non-existent until next year's Wonder Woman film (finger's crossed, everyone). Here, a newly powered Catwoman (Halle Berry) goes one-on-one with her love interest, played by Eric Roberts. I think what they were going for is light-hearted and sexy, but the result defies not only logic, but spatial relativity, from a point-of-view shot where Berry is awkwardly shaking her booty to the confusing rapid fire cuts. Why, God why, are there so many cuts?
---
7. "Hi doggy!," The Room
The Room is more a collection of surreal one-liners than scenes with intent or purpose. With that in mind, which do I go with as the most rotten moment? The "I definitely have breast cancer" scene? Or perhaps, even more memorable, "Everyone betray me!" (Watch it above.)
But I have to go with "Hi doggy!" for being the scene that wholly embodies the strangeness of The Room. Aside from the fact that the scene doesn't really need to be in the movie, it looks like the crew only had this flower shop available to shoot in for ten minutes, and the rushed, surreal nature of the clipped dialogue just puts it over the edge.
---
8. "Turkey Time," Gigli
And thank you, Jennifer Lopez, for basically ensuring that the boyfriends of an entire generation of women would never, ever go down on them. Alternately, if you're not a fan of oral sex and want to make sure he never tries, this line is guaranteed to kill any mood, possibly forever.
---
9. Peter Parker dance, Spider-Man 3
When people want to explain why Spider-man 3 was the worst of the Spider-Man movies, perhaps the worst of any movie, this is the go-to example for why. People generally enjoyed Sam Raimi's Spider-Man run for its ability to straddle a line between dramatic realism and comic book-y chicanery, but this scene alone brought the whole franchise dangerously close to Batman & Robin territory.
---
10. "Stop lubricating the man," Transformers
Personally, I don't think this one gets enough credit for the awful moment it is. Beloved character actor John Turturro gets pissed on by a precocious mute giant space robot named Bumblebee.
Oh, there are many terrible moments in later Transformers films, and yes, most of them do involve John Turturro…
But the first time I saw the Bumblebee golden shower scene, I legitimately thought I had dreamed it until a friend reminded me of its existence days later, including the little "byooiing!" as his…lubricant cap pops off? Truly, this was a landmark of badness.
Kick back with The Matrix Revolutions this Friday at 8P on IFC!