The Best Bad Coaches From Sports Movie
Catch the Bad News Bears movies this month on IFC.
Posted by IFC on
Photo Credit: Everett Collection
By Nick Stevens
American movie history is loaded with examples of great coaches — those fearless and inspirational leaders who, through fierce dedication, unconventional means and controversial methodologies, were able to help our heroes achieve their goals, or at least learn an invaluable lesson…while probably exorcising some personal demons of their own. These are not those men.
Behold a collection of the worst coaches in movie history, the Hollywood Coaching Hall of Shame, if you will. These men were never meant to be the leaders of other men, or in some case children or animals. Some would emerge victorious, though it was often in spite of themselves. Their arrogance or idiocy was sometimes their undoing, and a lack of coaching fundamentals, basic manners and hygiene made them irresistibly lovable to one and all.
1. Morris Buttermaker, The Bad News Bears
Swearing, drinking, yelling, screaming, berating those younger and older than him…all staples of the Morris Buttermaker repertoire. Then again, if you were a broken down alcoholic former ballplayer who cleaned pools for a living who, out of desperation took a job coaching a collection of the worst little league players ever, chances are swearing and drinking and yelling would be part of your repertoire, too.
Buttermaker, as portrayed by the great Walter Matthau, is the gold standard for great bad coaches. He was unfit for any of the responsibilities he undertook, which made him the perfect "role model" for his ragtag band of misfits whose team name ultimately would become a synonym for any error-prone squad. Buttermaker's players swear, hurl racial insults, assault opponents and display the kind of behavior that would have Child Care Services called immediately. (It was the '70s; times were different!) And if it wasn't for a girl and a teen with a dirtbike his team may never have won. But somehow things worked out in this tale of hope, redemption and nine-year-olds who freely use the N word. Hey, it was the '70s! (Click here to see all airings of The Bad News Bears movies on IFC.)
---
2. Artie DeVanzo, Beer League

Echo Bridge Entertainment
As they said in Animal House, "Fat, drunk and stupid is no way to go through life, son"…unless of course it works for you, in which case you do you. And that's exactly what Artie Lange, as player/manager Artie DeVanzo does in Artie Lange's Beer League, a movie so drawn from Lange's real life persona that the title bears his name. Were it not for the presence of Ralph Macchio one might even think this movie to be a documentary. Alas, it's just a good-old fashioned frathouse romp, full of foul language, raunch and all the other things movies used to be rated-R for.
Lange's DeVanzo is an absolute disaster of a human. He's much better at shirking responsibilities, spewing insults and nursing hangovers than he is at in-gamesmanship, which should come as no surprise. But then again this is beer league softball, and Artie is just trying to help his team avoid the softball league equivalent of relegation. And his efforts prove that sometimes being terrible is a good thing…mostly for our viewing pleasure.
---
3. Roy Munson, Kingpin
Kingpin takes the "prodigy who fell from grace, and onto hard times, only to try and redeem himself" storyline and gooses it hilariously by adding an outrageous prodigy turned maimed mentor in the form of one-handed human dumpster fire Roy Munson (Woody Harrelson). Roy finds a potential new prodigy he can teach and seek redemption through in the former of Amish man Ishmael (Randy Quaid), and a beauty on the run (Vanessa Angel). All set in the world of professional bowling. You know, that old tale!
Roy's fall from grace is so bad his last name becomes a verb for missing an opportunity. And whether it's drinking his breakfast, having sex with his elderly landlord to pay the rent, or taking his Amish protege on a cross-country rumspringa, Roy is his own worst enemy, and has no business teaching anyone anything. Which is exactly why we root for him, even against his betraying mentor, "Big" Ern McCracken (Bill Murray), and that sweet encased rose bowling ball.
---
4. Chester Lee, Ladybugs
When you heard the premise of "Rodney Dangerfield coaches a young girls soccer team" you knew he'd be as good a coach as he was sitting still while on Johnny Carson's couch. At no point does this movie make any pretense that it's to be about anything other than Rodney Dangerfield and his jokes. That's what Rodney Dangerfield movies were; 90 minute set-ups for him to deliver jokes. This one just happened to involve a girls soccer team, a Some Like It Hot storyline with Coach Chester (Rodney) sneaking his girlfriend's son on the team to help them win, and Jackée Harry at the prime of her powers of sassitude. It's far from Rodney's best, but it's Rodney, and it features one of our favorite bad Rodney lines ever. (Watch it above.)
---
5. Jackie Moon, Semi-Pro
Jackie Moon's problem wasn't that he was a bad coach. Well, he was. It's just that he was stretched too thin. He was trying to be everything to everyone. Jackie was guilty of being a dreamer. And a bad player. And a bad GM. And a bad PA announcer. And a bad singer who somehow was a one hit wonder. And played in a bad town. On a bad team. In a bad league like the ABA. OK, Jackie Moon was terrible at everything. But because of his universal terribleness, all brought to glorious vintage comic life by Will Ferrell, we'd let Jackie Moon "Love Me Sexy" anytime.
---
6. Coach Klein, The Waterboy
Also from the Department of Coaches In Over Their Head, Coach Klein was, like many of our best-worst coaches, in possession of a bright future. But he fell from greatness, or at least had it stolen from him, and when we meet him he's a mess. He can't coach. He can't draw up plays. He can't remember where he is. But we love him in his ineptitude because we know he was wronged, and because he's being played by The Fonz, for chrissakes! Sure, he gets his second chance, which arrives in the form of a socially awkward Cajun baby-talking man-child named Bobby Boucher, who just wanted to be his waterboy. But in the end turns out to be the best player on his team, and Coach Klein's ticket to redemption and reclamation of his former play-calling prowess. Isn't this is how it always works out in football, right?
---
7. John Kreese, The Karate Kid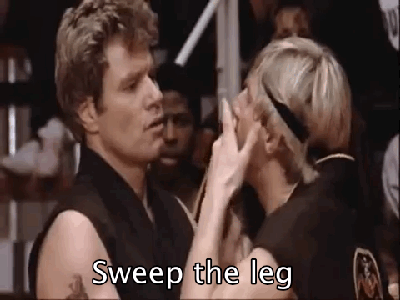 Columbia Pictures
Wait…just wait a leg-sweeping minute here! Are we saying that one of the best, most vicious karate masters in the history of Hollywood was in fact one of the best worst coaches? Oh, you bet your body bag we are, Johnny! But how could Kreese, the ruthless sensei from Cobra Kai, who told us where pain and fear did not exist, be bad at his job? His dojo was tops in the state annually. His squad goals were simple: kick everyone's ass, no matter how. And that's fine. But Kreese belongs on this list because yes, he gave tremendous villain, but he was cocky. Overconfident to a fault, a gawky Jersey transplant teen learning karate from a drunken Japanese karate master could actually defeat his number one pupil. We're not showing any mercy on Kreese. Mostly because he taught us that mercy is for the weak.
---
8. White Goodman, Dodgeball
Yet another narcissistic entrepreneurial bully with a Napoleon complex who had it all in the palm of his tiny muscular hands…and blew it. Goodman's (Ben Stiller) GloboGym dodgeball team is far superior to that of Pete LaFeleur (Vince Vaughn) and his Average Joe's squad. Why, on paper it's a mismatch of epic proportions. But somehow White and his muscle-keteers lose to a mod squad that was coached by a wheelchair bound former dodgeball legend who goes by the name Patches (Rip Torn). Dodgeball is titled "A True Underdog Story," because on an unusual and unlikely stage David slays, or in this case, tags Goliath yet again. But you wouldn't get that, would you, White? It's a metaphor.
---
9. Coach Fanelli, Air Bud: Golden Receiver
Look, maybe Coach Fanelli meant well. Maybe he's a good guy. Maybe he's a brilliant football mind who, like Coach Klein, had a future, but something traumatic happened to him. Something traumatic enough for him to think a dog playing wide receiver on his football team was a good idea. We may never know. All we do know is that a dog playing wide receiver improved his team greatly…and, yes, the lives of us all. Thanks, Air Bud!
---
10. Coach Chubb, Ed
Let's call this "The Coach Fanelli Clause" — you allow a domesticated animal to play on your team, and said team improves? You're a terrible coach. No matter the outcome. One of the best terrible coaches ever. Your judgment has failed you. You should not be coaching anything. You're so hopeless that at one point you figure, "How much worse could things get if I let a jungle creature play the field?" That's rock bottom, friends. No matter the odds overcome, or horrendous costume work or special effects, your team is not supposed to improve when a chimp plays on it. Fortunately for Coach Chubb (as played by the late great Jack Warden) his team, and star pitcher, did turn their fortunes around. May Ed have mercy on us all.