The 10 Biggest Jerks From '80s Teen Movies
Catch Footloose and The Breakfast Club during IFC's '80s Weekend.
Posted by Emmy Potter on
Photo Credit: Universal Pictures/Everett Collection
The '80s gifted us with many glorious things like "Thriller," dance aerobics, and Tab, but none quite as glorious as the teen movie jerk. Often a gentleman, but occasionally a lady, these deliciously douche-y antagonists sauntered around the halls of our favorite cinematic high schools with perfectly feathered hair, popped collars, and a general air of smugness. Before you travel back in time to the Reagan Era for IFC's '80s Weekend, check out our list of the biggest jerks from '80s teen movies. Shoulder pads and Aquanet are totally optional.
1. Steff, Pretty in Pink
No man rocked a linen suit and loafers in the '80s (or really SINCE the '80s) quite as well as James Spader's hunky, "richie" bad guy from Pretty in Pink. Steff looks old enough to be in grad school, which may explain why he's always seen idling in the halls with a cigarette coolly hanging off his lips instead of actually going to class. He's also the kind of guy who has house parties where he roams around in open silk robes, rolling joints, and condescending to pretty much everyone including his supposed best friend Blane. Steff may harbor a secret crush on polar opposite Andie, but we've always had a love/hate crush on him and his ridiculously great hair.
---
2. Troy, The Goonies
Yes, the Fratellis are the real villains in our favorite flick about a ragtag group of teens searching for pirate treasure, but without number one tool, Troy (Steve Antin), and his equally terrible father trying to turn The Goondocks into a country club expansion, there'd be no reason for the pirate treasure search in the first place. Troy is the epitome of the Letterman jacket-wearing, convertible-driving preppy jerk we've come to know and hate from '80s films. His sole aim is to "make it" with girl-next-door Andy (Kerri Green) so when she refuses to ride up his wishing well bucket (in more ways than one) and sends up his embroidered cardigan instead, he angrily yells, "ANDY, YOU GOONIE!" At least he has his sweater back to keep him warm from the cold shoulder Andy just gave him.
---
3. Hardy, Some Kind of Wonderful
The highly attractive Hardy Jenns (Craig Sheffer) has many less-than-attractive traits including being cruel, misogynistic ("She's gonna have to beg!"), cheating on girlfriend Amanda (Lea Thompson), and being a total rich snob. Like fellow John Hughes movie tool, Steff, Mr. Jenns also loves a beautifully cut suit and perfect hair, which may be the only thing bigger than his oversized ego. But none of that is enough to keep him from losing two things he can't just buy back with his gobs of money: his pride and ex Amanda. Looks like THIS Hardy boy has more than a few mysteries to solve, starting with how to become a less terrible person.
---
4. Heather Chandler, Heathers

New World Pictures
Lunchtime poll: would you rather be Heather Chandler or kill Heather Chandler? Such is the dilemma faced by frenemy Veronica (Winona Ryder) whose life (and everyone else's for that matter) is made a living hell by the resident queen bee of the Heathers clique. Ever stylish, Heather Chandler (Kim Walker) favors violently red power suits with huge shoulder pads and matching hair scrunchies. She's as ruthless about tormenting anyone who gets in her way or barfs on her designer shoes (ahem, Veronica) as she is her croquet game, and frankly, her acid-tongued, NSFW comebacks (some involving chainsaws) are totally legendary. What's her damage? Oh, just ruling Westerberg like she's the queen of Westeros. How very.
---
5. Biff, Back to the Future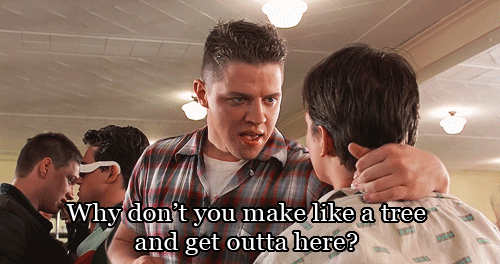 Universal Studios
Biff Tannen (Thomas F. Wilson) is basically your typical school bully: pushy, a little dumb, and egged on by a gang of equally pushy, dimwit friends in Converse sneakers and 3D glasses. He also can't take a hint from pretty Lorraine (Lea Thompson) who clearly wants nothing to do with him either inside or outside of a car. Like most bullies, Biff's main target is resident school nerd, George "HEY McFly!" McFly (Crispin Glover), whom he forces to do all his homework and beats the crap out of on a regular basis. Speaking of crap, though, Biff gets a truckload dumped on him during a game of chicken with George's son, Marty (Michael J. Fox). Hey, Biff — if you need us to help you clean up, we're gonna make like a tree, and get out of here.
---
6. Johnny Lawrence, The Karate Kid

Columbia Pictures
No list of '80s teen movie villains would be complete without mentioning the weirdly prolific William "Billy" Zabka. Johnny Lawrence is, without question, the greatest of his bad guy personas. A top karate student at Cobra Kai, blond jerk Johnny immediately dislikes grasshopper Daniel (Ralph Macchio) after he notices him getting a little too chummy with ex-girlfriend Ali (Elisabeth Shue) at a party. Naturally, this is the catalyst for the showdown to end all karate showdowns, and Johnny will do anything to win; even an illegal move against an already injured Daniel. In his leather jackets and karate bandanas, Johnny is the ultimate dreamy bad boy you love to hate and hate to love. Sweep the leg? More like he swept us all off our feet.
---
7. Principal Vernon, The Breakfast Club

Universal Studios
Good ol' Richard Vernon (Paul Gleason) — or Dick, as Bender (Judd Nelson) would call him — and his 1,000-word essay during Saturday detention are all that stand between our Brain (Anthony Michael Hall), Athlete (Emilio Estevez), Basket Case (Ally Sheedy), Princess (Molly Ringwald), and Criminal (Nelson) and freedom. With a wardrobe possibly raided from Barry Manilow, Vernon is overly stern and harsh, especially to John Bender, whom he locks in a closet and gives detentions to as freely as Oprah gives away cars. Hey, you mess with the bull, you get the horns, right? (Click here to see all airings of The Breakfast Club on IFC.)
---
8. Reverend Moore, Footloose
There are overly-protective fathers and then there is Reverend Shaw Moore (John Lithgow). Stubborn and pious, Moore refuses to lift the ban on dancing and rock music in Bomont, putting an even bigger wedge between himself and wild daughter Ariel (Lori Singer). Moore is all fire and brimstone in the pulpit, preaching against the very things — like sex, drugs, dancing, and alcohol — he believes led to son Bobby's death in a car accident. When Ren (Kevin Bacon) stands up to him during a town council meeting and quotes joyful passages about dancing from the Bible, Moore's demeanor begins to change. Come on, Reverend. No one can resist a slice of Bacon! (Click here to see all airings of Footloose on IFC.)
---
9. Jeanie, Ferris Bueller's Day Off

Paramount Pictures
Much like Principal Rooney (Jeffrey Jones), Jeanie (Jennifer Grey) is less-than-amused by brother Ferris' (Matthew Broderick) shenanigans, especially considering he never seems to get in trouble for anything with either their parents or school. But Jeanie's attempts to catch her brother in the act wind up landing her in the police station where she finds time to make out with a drug dealer and throw some serious shade before speeding off with her mother to try to beat Ferris home. Jeanie Bueller's day off is decidedly not quite as fun as Ferris'.
---
10. Stan Gable, Revenge of the Nerds
26 year-old Ted McGinley was cast as cardigan-wearing jock Stan Gable partially based on a calendar-modeling gig he'd had, which explains a lot about what you need to know about Stan. The alpha male of the Alpha Beta fraternity pretty much coasts by on his good looks and athletic abilities while delegating all his dirty work to doofus best friend Ogre (Donald Gibb). But make no mistake, Stan has it out for any and all nerds who try to steal both his spot as big man on campus and his girl. Never cross a man in a cardigan.