10 Shagadelic Facts About the Austin Powers Movies
Get groovy with the Austin Powers movies this month on IFC.
Posted by Brian Steele on
Photo Credit: New Line Cinema/Everett Collection
With the Austin Powers movies airing on IFC this month, we thought we'd look back at the trilogy that launched a thousand "Yeah, baby!" impressions, and offer a few fun facts you may not know about the grooviest spy this side of Liverpool. Trust us — these tasty tidbits are sure to make you horny, baby.
10. Burt Bacharach's "The Look of Love" Inspired Austin Powers.

New Line Cinema
Writer/star Mike Myers was driving with his wife when this randy anthem came on the radio. Wondering whatever happened to all the '60s swingers, Myers started cracking jokes, asking his wife "Do I make you horny?" Annoyed, she told him to stop doing the voice, and just write the character down. He then knocked out the script for Austin Powers: International Man of Mystery in three weeks.
---
9. Jim Carrey Almost Played Dr. Evil.

New Line Cinema
Initially, Myers had no plans to play multiple characters in the Austin Powers movies. He actually approached Jim Carrey about playing Powers' arch nemesis, Dr. Evil. Carrey was interested, but already committed to making Liar, Liar. While his take on the million dollars-obsessed master criminal would have been interesting, Myers ended up creating a classic character based on…
---
8. Lorne Michaels Inspired Dr. Evil.
While he resembles Bond villains Blofeld and Julius No in appearance, Myers based Dr. Evil's unique vocal mannerisms and turns of phrases on his SNL boss. (Michaels is said to have uttered the line "Throw me a frickin' bone here, people!" many times in script meetings.) Dana Carvey has noted that Dr. Evil is similar to the impression he did of Lorne during his and Myers' SNL days, something which reportedly caused tension between the Wayne's World duo.
---
7. Colin Quinn Almost Played Scott Evil.

Broadway Video
The stand-up and former SNL Weekend Update host actually turned down the role of Dr. Evil's bratty offspring, Scott. Quinn admits that he regrets the choice, and explains that he was actually more age appropriate for the character than Seth Green, who should have been much older if the chronology of the movies made a lick of sense.
---
6. The first film had a groovy MTV special.
Lost to the mists of time is this bizarre MTV launch party for Austin Powers: International Man of Mystery. Done in the style of Rowan & Martin's Laugh-In, with guest spots from such '90s standouts as Bill Bellamy and Kurt Loder, this odd special is both an artifact of its time and a psychedelic recreation of Austin Powers' swinging London.
---
5. Mike Myers Had an Odd Nickname On Set.

New Line Cinema
Either due to big egos, or just a need to clarify who should sit where, chairs on movie sets often have the director or star's name on them. Not Myers' though. A 1999 Rolling Stone article revealed that his chair on the set of Austin Powers: The Spy Who Shagged Me simply said, "Sir Stinky Bottom, Viscount of Stinkvania in the Bottom-ic Empire."
---
4. Myers own father inspired Nigel Powers.

New Line Cinema
Myers father, an Englishman, always held a ridiculous grudge against Hawaiians for murdering Captain Cook in his sleep. Finding this odd bit of hatred hysterical, Myers decided to use it when developing Austin Powers' own father, swapping in a hatred of the Dutch, because who in their right mind hates the Dutch?
---
3. Test Audiences Demanded More Raunchy Jokes, Baby.
Films usually do reshoots because something isn't working. Thankfully, the exact opposite happened here. The "Penis Rocket" scene from Austin Powers: The Spy Who Shagged Me was such a hit with test audiences, the filmmakers decided to fluff it up, adding more juvenile jokes to really, ahem, milk it for all it was worth.
---
2. The "Goldmember" title almost didn't happen.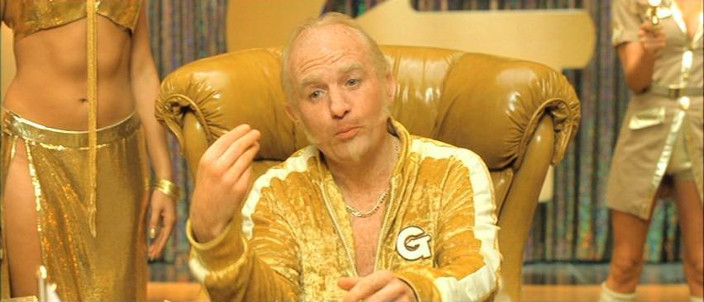 New Line Cinema
MGM, the studio behind James Bond, almost put the kibosh on the Goldfinger spoof in the title of Austin Powers in Goldmember. New Line Cinema had to agree to run trailers for the Bond film Die Another Day with Goldmember in order to get away with the gag.
---
1. A famous Michael Caine character inspired Austin's glasses.

Universal
Myers drew inspiration from Michael Caine's character in the 1965 spy thriller The Ipcress File for Austin's now iconic glasses. Caine returned the nod by wearing the original glasses when he played Nigel Powers in Austin Powers in Goldmember.