10 Moms Who Seriously Messed Up Their Kids
Spend Mother's Day with a 24-hour Mommie Dearest marathon Sunday, May 8th starting at 6AM on IFC.
Posted by Brian Steele on
Photo Credit: Paramount/Everett Collection
We all love our moms. But sometimes, deep inside our therapist's office, we have to admit that maybe they weren't exactly perfect. Maybe they were a bit overbearing, or needed that cocktail a bit too much at the end the day. Thankfully, pop culture is rife with some seriously messed up moms who make our own mother's foibles look like a cake walk. Check out a few of the worst moms from pop culture below, and then spend Mother's Day watching an all-day Mommie Dearest marathon on IFC. It's the best way to remind yourself that mom's terrible tuna casserole isn't the worst thing that could've happened to you.
10. Lucille Bluth, Arrested Development

FOX
Whether it's adopting a Korean child to look more charitable, or turning her youngest son Buster into the ultimate mama's boy from hell, Lucille Bluth was never afraid to put her own needs ahead of her children's. Her parenting strategy was to pit the kids against each other and hope one turned out needy enough to keep her martini topped off. At least she loved them all equally. Well, except for G.O.B. She never cared for G.O.B.
---
9. De'Londa Brice, The Wire

HBO
De'Londa Brice was used to living a certain type of lifestyle, thanks to her baby daddy, Wee-Bey, and his hustler life. But when her fella got sent to the clinker, she needed to find a new man to take care of her. Thankfully, she didn't have to look far. Namond, her teenage son, may have been a sheltered, spoiled kid who knew nothing of real life in the hood, but if De'Londa was going to keep that gravy train rolling, he would need to be her new cash cow. She basically forced him to start slinging drugs, all but assuring he would never escape the street game. And yet, somehow he did, leaving behind a mother who put her mink coat collection ahead of her parental duties.
---
8. Toni, Maron
While most parents try to give their children a better life, Marc Maron's mom (played by TV legend Sally Kellerman) seems more than happy to just give him a hard time. The apple doesn't fall far from the tree here, no matter how much Marc doesn't want to admit it. A personification of Marc's anxiety, guilt, and body issues, whenever Toni Maron rolls into town, chaos is sure to follow. (Watch some of Toni's funniest parental moments above.)
---
7. Kate McCallister, Home Alone

20th Century FOX
Look, we get being a mom is a hard gig, especially during the holiday season. Relatives are in town. Gifts have to be bought. Everything has to be perfect. But let's also admit that forgetting one of your kids at home, as you flit off on a family vacation, is more likely a case file from Child Services than a lighthearted family comedy. The fact that Kevin proves particularly adept at warding off vicious criminals doesn't excuse the fact that nine times out of ten, that kid is going to end up dead as a doornail.
---
6. Mrs. Eleanor Shaw Iselin, The Manchurian Candidate

United Artists
There have been some cold-hearted moms in the history of pop culture, but few can top this Communist ice queen, determined to turn her son into a presidential assassin. Angela Lansbury, most famous for playing a loveable sleuth and a teapot, would earn an Oscar nomination for her turn in this classic thriller. Mamma Iselin proves that if you only have a kid to brainwash him in a desperate attempt to overthrow a government and further your own nefarious plans, you probably aren't going to get a great gift come Mother's Day.
---
5. Mac's mom, It's Always Sunny in Philadelphia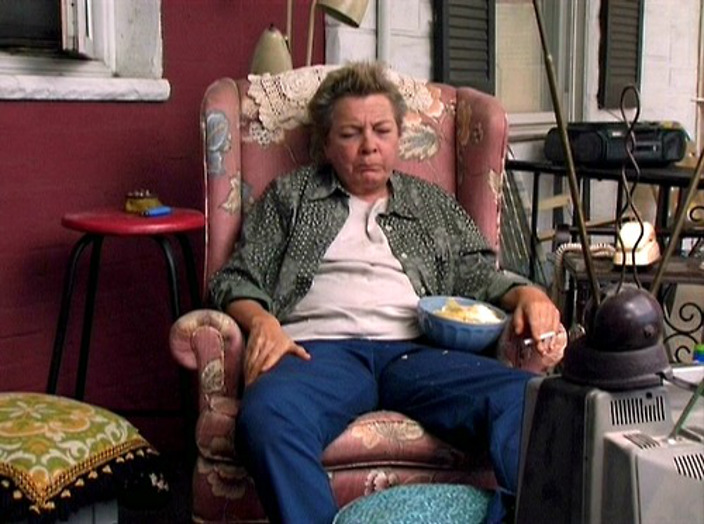 FX
No one on It's Always Sunny received particularly good parenting, but in a murderers' row of awful families, Mac's might just take the cake. For one, his father is an actual murderer. But it's his emotionally removed mother, who's more interested in smoking a cigarette and watching some TV than dealing with her needy son, that really defines him. Desperate for love, he showers her with affection, only to receive the occasional gruff grunt in response. No wonder Mac is so delusional when it comes to his religion or his sexuality — his role model for unconditional love is a bump on the couch he calls "Mom."
---
4. Livia Soprano, The Sopranos

HBO
Another matriarch whose cold, calculating ways and emotionally withholding mothering drove her son to his highest highs and lowest lows, Livia Soprano was one mean S.O.B. She tried to have her own son killed, for heaven's sake. If that isn't an example of some seriously unorthodox parenting, what is? Livia was miserable, and made it her life's mission to make sure everyone else in her family was too. She even drove her son, an emotionally removed mobster, to give therapy a try, which we have a hard time picturing Al Capone subjecting himself too.
---
3. Joan Crawford, Mommie Dearest
With the bright lights and glamour, who wouldn't want to have a movie star mom? We're guessing little Christina, who faced a lifetime of torment after being adopted by fading movie queen Joan Crawford. Whether it was making Christina give away her birthday gifts to charity after opening them, or beating her with a wire hanger after she made the unforgivable mistake of hanging her dress on it, Crawford approached mothering as an out of control publicity stunt.
---
2. Cartman's mom, South Park

Comedy Central
At first blush, Cartman's mom seems like a dream compared to most of the malicious mothers on this list. She's as sweet as sugar, and loves her boy to death. But beneath the rosy surface, there are a few secrets that may help explain her foul mouthed boy. There's the fact that she's as racist and homophobic as they come. Or that she's a "crack whore" who does German porn. Frankly, she'll have sex with just about anyone from the town's mayor to a cyborg Bill Cosby from the future. Oh, she also may be a hermaphrodite who might have impregnated herself to bring Cartman into the world. All in all, outside of her insane commitment to baking cookies, there's a lot going on behind closed doors here that may have turned young Cartman into the raging mini monster he is.
---
1. Margaret White, Carrie

United Artists
A religious warrior, Margaret was convinced the Devil was all around her. Why else would her husband leave her for another woman? Surely not because she only had sex with him twice, and wanted to kill herself afterwards. This woman had issues, not the least of which was her insistence that her teenage daughter was a witch, and needed to die. As prom night downers go, that has to rank right at the top. The fact that Piper Laurie, who memorably played Margaret, thought she was making a comedy for much of the shoot, only makes this messed up performance all the more terrifying.