10 Cheesy 'Just Say No' Sitcom Episodes
"Just Say Yes" to That '70s Show, Mondays & Tuesdays starting at 6P on IFC.
Posted by Brian Steele on
Photo Credit: NBC Productions
Sitcoms in the '80s and '90s were rich with "Very Special Episodes," plotlines where your favorite comedy would take a break from the laughs and warn you that the world was a scary place. (Full House did like 10 of these things.) That '70s Show fans know that the show poked fun at the trend with their spoof of the classic "pass on grass" propaganda film Reefer Madness. Before you catch That '70s Show on IFC, check out a look back at some of our favorite childhood sitcoms telling us to just say no to drugs and get high on life instead.
10. "What a Drag," Home Improvement
One of the glories of these anti-drug episodes was the hypocrisy behind the scenes. Who uses more drugs than the sell out sitcom writers trying to fill the blackhole where their artistic dreams used to live? That was never more evident than in this very special Home Improvement episode, in which Tim and Jill find Brad's weed stash, and confront him on it. Tim Allen, America's favorite dopey dad, actually served two plus years for dealing cocaine in the '70s, making us wonder if the "Toolman" was just upset his son wasn't into harder stuff.
---
9. "Fast Friends," Full House
Peer pressure can be a difficult thing to navigate for kids, especially dweebs like Stephanie Tanner. Everyone knows smoking cigs is the coolest. Well, everyone but that dork Stephanie. Jeez, if an older kid offers you one, you smoke it, and do everything else she tells you to do. Um, that's how you make friends. You do want friends, right? But when Stephanie gets pressured to light up, instead of starting up a lifelong habit, she calls up Uncles Joey and Jesse's radio show for advice. What a narc. Also, who gave Joey and Jesse a radio show?
---
8. "Chewed Out," Small Wonder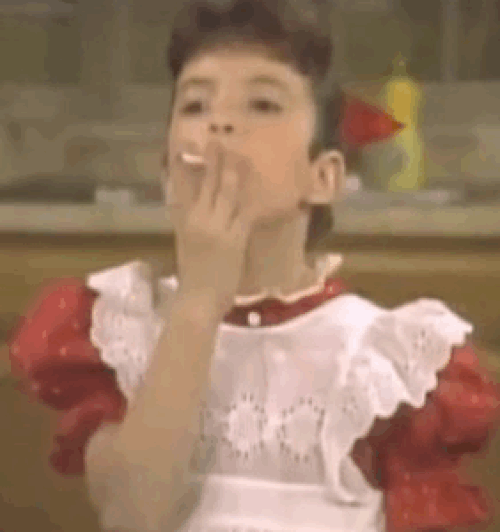 Peer pressure strikes again, but this time young Jamie and his bud Reggie find impressing the cool kids can be a moving target. At first, they think cigarettes are the trick, only to learn that smoking is so last week. Everyone who's anyone chews tobacco now. That's when Vicki, the family's creepy robot, steps in and gives the boys a primer on all the awful things cigarettes can do to you. Clearly the message of this "very special" Small Wonder is, "cigarettes are bad, but there's nothing wrong with your father building you a robot sister/bionic slave child."
---
7. "The Life of the Party," Family Matters
Steve Urkel, the uber nerd next door, was a ridiculous character, and, for the most part, the writers knew it. He was known more for his alter egos and time machines than for life lessons. How do you have a teachable moment with a character that's so utterly absurd? Well, for one episode, the writers decided to give it a whirl, with Urkel binge drinking at a party thanks to some healthy peer pressure before falling off a roof. We're assuming the lesson here was to pump the people you hate full of booze, and hope they accidentally kill themselves. Unfortunately in this case, we had no such luck, as the grating geek lived to screech "did I do that??" another day.
---
6. "Steroids to Heaven," Dinosaurs
What better way to confront the realities of high school steroid abuse than with eight-foot tall dinosaur puppets? In this very special episode, Robbie is desperate to impress his crush, Caroline. Unsure what to do, he starts taking "Thornoids," little creatures that help you bulk up when you eat them. His dino-pecs soon balloon, along with his mood swings. Robbie begins fighting with his parents and ripping sinks from walls, but when he takes Caroline on a date from Hell, he realizes he has a problem. Presumably a thoroughly confused generation of kids learned to never eat tiny puppet dinosaurs as a result.
---
5. "Say Uncle," Family Ties
Uncle Ned seems like the cool relative we all wished we had. Heck, he's played by Tom Hanks, the nicest man in the history of people. It's only when Alex stumbles upon the future Forrest Gump late one night, drinking along in the kitchen, that he realizes he might be in a "Very Special Episode." Uncle Ned proceeds to get physical with the young Republican before digging through the pantry for cans of pickled treats that might have some alcohol in them. Oh Tom, if only Wilson could see you now.
---
4. "Just Say Yo," The Fresh Prince of Bel-Air
The Fresh Prince's life got flipped-turned upside down in this Season 3 episode of the NBC hit. Finding himself overwhelmed with basketball, homework and the ladies, Master Will did what any responsible student would: He got his hands on some meth. Unfortunately, Carlton mistook the pills for vitamins, and downed a handful. Of course, as often happens in these "Very Special Episodes," Carlton soon found himself the life of the party, dancing like a Janet Jackson backup dancer to the delight of everyone at a school dance. It was only when he passed out that everyone realized he was drugged out of his mind. When Uncle Phil offered a guilt-stricken Will season tickets to the Clippers, he was forced to admit what he'd done, and have an Emmy moment. The real lesson here seems to be the Clippers were so bad in the '90s, Will would rather admit to giving Carlton drugs than have to go one of their games.
---
3. "Just Say No," Punky Brewster
We're all desperate to fit in, but we never thought Punky Brewster, with her rainbow colored threads and killer catchphrases, would fall prey to peer pressure. Holy Macanoli, how wrong we were. When a cool new crew of girls called "The Chicklets" show up in town, Punky is desperate to join the gang. It's only when they break out a stash of grass, a few uppers and some nose candy, that Punky — and the audience — realize that maybe these bitchin' babes with the bodacious bangs aren't as cool as they first seemed.
---
2. "The Reporter," Diff'rent Strokes
Nancy Reagan herself popped up on this very special Diff'rent Strokes episode, in which Arnold went undercover at his middle school to expose a drug dealer. When the school's faculty questioned the authenticity of Arnold's story, the First Lady herself stopped by to convince them he was telling the truth. Thankfully, the "Just Say No" message worked like a charm, and none of the cast members would go on to have crippling addictions.
---
Tie: 1. "No Hope With Dope," Saved By The Bell
Because the wholesome characters on our favorite sitcoms could never be drug users, these "Very Special Episodes" often employed cartoonishly fiendish guest stars to introduce drugs to the otherwise upstanding ensembles. That definitely was the case in this Season 3 episode, in which celebrity Johnny Dakota stopped by Bayside to film an anti-drug commercial. When the gang learned that Dakota himself had been smoking dope, they got a rude awakening to the dangers of drugs, and the hypocrisy of Hollywood. It must not have been that shocking a lesson to the show's cast, considering that Lifetime's The Unauthorized Saved By the Bell Story seems to suggests they were themselves high while filming the episode.
"Jessie's Song," Saved By The Bell
Elizabeth Berkeley must have been so excited when she saw the script for this episode about Jessie Spano going full speed freak after getting hooked on some pep pills. But once the episode aired, and her melodramatic meltdown helped inspire the Internet to become a thing just so she could be meme'd out, she must have been so scared.