5 Lessons Modern Blockbusters Could Learn From Jurassic Park
Catch the Jurassic Park movies this month on IFC.
Posted by Lindsay Ellis on
Photo Credit: Universal/Everett Collection
Jurassic Park wasn't the first blockbuster that set out to appeal to everyone, but it is arguably the most successful of its kind. Adults, kids, boys, girls, nerds, jocks, and lawyers love it. (Okay, maybe not lawyers). With a script from David Koepp, direction by Steven Spielberg (who also had the Oscar winning Schindler's List the same year) and groundbreaking special effects that still thrill modern CGI-addled viewers, Jurassic Park was the most ambitious film project of its time. And as we see with dreadful early-'90s megaflops like Waterworld and Showgirls, the bigger they were, the harder they were apt to fall.
Jurassic Park faced the impossible scenario of having to appeal to everyone, and the end result is one of the very few examples that actually succeeded. So what lessons can we take from the shining beacon of both mass appeal and being smarter than the competition?
1. Don't Be Afraid to Change Your Source Material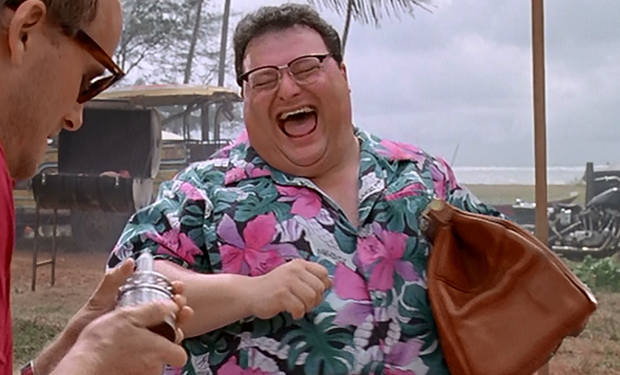 An adaptation of Michael Crichton's hit novel, Jurassic Park changes a lot from page to screen, but the most significant changes are in the characters, in that they actually exist. Crichton's primary interests were scientific morals and philosophy, not character and story, so the characters end up more as vessels for the action and ideas rather than, well, characters. Adding dimension to the characters changed a great deal of the material, since the material flowed more organically not just from ideas and philosophy, but character action.
Hammond (Richard Attenborough), the well-meaning, impassioned lover of science and possibilities, is a much more compelling character in the film than the corporate, grandchild-hating jerk who is poetically eaten by dinos in the book. Nedry (Wayne Knight) isn't just in the story for some corporate espionage — there's a genuine "daddy issue" undercurrent in his relationship with Hammond, and his desire to subvert his father figure goes horribly awry.
Tim and Lex (played by Joseph Mazzello and Ariana Richards) aren't just whiny nuisances who are kids for kids' sake, but are given interests and agencies that pay off later in the film — Lex with her computer skills, and Tim with his basic dinosaur knowledge. The movie gives Dr. Alan Grant (Sam Neill) a character arc by getting him to connect with children, whom initially make him uncomfortable, which helps solidify his relationship to Ellie Satler (Laura Dern).
---
2. Avoid useless characters.
Often in movies we see half-baked young characters (kids, teenagers) who get jammed into the film for no other reason than to appeal to a wider demographic. For example, the child characters in Independence Day are borderline comical both in their narrative non-purpose and how much they don't act like children.
Last summer's mega-blockbuster/franchise extender Jurassic World was guilty of this, too. Zach (Nick Robinson) and Gray (Ty Simpkins) have no skill, except for (apparently) some world experience from That One Time They Fixed A Car, a skill which was not set up nor ever referred to again. After the kids are rescued, they're basically fleshy backpacks for Chris Pratt and Bryce Dallas Howard to foist around for the rest of the movie.
Lex and Tim not only aid in Grant's growth, but also use their skills to further the plot. Sure, it's a little goofy how Lex uses her knowledge to save the day, but this was 1993. Nowadays people know a bit more about UNIX systems (and, let's face it, most people learned about UNIX systems from other people joking about how Jurassic Park got it oh-so-wrong).
---
3. You can include complex concepts…but keep it simple.
Part of the brilliance of Jurassic Park isn't that it involves complex philosophical concepts, but all of the different ways it disseminates complex information. It's like a sampler platter of ways to both world-build and sew in theme.
Jurassic Park grazes over complex concepts like Chaos Theory, but that is not to say that it only pays them lip service, and moreover, the characters don't just stop the action to explain things to the audience in an inorganic way. As a writer of prose, Crichton is guilty of this. These ideas are present in the original novel, but in the film, they are distilled, focused and sharpened to a fine point. The theme of chaos in an unpredictable environment is shown both implicitly (after Nedry's meddling throws the trip into chaos) and explicitly, where Malcolm exposits repeatedly, betwixt a uniquely suave mix of "ums" and "uhs" and other Goldblum-isms.
The overarching theme of the movie is not so much that man should not play God (as Malcolm argues), but that man cannot, with perfect accuracy, predict all outcomes. That is a much more complex and satisfying conclusion to come to than simply "man play God, man go too far!". The "don't play God" aspect is certainly there, but it doesn't end there. There is a genius simplicity in Jurassic Park's complexity.
---
4. Exposition should be actually motivated!
Since all of our main characters are experts in different fields, talking to each other about their respective fields is a great and easy way to let the audience in on things the characters already know in a natural way. Some of the scientific concepts are imparted by way of a cartoon in the Jurassic Park visitor center, because it is a theme park, and it is an educational "ride," as Hammond says.
My favorite example of this is the scene where Malcolm gives Ellie a primer on Chaos Theory in a discussion which could've be really pretentious and boring. He gives the elevator pitch in the form of trying to describe the Butterfly Effect, but she doesn't get it, leading to a more practical (and flirtatious) lesson that she can actually follow. Whereas in old sci-fi B-movies of yore it would have been just a bunch of guys standing in labs, explaining things to each other, here it is motivated.
Ellie and Malcolm didn't have any kind of a "thing" in the book, but adding this now famous moment to the film not only gives us a little philosophical discussion, it allows for integral character development as well — Ellie egging on Alan by being receptive to Ian's flirting, and Alan showing his difficulty committing to her by not engaging. It's subtle, but all of these character traits come in and are built upon later.
Finally, if you learn nothing else from Jurassic Park, remember:
---
5. Dinosaurs Eat Man, Woman Inherits the Earth.
Just sayin'.