The 10 Funniest Drug Freak-Outs
Freak out with That '70s Show Mondays & Tuesdays starting at 6P on IFC.
Posted by Emmy Potter on
Photo Credit: Everett Collection
While most characters from pop culture blissfully mellow out when they partake, not everyone is quite so lucky. Before you get weird with the cast of That '70s Show tonight starting at 6P, check out some funny drug freak-outs that prove letting loose can occasionally be overwhelming. It wouldn't be called a "trip" if it wasn't memorable.
10. Wet Hot American Summer

USA Films
A quick trip into town turns into an ACTUAL trip for Beth (Janeane Garafolo) and the counselors of Camp Firewood. The gang gets into all sorts of debauchery, from smoking joints and eating whole containers of McDonald's french fries to downing a six-pack and snorting cocaine. It all goes downhill pretty fast when they wind up shaking and sweaty in a local drug den after stealing an old woman's purse and shooting up heroin. It's always fun to get away from camp, even if it's just for an hour!
---
9. That '70s Show, "Till the Next Goodbye"

Carsey-Werner Productions
After years of pot-smoking circles in the basement, Red (Kurtwood Smith) and Kitty Forman (Debra Jo Rupp) finally catch Eric (Topher Grace) and his friends Fez (Wilmer Valderrama), Hyde (Danny Masterson), and Kelso (Ashton Kutcher) in the act. But their stern lecture doesn't exactly get through to the totally blazed boys. Eric sees the walls behind his parents moving. Fez has a warped fishbowl vision of the adult Foremans. Hyde's focus is drawn to a lone Twinkie on the shelf behind Red, and Kelso imagines Kitty and Red's heads floating through the air and swapping bodies. Now THAT's a real head trip if we ever saw one!
---
8. Arrested Development, "Afternoon Delight"

Fox
Despite her constant drinking, Lucille Bluth (Jessica Walter) can still be a smidgen uptight, which is why son Michael (Jason Bateman) tells his uncle Oscar (Jeffrey Tambor) to give the visibly stressed Lucille some "afternoon delight." Oscar mistakes it for a particularly strong strain of pot called "Afternoon Deelite," which he bakes into a brownie and gives to Lucille. A lyric in the song version goes, "Mama always said when it's right, it's right," but we're not sure that applies to driving her Mercedes-Benz over her son-in-law Tobias (David Cross) and into the family banana stand containing her son, Gob (Will Arnett). More like an afternoon disaster.
---
7. Freaks and Geeks, "Chokin' and Tokin'"
Of all the freakouts on our list, Freaks and Geeks' Lindsay Weir (Linda Cardellini) definitely wins for most realistic. Lindsay decides to try pot for the first time following a fight with ex-boyfriend/resident pothead Nick (Jason Segel), completely forgetting she had agreed to babysit the neighbor's kids. Luckily, straight-laced former BFF Mille (Sarah Hagen) is there to talk Lindsay through her paranoia over "being inside the dog's dream," take control of a game of hide-and-seek that quickly goes awry, and stuff Lindsay full of Fruit Loops in hopes of sobering her up. "I know what high people look like," Millie assures her."I went to a Seals and Crofts concert last summer."
---
6. The Breakfast Club
We want whatever was in those joints our Jock, Brain, Basket Case, Princess, and Criminal smoked in the library during their Saturday detention at Shermer High School. After sneaking a stash of pot from out of Bender's (Judd Nelson) locker, our Breakfast Club sit around mellowly passing joints and talking save for jock Andrew (Emilio Estevez) who hot boxes in the foreign language listening room. When he emerges, he launches into an athletic dance break worthy of Kevin Bacon in Footloose full of kicks and punches finally screaming so loud he shatters the glass of the door. As the pot works its magic, the confessions get more personal, and the dancing more vigorous. This is one Breakfast of Champions.
---
5. The Big Lebowski
Now THAT's a strong drink. After questioning him on the whereabouts of his missing porn star and the money she owes him, Jackie Treehorn (Ben Gazzara) drugs the Dude's (Jeff Bridges) White Russian, which knocks him out. Unconscious, the Dude hallucinates an elaborate dance sequence featuring bowling paraphernalia and the beautiful Maude Lebowski (Julianne Moore). Talk about tripping major bowling balls.
---
4. Old School
When wild Frank (Will Ferrell) accidentally takes a tranquilizer to the jugular, the world around him really slooooooows down. He goes crashing through best friend Bernard's (Vince Vaughn) kid's birthday party, falling into the pool, and hallucinating his ex-wife on the beach while Simon & Garfunkel plays in the background. When he wakes up, he's making out with animal wrangler, Peppers (Seann William Scott) by mistake. That's ONE way of subduing a party animal.
---
3. Fear and Loathing in Las Vegas
On a road trip/ "trip" to Vegas for the Mint 400 motorcycle race, pals Duke (Johnny Depp) and Gonzo (Benecio Del Toro) drop acid. By the time they check into their hotel on the Strip, Duke is nearly out of it, sweating profusely and hallucinating the other guests and hotel staff as various types of lizards. Once in their room, Gonzo and Duke order more room service than Kevin McAllister at the Plaza in Home Alone 2, and try not to freak out over war footage on the television. Considering their suitcases are full of other psychotropic drugs, it's a good thing Vegas has so many buffets.
---
2. 9 to 5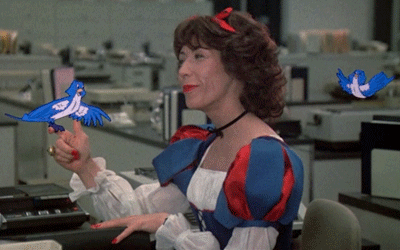 20th Century Fox
Sometimes, you just gotta have an old-fashioned pot party with your girlfriends. Judy (Jane Fonda), Violet (Lily Tomlin), and Doralee (Dolly Parton) are commiserating together one night at a bar after a particularly awful day at work when Judy finds a "Maui Wowie" joint left by her son in the bottom of her purse. The trio return to Doralee's house and start tokin' it up, prompting each to have a pot-fueled fantasy about how they'd kill off their sexist boss (Dabney Coleman). Judy becomes a film noir femme fatale complete with black & white cinematography. Doralee, unsurprisingly, takes a cowgirl approach with a rope before roasting Hart on a spit. Violet's fantasy goes sadistic Disney complete with animated animals and a Snow White-esque costume. Sweet dreams, ladies!
---
1. 21 Jump Street

Columbia Pictures
When undercover cops Schmidt (Jonah Hill) and Jenko (Channing Tatum) get sent back to high school to investigate a new popular synthetic drug, they never expect to experience the effects of it firsthand. After being forced to take it in front of the most popular student, Eric (Dave Franco), the two start going through the various stages of the drug: hallucinating moving eyebrows on the P.E. teacher (Rob Riggle), making asses of themselves during play auditions and band practice, feigning sexual acts with a baton during a track meet, and finally, passing out cold. If ever there was a case to be made for bringing back the D.A.R.E. program, this is it.