10 Reasons Why Conan the Barbarian Is What Is Best In Life
Catch Conan the Barbarian this month on IFC.
Posted by Luke McKinney on
Conan the Barbarian is the tale of an ultra-muscled warrior who went on to dominate a new homeland with a surprising amount of charisma, which basically makes it the most Schwarzenegger-iest movie ever made. With the original Conan the Barbarian airing this month on IFC, it's time to list the reasons why the Cimmerian hero is what is best in life.
1. He punches everyone and every thing. Even Camels.
An unbelievably muscular man gets laughs by knocking out an inhuman creature with lustrous sandy hair. No, it's not Hulk knocking out Thor, it's Conan cold-cocking a camel.
---
2. He prays for the downfall of his enemies.
Only Conan could pray to a warrior god while outnumbered and surrounded by several entire armies and still end it with a threat. And it worked.
---
3. He knows that knives make your point better than words.
Of all the barbarian abilities we wish we could deploy in the modern world, this is the greatest. Just think of all the time you could save with this sharp one-liner in your next boring team meeting.
---
4. He has a way with the ladies.
Whether it's Sandahl Bergman's Valeria or Grace Jones as Zula in Conan the Destroyer, Conan is catnip to the ladies. They're always trying to grab him and take him.
---
5. He's been known to go for a spin.
Conan hates wizards, and never more so when fighting the bizarre wrestling-monster of Thoth-Amon in the room of mirrors. This wizard seems to suplex more often than slinging fireballs, but that only makes it a better fight.
---
6. He cracks heads like walnuts.
Of course Conan defeats enemies. That's what he does. It's how he does it that's interesting, and this has to be the greatest multiple concussion we've ever seen.
---
7. He knows every argument can be settled with an axe.
You probably shouldn't ride a horse around Conan. It never ends well.
---
8. Nothing hurts him. Well, expect maybe pain.
Like Dalton from Road House, Conan knows that "pain don't hurt."
---
9. He knows how to party.
Drunk Conan is the best. You may lose your head at the end of the night, but you'll have a blast.
---
10. And of course, he taught us all what is best in life.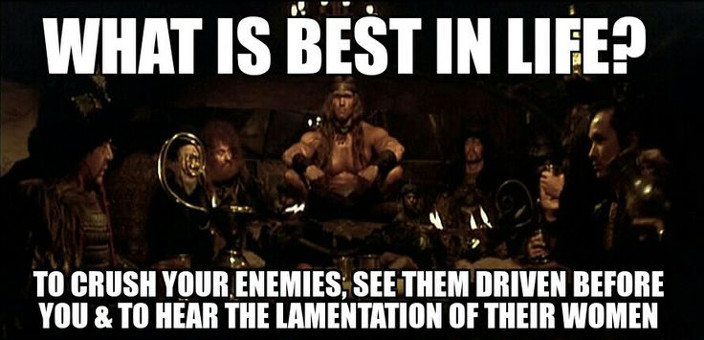 The most famous mission statement of all time can be applied to anything, whether it's taking down an evil snake cult or the guy who cut you in line at the frozen yogurt shop.