10 Hilarious Jaws Spoofs
Catch the Jaws movies during IFC's Memorial Day Shark Half-A-Day Marathon.
Posted by J. Keith Van Straaten on
Photo Credit: Universal Pictures
How much is Jaws a part of our culture? Over 40 years after its release, it's still prompting parodies that get laughs. To get you ready for IFC's Memorial Day Shark Half-A-Day Marathon, check out our favorite spoofs of Jaws from across pop culture. Want more? You're gonna need a bigger list…
1. "Mr. Jaws," Dickie Goodman
Released just a few months after the movie's debut on June 20th, 1975, this novelty record spent ten weeks on the Billboard Hot 100 chart, peaking at #4. In one of the earliest examples of sampling, comedian Dickie Goodman spliced in snippets of pop songs to answer interview questions with the Great White himself.
---
2. Jaws II (Land Shark), Saturday Night Live
It took only the fourth episode ever of SNL to establish one of its iconic recurring bits and play into the hysterical fear of sharks that Jaws prompted. A big punchline of this sketch: A sequel to Jaws! Who in 1975 could imagine such a thing??
---
3. "Jowls," The Carol Burnett Show
Exactly one week after SNL spoofed Jaws, Carol Burnett and company did their take. Looking back now, what's most amazing is that network TV allowed a sketch to go on for eleven minutes.
---
4. Mad Magazine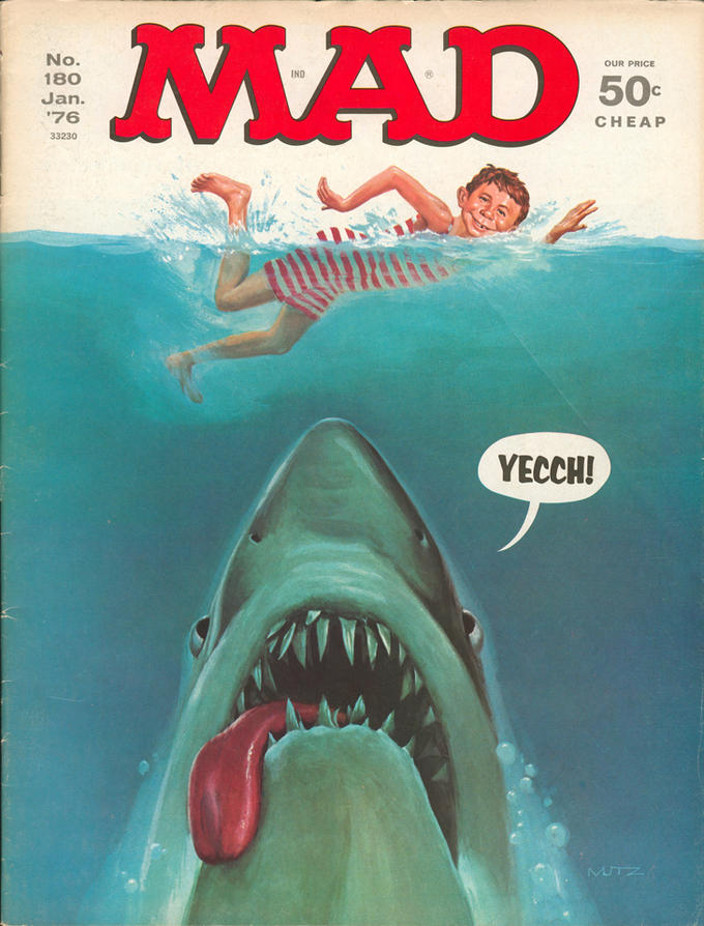 Mad Magazine/DC Comics
Even Jaws wouldn't want to take a bite of Alfred E. Neuman in this issue from 1976. The comic inside spoofed the movie with a musical version -– an idea that took off over 30 years later.
---
5. 1941
How many times has this happened to you? You make a legendary movie, you see people parody it, and you want in! That's the unlikely scenario that led to Jaws director Steven Spielberg making his own spoof as part of his 1979 war comedy 1941. How authentic did Spielberg get? Yes, that's Susan Backlinie, the original lady in the water from Jaws, meeting up with trouble in the moonlight yet again.
---
6. Airplane!
One of the greatest disaster comedies of all time sets the tone for hilarity with its opening sequence. Even before the title appears, you know you're in for a movie that winks at its place in film history.
---
7. Back to the Future Part II
1989 brought us this blockbuster sequel making fun of blockbuster sequels, as Marty McFly finds himself in a futuristic 2015 showing Jaws 19. While the actual 2015 came and went with Jaws only having three sequels, Universal treated fans of both movies to a trailer for the film that might have been…
---
8. Clerks
Kevin Smith was one of a generation of filmmakers influenced by Jaws. Many of his films contain references to his love of the original film, but only Clerks has the salsa shark.
---
9. Giant Killer Shark: The Musical
Why should live theater be without a spoof of Jaws? Just because of the risk of a massive lawsuit over intellectual property infringement? That may help explain the please-don't-sue-us title of Giant Killer Shark: The Musical, which debuted in 2006. Just to drive the point home: the action takes place on and around Copyright-Protected Island. Scary!
---
10. Bill Murray's Jaws Love Theme, SNL 40
The star-studded SNL 40th anniversary special marked four decades since the debut of SNL and of Jaws. It featured not one but two references to the movie, with Bill Murray as lounge singer Nick Ocean singing the love theme from Jaws we never knew we were missing. (He reprised the song at the event above.) Later, the Land Shark himself appeared on "Weekend Update." Jaws: The gift that keeps on giving laughs.
Spend Memorial Day with IFC's Shark Half-A-Day Marathon featuring "fin facts" from "sharks-pert" Jason Alexander!