A Definitive Ranking of the Hairstyles of Troy
Catch Brad Pitt in Troy this month on IFC.
Posted by Brian Steele on
Photo Credit: Warner Brothers/courtesy Everett Collection
Troy is a product of its time, an old-school period action flick released back in 2004 in an era defined by Hobbits and Orcs. But while the Lord of the Rings movies would go on to win the box office and a boatload of Oscars, Troy would best it in one distinct way. For all of its flaws, when it came to hairdos, the people behind Troy brought it. Poofy. Wavy. Long. Luxurious. Each style more glorious than the last. Before you catch Troy on IFC this Friday, April 15th at 8P, we thought it was our duty to rank the defining quality of this movie, that split the difference between Tolkien and 300 and ended up as a hair salon ad with swords.
12. Diane Kruger as Helen

Warner Bros. Pictures
Oh please, this 'do is like Season 3 of Downtown Abbey — tasteful and boring. Troy, with its Cliff's Notes plotting and Lord of the Rings-style battle scenes, makes its bones with action and a hair budget that would bankrupt most third world nations. This demure number isn't going to cut it.
---
11. Peter O'Toole as Priam

Warner Bros. Pictures
Peter O'Toole is a film legend, but while the piercing blue eyes can still sell a scene, his blow-dried middle part just didn't stand out when compared to the feathery goodness the rest of the cast was working with. A solid effort from an icon, but maybe he should stick to acting, and leave the hair game to the pros.
---
10. Rose Byrne as Briseis

Warner Bros. Pictures
Sure, Rose Byrne looks nice enough. Maybe a touch too 2004 pop star, instead of 1250 B.C. virgin priestess, but how was anyone supposed to know crimped bangs weren't here to stay? Cute, but far from the poofed-out pomp A-game we get to see later in the list.
---
9. Saffron Burrows as Andromache

Warner Bros. Pictures
Another solid effort, but there are no participation trophies here. Yes, Ms. Burrows' hair looks lovely, but we need a bit more Tina Turner and a little less Golden Globes presenter to make up some ground. Beautiful isn't going to cut it. In this movie, when your hair looks done, you need to go back in and ask for three more inches of poof.
---
8. Brendan Gleeson as Menelaus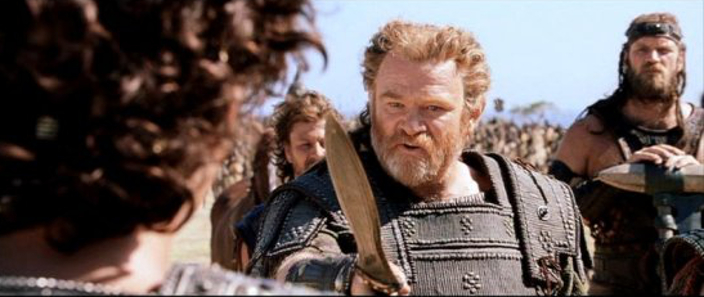 Warner Bros. Pictures
Now we're getting somewhere. Rumor has it Gleeson brought a hedgehog into the makeup trailer and said make me look like that. Okay, we just made that up, but it gives you an idea of what it took to stand out in this cast of follicle superstars.
---
7. Orlando Bloom as Paris

Warner Bros. Pictures
Orlando Bloom was coming off of a long run of Elven blonde extensions when he joined the cast of Troy, so when everyone else zigged, he zagged. His short, curly locks are the type you could run your fingers through for days, leading to a commendable effort, if not the wig-wearing crown.
---
6. Brian Cox as Agamemnon

Warner Bros. Pictures
Brian Cox is one step shy of a Psychlo from Battlefield Earth here with his dreaded ponytail. Kudos, Mr. Cox, for playing the hair game, but we're docking you points for reminding us of Travolta's creepy tongue in that movie.
---
5. Eric Bana as Hector

Warner Bros. Pictures
Now we're talking. Eric Bana's hair is so deliciously poofy in this movie, it would probably float away if it weren't stapled to his head. The filmmakers must have had a whole team of blow driers at the ready for any day he was on set.
---
4. Julie Christie as Thetis

Warner Bros. Pictures
Unlike fellow legend Peter O'Toole, Julie Christie brings her mane mastery to the hair and makeup chair here, with her grey-streaked hair screaming "my part may be underwritten, but you will pay attention to me." It's like a rollercoaster ride of highlights and lowlights. She looks like a Disney villain on a Grecian holiday. This is how you play to win.
---
3. Sean Bean as Odysseus

Warner Bros. Pictures
Oh, Sean Bean. You may get killed in every movie you appear in, but that tornado of wavy locks on your head could survive a nuclear explosion. Windswept doesn't do that 'do justice, unless the wind is coming from every angle imaginable.
---
2. Garrett Hedlund as Patroclus

Warner Bros. Pictures
Garrett Hedlund was just a rookie on the set of Troy, but he knew to do anything and everything Mr. Pitt was doing, and then some. That must be how he ended up with these luscious locks that look like they belong on a poster in a tween's bedroom, more than on the head of the future Tron: Legacy star.
---
1. Brad Pitt as Achilles

Warner Bros. Pictures
Yes, this may be the easy choice, but it is numero uno for a reason. The Bradster brought all of his years of movie star experience to the set of Troy, going to a hairdo that would stand the test of time. The long, roping locks. The wavy curls. The near neon brand of blonde hair dye. The only thing that could upstage Mr. Pitt's once in a lifetime coif in this movie is his marble chiseled abs, but that's for another list. Mr. Pitt, unlike Achilles, you have no weaknesses.
What if Troy was a staring contest? Watch below.