8 Surprising Facts about Tommy Chong
Catch Tommy Chong on That '70s Show Mondays & Tuesdays from 6-11P on IFC.
Posted by Amber Petty on
Photo Credit: Everett Collection
We all know his work with Cheech and Chong and his role as Leo on That '70s Show, but it turns out there's a lot more to Tommy than "Dave's Not Here." Here are some of the most interesting and not all pot related facts about Tommy Chong.
1. He Played with the Jackson 5
No, Tommy Chong wasn't a forgotten Jackson. Before comedy, Tommy was a guitar player for a band that changed names many times and eventually became Bobby Taylor and the Vancouvers. They had a hit with "Does Your Mama Know About Me," that went to #29 on the Billboard Hot 100. During their touring days, a little group called the Jackson 5 would open for them. Chong doesn't have too many sordid stories of the young Michael Jackson later only referring to him as "a cute little guy." To be fair, Tommy was probably stoned at the time. It's a wonder he even remembers meeting the King of Pop.
---
2. The Lion King Almost Became A Cheech and Chong Film

Disney
Cheech Marin voiced the hyena Banzai in The Lion King and originally Tommy Chong was going to voice Shenzi, the other talking hyena. But Disney decided to make the character female and Whoopi Goldberg ultimately voiced the role. Also, maybe Disney didn't want a duo known for popularizing weed in their children's film.
---
3. He Broke a Record at the Semi-Finals of Dancing with the Stars

ABC
People thought Tommy Chong would not last on Dancing with the Stars, but he kept making the cut week after week. By the time he got to the semi-finals at age 76, he was the oldest celebrity to ever make it that far. Sadly, he was beat out by the daughter of somebody on Duck Dynasty, giving us all another reason to hate Duck Dynasty.
---
4. His Daughter was in The Color Purple

Warner Brothers/FanPix
Tommy Chong has five kids, three of which are successful actors themselves. Rae Dawn Chong was Squeak in The Color Purple and has appeared in many other roles in film and TV. His daughter Precious Chong, has the best name ever and was in LA Confidential and Pearl Harbor. Also, they look nothing like their dad.
---
5. He's been in everything from That '70s Show to Zootopia

FOX
Leo, the stoned owner of Foto Hut, isn't Tommy Chong's only TV role. He's stepped in for one time appearances on Miami Vice, Nash Bridges, and Dharma and Greg. In recent years, Chong has contributed voicework to everything from Zootopia to Uncle Grandpa.
---
6. The DEA Spent $12 Million to Put Him in Jail

Youtube
Operation Pipe Dreams was a huge DEA enterprise to crack down on people selling drug paraphernalia. 55 people were arrested, but the only person to serve jail time was Tommy Chong, due to his part of the bong selling business Chong Glass/Nice Dreams. Yeah, he was sentenced to a fine and nine months in prison for selling bongs. Operation Pipe Dreams cost the government $12 million and its only triumph was making Chong miss a season of That 70's Show.
---
7. He Inspired the Wolf of Wall Street in Jail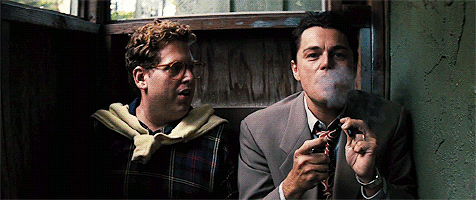 Paramount Pictures
Tommy Chong certainly made the most of his jail time. His cell mate was Jordan Belfort, the author of the book Martin Scorsese's film The Wolf of Wall Street was based on. According to Belfort, Tommy Chong encouraged him to write his memoirs, which eventually lead to the Oscar nominated film. They're still friends today.
---
8. He's Gotten High With Everyone
We couldn't leave this list without some weed smoking trivia. Though it's no surprise that Chong's gotten high a number of times, he's smoked with the best in the biz. In a Rolling Stone article, Tommy says he toked up with Arnold Schwarzenegger, Kareem Abdul-Jabbar, Sly and the Family Stone, Jimi Hendrix, Mick Jagger, Rod Stewart, Keith Moon, Wally from Leave it to Beaver, and all of the Beatles except Paul. There's still time, Paul!