10 Offbeat Comic Book Movies You Need To See
Catch The League of Extraordinary Gentlemen this month on IFC.
Posted by Brian Steele on
Photo Credit: Everett Collection
When we think of movies based on comic books, our minds tend to drift towards tights, spectacular powers and origin stories about how those extraordinary powers come with great responsibilities. But not all comic books star superheroes, and not all movies adapted from them do either. In fact, there are a diverse array of films based on graphic novels and comic book titles, telling stories about everything from sexual awakening to cold blooded revenge. Here are a few comic book flix that are worth checking out while you wait for Captain America and Spider-Man to return to the big screen.
10. Persepolis

Sony Pictures Classic
Marjane Satrapi codirected and cowrote the screenplay for this acclaimed animated film, based on her autobiographical graphic novel of the same name. Through vivid animation and moving voiceover, the film tells the tale of Satrapi coming of age as a punk rock-loving kid during the Iranian revolution. A revolution itself, Persepolis scored the 2007 Grand Jury Prize at the Cannes Film Festival and further pushed the boundaries of what a comic book movie can accomplish.
---
9. Mystery Men

Universal Pictures
Despite a fun script and an amazing cast (everyone from Ben Stiller to Eddie Izzard to Dane Cook is in this thing), Mystery Men never got much credit for spoofing the superhero genre way before the comic book movie glut. Based on Bob Burden's Flaming Carrot comics, Mystery Men came and went when it was released back in 1999. It's worth a second look, if for no other reason than to see Paul Reubens as a superhero with the power of explosive flatulence.
---
8. The Rocketeer

Disney
Released in 1991 on the heels of Batman and Dick Tracy, The Rocketeer was poised to be the next big comic book blockbuster. But the movie fizzled at the box office, eventually finding a much-deserved cult following on home video. Directed by Joe Johnston with the same mix of heart, humor and action-packed thrills that he brought to Captain America: The First Avenger, The Rocketeer is a throwback to classic pulp adventures presented with zero camp. A faithful adaptation of the late Dave Stevens' graphic novel, it's a franchise that Disney should consider rebooting. Maybe a Rocketeer/Captain America crossover?
---
7. Snowpiercer

Weinstein Company
Yes, that insanely awesome movie where Chris Evans fights his way through a futuristic train is based on a series of French graphic novels. Directed with visceral style by Bong Joon-ho, Snowpiercer developed buzz when it was released in 2014 thanks to its twisty plot and intense action sequences. The graphic novels are worth checking out, though you'll have to supply your own bizarre Tilda Swinton accent.
---
6. Ghost World

United Artist
Indie filmmaker Terry Zwigoff adapted this film with the help of Daniel Clowes, the writer and artist of the anthology comic Eightball, where the "Ghost World" story first appeared. The film, like the comic, tells the story of two oddball teenage girls making their way towards adulthood. For the film, Zwigoff and Clowes expanded the role of the middle-aged loner (Steve Buscemi) that Enid (Thora Birch) pranks before eventually befriending. The graphic novel helped put Clowes on the map, and the film went on to receive an Oscar nomination for Best Adapted Screenplay in 2002.
---
5. A History of Violence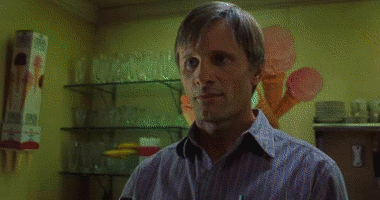 New Line Cinema
This paired down thriller was a perfect example of respecting the form and brevity of the source material and translating it to the screen. Genre icon David Cronenberg helped steer this adaptation of John Wagner and Vince Locke's graphic novel to an Oscar win for William Hurt, and a triumphant screening at the Cannes Film Festival.
---
4. Road to Perdition

Dreamworks
Sam Mendes followed up his Oscar-adored film debut, American Beauty, by helming this adaptation of the 2002 comic by Max Allan Collins and Richard Piers Rayner. The story of a mob enforcer who seeks revenge on the men who killed his family, it was notable for casting Tom Hanks, aka America's nicest movie star, as the heavy for once.
---
3. Art School Confidential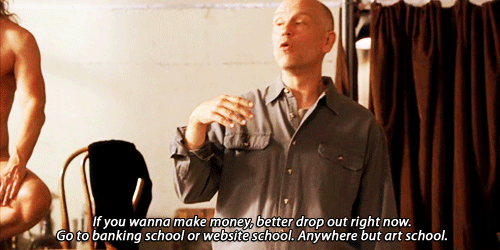 Sony Pictures
Terry Zwigoff and Daniel Clowes reunited for this largely autobiographical story of Clowes' early days in art school. The original comic was just four pages long, meaning much of the material covered in the movie was original. Still, you should watch it for John Malkovich's trademark bizzaro performance as a pompous professor, and then stick around for the serial killer subplot that feels like it's from a different movie. This isn't a classic like Ghost World, but it's worth seeing just for the singular talents behind it.
---
2. American Splendor

HBO Films
American Splendor is an autobiographical film, based on an autobiographical series of comics about the life of cartoonist Harvey Pekar, who also appears in the film as himself, talking to his fictional counterpart, played by Paul Giamatti in a career defining performance. It is idiosyncratic, bizarre and something that has to be seen to truly grasp, but with a Grand Jury Prize for Dramatic Film at the 2003 Sundance Film Festival under its belt, it certainly did its source material proud.
---
1. The Diary of a Teenage Girl

Sony Pictures Classic
Based on the semi-autobiographical graphic novel The Diary of a Teenage Girl: An Account in Words and Pictures, this recent indie favorite is about one teenage girl's sexual awakening by way of an affair with her mother's boyfriend. The movie, like the comics before it, mixes the moody angst of teendom with a certain magical realism to create an immersive world of sexual delights and snarky comebacks. Frank and funny, the film was an awards season favorite, and took home Best First Feature at the 2016 Spirit Awards.