10 Mob Movie Ladies You Don't Want to Mess With
Catch Scarface this month on IFC.
Posted by Emmy Potter on
Photo Credit: Everett Collection
Marriage is tough enough without adding murder and money-laundering to the mix. The wiseguys in our favorite mob movies would be nothing without the brawny wisegals by their side, so we compiled a list of our favorite tough-as-nails leading ladies who know their way around a gun AND a cannoli. Check them out below, and be sure to catch Michelle Pfeiffer in Scarface this month on IFC. It's an offer you can't refuse.
1. Diane Keaton, The Godfather trilogy
In her career-launching role as Kay, Michael Corleone's (Al Pacino) blonde New England girlfriend turned second wife, Keaton goes from naive outsider to outspoken family matriarch. When Michael continues to refuse "going legitimate," Kay retaliates by aborting their third child and filing for divorce after Michael banishes her from the family. We're hoping she sent a bloody horse head with the divorce papers.
---
2. Michelle Pfeiffer, Scarface
In a knockout performance, Michelle Pfeiffer proved she was a force to be reckoned with. As slinky, iconic Elvira Hancock in Scarface, Pfeiffer rocked a chic bob and Tony Montana's (Al Pacino) world, but eventually broke up with him during a drug-fueled fight that culminated in a wine throwing moment reality TV stars would envy.
---
3. Jessica Chastain, A Most Violent Year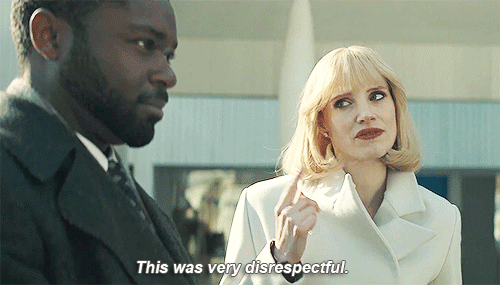 Speaking of tough broads with blonde bobbed haircuts, Chastain netted a Golden Globe nomination for her work as Anna Morales, the steely firecracker wife of a New York oil company owner (Oscar Isaac) who also happens to be the daughter of a Brooklyn mafioso. As the violence escalates between competing oil companies amidst investigations by the Assistant District Attorney (David Oyelowo), Chastain's Anna encourages her husband to play even dirtier to get ahead, making mafia deals and "skimming" from their business to get the extra cash they need to rise to the top. Every wannabe gangster needs a Lady Macbeth in his corner, and Anna is a Shakespearean villain by way of the Brooklyn Bridge.
---
4. Anjelica Huston, Prizzi's Honor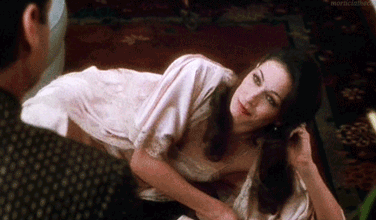 In her Academy Award-winning turn as scheming Maerose Prizzi, Anjelica Huston stole every scene opposite some serious acting heavy hitters. After being cast aside by former lover Charley (Jack Nicholson) in favor of sexy blonde hitwoman Irene (Kathleen Turner) and falling out of favor with her father, the jealous Maerose hatches a plan to get even by proving Irene is double-crossing the organization. Somehow, she also finds time to seduce Charley and wear a series of increasingly fabulous outfits. If looks could kill, Maerose would have quite the body count.
---
5. Marion Cotillard, Public Enemies
It takes a special kind of woman to agree to become the number one dame of "public enemy number one" John Dillinger (Johnny Depp), but tenacious singer and waitress Billie Frechette (Cotillard) is more than up for the challenge, falling in love with Dillinger hard and fast even after he reveals his true identity. Headstrong Billie is loyal to John to a fault, which unfortunately leads to her arrest, torture, and two years in federal prison. "Where somebody waits for me, sugar sweet so is she," goes a lyric in Billie and Dillinger's favorite song, but we're not so sure we'd call Bille anything close to sweet.
---
6. Gena Rowlands, Gloria
Ever the lioness onscreen, Rowlands is nothing short of brutal and brilliant as the eponymous Gloria, her eighth collaboration with director/husband John Cassavetes. Faced with a crisis of conscience when her neighbors' kid is suspected of harboring mob secrets, Gloria, a former mobster's girlfriend herself, begrudgingly takes the kid on the run. Naturally, the acid-tongued, ass-kicking Gloria and precocious kid don't exactly get along at first, but nothing brings people together quite like being chased by dangerous hitmen through the streets of New York City. "Family business" indeed.
---
7. Maria Bello, A History of Violence
Edie Stall may role-play as a helpless cheerleader in the bedroom, but she's anything but when faced with the truth about her husband Tom's (Viggo Mortensen) secret violent past life in the mob. As their marriage starts unraveling, Edie distances herself from Tom and becomes fiercely protective of their two children, both of whom are threatened by mobsters. When the violence escalates, we can't say we blame Edie for seriously reconsidering the "'til death do us part" of her marriage vows. (Click here to see all airings of A History of Violence on IFC.)
---
8. Sharon Stone, Casino
Sharon Stone earned a Best Actress Oscar nomination for her fiery performance as Ginger McKenna, wife of Robert De Niro's casino manager, Sam "Ace" Rothstein. A reckless hustler with a "mission in life" for money, the gorgeous Ginger easily attracts male attention whether from ex-boyfriend Lester Diamond (James Woods), or made man Nicky (Joe Pesci). Her independence and cocaine habits coupled with her philandering prove to be too much for jealous Sam to handle. Turns out marrying life-of-the-party Ginger was just too much of a gamble.
---
9. Uma Thurman, Pulp Fiction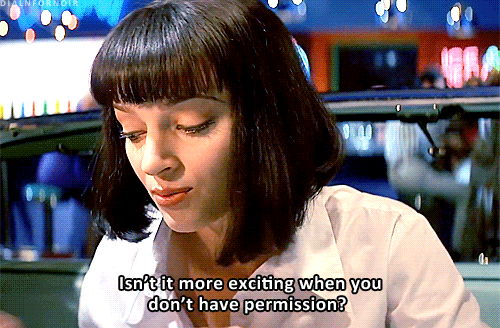 Thanks to Thurman's cool girl performance and yet another great bobbed haircut, Mia Wallace has become a true pop culture icon in the 22 years since Quentin Tarantino's stylized neo-noir burst onto the scene. Mia finds her own ways of rebelling against her overprotective kingpin husband, Marsellus (Ving Rhames), whether receiving questionable foot massages from his employees, snorting cocaine, or dancing the twist barefooted with hitman Vincent Vega (John Travolta) at Jack Rabbit Slim's. Her $5 milkshakes bring all the boys to the yard.
---
10. Lorraine Bracco, Goodfellas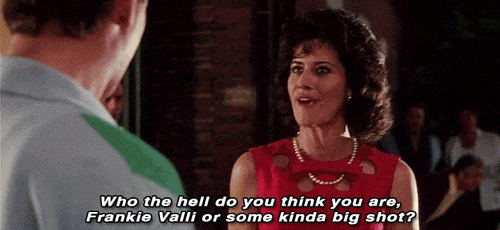 For as far back as we can remember, we always wanted to be as ballsy as Karen Hill. When we first meet Karen, she's just a nice Jewish girl from Long Island who is seduced by Henry Hill's (Ray Liotta) seemingly glamorous life, revealing that she was turned on after being forced to hide Henry's gun on their third date (which we're pretty sure is first base in the mafia dating scene). As Henry dives deeper into the underworld, so does Karen, turning into a disillusioned, ruthless drug smuggler with a taste for fancy clothes and revenge against her husband's many mistresses.
See what Scarface would look like as a sitcom.