10 Stoners We Want to Hang Out With
Mellow out with That '70s Show Mondays and Tuesdays starting at 6P on IFC.
Posted by Emmy Potter on
We all knew (or were) that one kid back in high school or college who would rather pass a joint than pass class. Hollywood is just as fond of these cannabis-loving classmates, which is why we compiled a list of our favorite after school (or during school) stoners who redefine the meaning of the term "higher education."
1. Travis, Clueless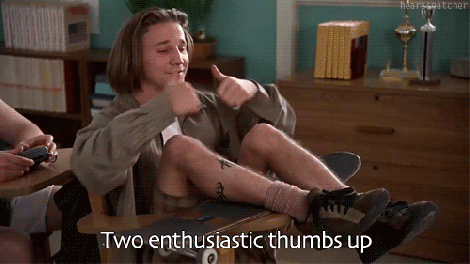 Travis Birkenstock (Breckin Meyer) might occasionally say dumb things at school and be the recipient of the most tardies in his class due to his cravings for Egg McMuffins, but that doesn't stop him from immediately catching the eye of new transfer student Tai (Brittany Murphy). A lovable optimist, Travis also throws great house parties and has a real talent for competitive skateboarding, the latter of which causes him to quit his drug habits for good. We happen to think it's pretty ingenious that he keeps his bongs in the kitchen so he's closer to the fridge when the munchies hit.
---
2. Nick, Freaks and Geeks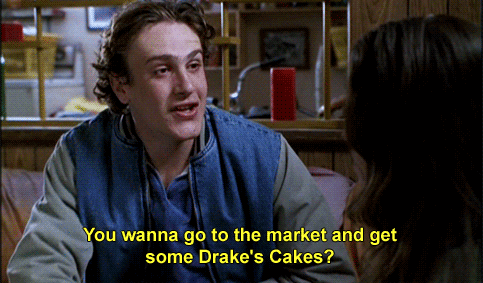 The first thing you should know about sweet stoner Nick Andopolis (Jason Segel) is he loves his drum set more than anything in the world. Unfortunately, his skills don't quite match his enthusiasm. The same can be said for his efforts at dating Lindsay (Linda Cardellini) and his academic career in general. The one thing Nick actually is quite adept at is basketball, but he lost his place on the school team, and subsequently his interest in the sport, because of his pot smoking. But he's definitely the guy you want to hang out and listen to Rush with.
---
3. Spicoli, Fast Times at Ridgemont High
Stoned since the third grade, Ridgemont High senior Jeff Spicoli (Sean Penn) is the classic California surfer dude and main source of frustration for history teacher Mr. Hand (Ray Walston). Spicoli is often tardy, never has any money due to not having a job, and pretty much only cares about the Rolling Stones and having "some tasty waves and a cool buzz." However, Spicoli earned our undying love for ordering a pizza for himself in the middle of Mr. Hand's class. Aloha Mr. Hand…and aloha pizza!
---
4. The gang, That '70s Show
Circle time is always the best time on That '70s Show. For teens Jackie (Mila Kunis), Kelso (Ashton Kutcher), Donna (Laura Prepon), Fez (Wilmer Valderrama), Hyde (Danny Masterson), and Eric (Topher Grace), the pot-smoking Circle in Eric's basement is their favorite place to unwind, share secrets, make fun of one another, snack, hallucinate and everything in between. While Hyde was the most upfront about his pot use, the others just as enthusiastically puffed away, occasionally welcoming guests to their little Circle of trust and toking. And sometimes unwelcome guests, like Red.
---
5. Slater, Dazed and Confused
On this last day of high school in 1976, THE stoner of stoners, junior Slater (Rory Cochrane), is lamenting spending one more year in school. So he does what he always does — smokes tons of pot with best friends Wooderson (Matthew McConaughey), Pickford (Shawn Andrews), and Pink (Jason London) and goes on rants about everything from Martha Washington to aliens to freshman girls. But there are worse ways to end the school year than getting high with your best friends and driving off into the sunrise to buy Aerosmith tickets.
---
6. Kumar, Harold and Kumar Go to White Castle
Kumar (Kal Penn) doesn't really want to go to medical school, but his father is threatening to cut him off financially if he refuses, so unsurprisingly, he totally botches his school interview in favor of getting high with roommate Harold (John Cho). The pair embark on possibly the most epic, fraught trip to cure their munchies ever with Kumar even illegally performing a difficult surgery perfectly, which makes him realize he wants to go to medical school after all. He also plays love doctor by helping BFF Harold work up the courage to admit his feelings to neighbor Maria (Paula Garces). Someone get this loyal bro some White Castle, STAT!
---
7. Marty, Cabin in the Woods
College stoner Marty Mikalski (Fran Kranz) is not "The Fool" the staff at the mysterious Facility peg him to be for their strange experiment. Though we aren't sure about his theories on doing bong hits and driving, he proves himself to be a lot smarter than anyone gives him credit for, escaping from zombies and rescuing pal Dana (Kristen Connolly) from the throes of an RV crash. Resourceful and funny ("Oh my god. I'm on a reality TV show. My parents are gonna think I'm such a burnout!") even during the end of the world, Marty manages to light up one last joint to share with Dana as the nefarious Ancient Ones slowly emerge from the floor below them. Here's hoping they have Pop Tarts in heaven.
---
8. Silas and Jamal, How High
Talk about high test scores. Silas (Method Man) and Jamal (Redman) manage to ace their college entrance exams thanks to the help of a special, magical strain of marijuana fertilized by the ashes of their recently deceased friend. The pair enroll at Harvard where Silas discovers he has a talent for botany while Jamal joins the rowing team to impress girls. It's safe to say mega-stoners Silas and Jamal often butt heads with the buttoned-up Ivy Leaguers like Dean Cain (No, not THAT Dean Cain), but they sure do have an awful lot of fun doing it.
---
9. Charlie, Charlie Bartlett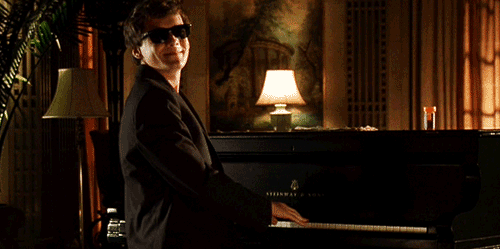 His drugs of choice may be of the prescription variety, but enterprising Charlie Bartlett (Anton Yelchin) knows a good high when he has one. After being shipped off to yet another new school, Charlie makes friends quickly when he realizes he has a talent for peddling prescription drugs and bathroom psychiatry to the other students with the help of resident school drug dealer Murphy (Tyler Hilton). A natural charmer, Charlie strikes up a relationship with the principal's daughter (Kat Dennings), but his increasingly rebellious behavior and influence over the rest of the student body are naturally not as well-received by Principal Gardner (Robert Downey, Jr.) or his mother (Hope Davis). But did we mention Charlie also plays a mean version of "Yankee Doodle Dandy" on the piano?
---
10. Bill and Ted, Bill & Ted's Excellent Adventure
Technically, we never see high school students Bill (Alex Winter) and Ted (Keanu Reeves) light one up, but what exactly do you think these two metalheads were doing inside that time-traveling phone booth? The lovable, dimwitted duo aren't exactly psyched to do their final oral reports for their history class but they rise to the challenge as they meet "excellent" historical babes and figures, philosophizing with Socrates, er, So-crates by quoting "Dust in the Wind" and offering Genghis Khan a Twinkie. And we all know that if there's one thing stoners like, it's Twinkies.