10 Essential WTF With Marc Maron Podcast Episodes
Watch Maron Wednesdays at 9P on IFC.
Posted by Brian Steele on
Photo Credit: Marc Maron/Instagram
Hey all you "What the F–kers" and "What the F–kniks." You may think you know everything there is to know about WTF, the comedy podcast that helped turn Marc Maron into an institution, but everyone has their blind spots. Have you listened to all 697 (and counting) episodes? Yeah, we didn't think so. Maybe you missed one or two of the quintessential interviews. Or maybe you're new to the podcast and are looking for some episodes to start with. With the entire WTF archive available on the Howl Premium app, now is a great time to get caught up on one of the best podcasts out there. We gathered together 10 episodes that define what WTF is all about, in all its cat-loving, Nicorette-chewing, Lorne Michaels-obsessing glory. Strap on those ear buds and give them a listen.
10. Steve Rannazzisi

Dmitri Von Klein/WTF with Marc Maron
At first listen, there didn't seem to be anything exceptional about Steve Rannazzisi's episode of WTF. He mainly talked about growing up Catholic, and his life as a stand-up and sitcom star on FX's The League. The one truly memorable moment was his recounting of working at Merrill Lynch on 9/11, and his narrow escape from the collapsing Twin Towers. It was an emotional story, and one he was clearly uncomfortable recounting. It's only in hindsight that his reticence begins to make a bit more sense, because the story turns out to be complete fiction. As revealed by The New York Times, Rannazzisi never worked for Merrill Lynch and was actually in Midtown Manhattan on that fateful day. Before the story broke Rannazzisi called Marc to apologize for using his show to perpetuate a lie. Addressing the controversy on his podcast, Maron said, "I need you guys [the listeners] to know that this is not 60 Minutes. If someone comes on this show and tells a story about their life, I will take what they're saying at face value. If people come on here and make stuff up, that's on them." It's only now, with hindsight, that the episode becomes a fascinating look at self-delusion. (Click here to listen.)
---
9. Robin Williams

@marcmaron
After Robin Williams took his own life in 2014, Maron reposted his 2010 interview with the comedian, saying, "It changed my life and it changed many people's perception of Robin Williams." Williams tackled his battles with depression and addiction head on in the episode, saying at one point that his drinking was "trying to fill the hole." It was an incredibly revealing, raw interview with a comedy legend, and sadly helps frame the hows and whys of Robin Williams' untimely death. (Click here to listen to the episode.)
---
8. Louis C.K. Two-Parter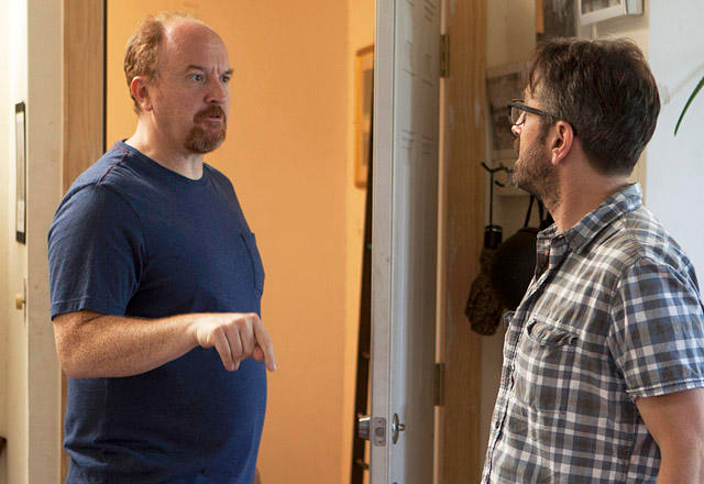 FX Productions
As young comics, Louis C.K. and Marc were close friends. They came up together in the late '80s, playing the same clubs, hitting on the same girls, and sharing a unique bond. But as their careers diverged, and jealousies bubbled up, they grew apart. At one point, Maron even asked Louis to stop calling him, because all he ever did was talk about himself. That is the backstory to this emotionally raw, and yet still funny two-part episode of WTF, in which two old friends (who happen to be world class comedians) confront their relationship and start anew as we listen in. It's one of the most relatable and human episodes of a podcast filled with them. (Click here to listen.) 
---
7. Lorne Michaels

J.P Spence/YouTube
Lorne Michaels was always Marc Maron's great white whale. Twenty some years ago, Maron met Michaels to talk about taking over the Weekend Update desk on SNL. It did not go well (at least in Marc's mind), and had haunted the neurotic comedian for years. Fast forward a couple decades and Maron began his podcast, grilling every guest with a connection to Michaels in an attempt to understand the man behind his greatest career regret. But somehow, it was never enough. He wanted the comedy guru himself. It took years of trying, fighting through unreturned calls and scheduling hang-ups, but he finally landed the interview, and it terrified him. As he walked into Michaels' 30 Rock office, the SNL creator can be heard saying, "This is the scene of the crime." The stage set, Maron and Michaels dug into what really happened, unpacking the moment, their relationship, and Michaels' impact on comedy and pop culture. Still not satisfied at the conclusion of the interview, Maron set up a follow-up for the next day, and kept on unpacking. A fascinating look at both the legendary Michaels, and what happens when you finally let go of regret. (Click here to listen.)
---
6. President Barack Obama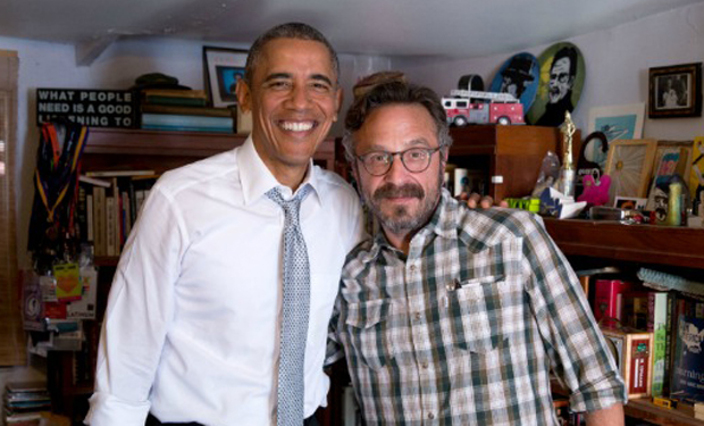 Marc Maron/Instagram
"I didn't sleep great because the President of the United States is on the show today." That's how the episode begins. Anytime you have the leader of the free world sit down for an interview in your garage, you know you may be on to something. The whole thing feels so hyped, the fact that it's actually a fascinating interview is almost an afterthought. Sitting Presidents don't often engage in such intimate conversations, where free flowing topics relate more to the man than the policies he espouses. Maron, a former talk radio host on liberal leaning Air America, certainly knows how to talk politics, saying at one point, "I used to be more politically involved. I ran the country from my couch for a couple of years." But it's when he approaches the President as just another guy in his garage that the conversation really comes to life. Obama gets a chance to talk about racism, his childhood and his favorite comedians, while Maron gets to ask the President "how are you crazy?" Frankly, the only thing missing is Maron getting to ask Obama his thoughts on Lorne. Maybe next time. (Click here to listen.)
---
5. Norm Macdonald

Marc Maron/Instagram
Maron has stated that this is one of his all-time favorite WTF episodes, even if he doesn't know exactly why. He says it may be because, based on his public persona, Macdonald doesn't seem like much of a talker. In fact, Marc was worried how the show would go, and yet when the sardonic comedian showed up, he was incredible game, really digging into his battles with drinking and gambling. And frankly, that's what makes WTF such a special show. It's a forum for comedians (or Presidents or musicians or filmmakers…) to reveal another side of themselves underneath the showbiz facade. Macdonald's raw honesty was such a revelation, Maron skipped his usual post-production process, and threw the episode up almost immediately. All these years later, it's a perfect example of what WTF can be when Maron is on point and his guests are willing to go wherever he leads them. (Click here to listen.)
---
4. The Onion's Todd Hanson

The Moth
Todd Hanson, a long-running writer and editor for The Onion, may not be the most famous name on this list, but he's certainly responsible for one of the most fascinatingly honest episodes in WTF history. The interview starts out ordinarily enough, with the two commiserating over the New York alt-comedy scene and their shared sensibilities. It's only in a follow-up interview, taped months down the line, that Hanson really opens up about his deeply rooted depression. With detailed precision, he takes Maron through his 2009 suicide attempt, in which he checked into a New York hotel room, wrote two letters, and then downed 60 Xanax and a bottle of scotch. He woke up 24 hours later when a maid came into the room and stumbled home, only to be found by his roommate and taken to a detox. He says this was his "second birthday," and has recommitted himself to getting help. Maron is one of the few interviewers who can get subjects to open up about such painful and taboo subjects, and the episode stands as a high-water mark for the more humane side of the podcast. (Click here to listen.)
---
3. Todd Glass

Dmitri Von Klein/WTF Podcast
Todd Glass, a longtime stand-up, was 47 when he guested on WTF back in 2012. With years spent on the comedy circuit, most audiences felt like they had a handle on who he was. That's what made his "announcement" so surprising. Saying he felt an obligation to kids having a hard time admitting who they truly were, he decided it was time to come out as gay. With intellect and compassion, Glass took Maron through why he'd kept his homosexuality private for so long, and what had changed for him, before talking about his frustrations with bullying in and out of the comedy world. The episode helped put WTF on the map as the place where comedians could dive past their well-honed material. (Click here to listen.)
---
2. Gallagher

@FCTN_LIFE
If you're looking for one episode that perfectly encapsulates the bizarre places WTF will go, look no further. Gallagher, a novelty comedian most famous for smashing watermelons with a mallet, is not a happy person. That much is clear from this brief interview, in which he expressed frustration that others had been more successful than him, despite his own brilliance. Johnny Carson was a jerk for not liking prop comics. Kenny Rogers was an assh*le for not laughing at his Iranian Hostage Crisis-themed dick jokes. Gallagher seems downright delusional, saying he was supposed to get a network talk show, but had to leave town to make money, allowing lesser talents like Jay Leno and David Letterman to steal what he was owed. The guiding principal of his career seems to be that he "wanted to make big money." He desperately tries to make clear that he doesn't care what anyone else thinks of him, revealing a fractured, angry man underneath his watermelon soaked facade. He ardently defends himself against calls that he's racist and homophobic by being racist and homophobic. And then, in the end, after saying all comedians dream of working the state fairs he tours, he storms out in a fury, Maron memorably calling "aw, come on Gallagher," after him. Much like the stage after a Gallagher performance, the prop comic reveals himself to be a complete mess. (Click here to listen.)
---
1. Carlos Mencia Two-Parter

Comedy Central
Perhaps the most famous episode in WTF history, Marc's 2010 chat with Carlos Mencia helped put the podcast on the map. Maron has said he tried to keep an open mind when he first booked Mencia on his show. The comedian and star of the Comedy Central sketch show Mind of Mencia was reviled in the comedy community for his hack jokes and accusations of stealing material, but Maron was hoping to get to the truth beyond the rumors. Carlos was not. Instead, he revealed just enough about himself to satiate the inquisitive host, without really opening up. By the time the first interview had ended, Maron felt like he'd been used for some comedy community PR. He ended up going back to the comedian, to take another stab at things, and that's when Mencia's house of cards came crumbling down. Mencia tried to address the issues of propagating racism and stealing others jokes, but he just doesn't get why it's all so bad which ends up being his undoing. One of the more uncomfortable interviews you'll ever hear, it's a must listen for comedy fans and anyone interested in the lies we all tell ourselves. (Click here to listen.)