A Timeline of Vin Diesel's Hair in Movies
Catch Vin Diesel in Pitch Black and Babylon A.D. Thursday, March 31st starting at 5:45P on IFC.
Posted by Brian Steele on
Photo Credit: Lionsgate
With some actors, it feels like they've always been old. Wilford Brimley was playing grandpas all the way back in the 1986 television series Our House, and is somehow still going strong. Some actors don't age at all. Paul Rudd could probably still play a teen heartthrob in a pinch. It's like he's frozen in alabaster. Very likable alabaster
And then there's Vin Diesel, America's living Olive Garden emoji, because when you're with him, you're family. Vin has a very special quality that sets him apart from nearly every other actor in the game: he's always been bald. Seriously, he must have started balding at birth. Try to remember when he had hair. Any hair. Maybe some early movie, before he broke big?
How about Multi-Facial, the short film that first got him attention?
Nope. Well, he must have had hair in his big break, Saving Private Ryan?
Not so much.
Okay, how about Boiler Room?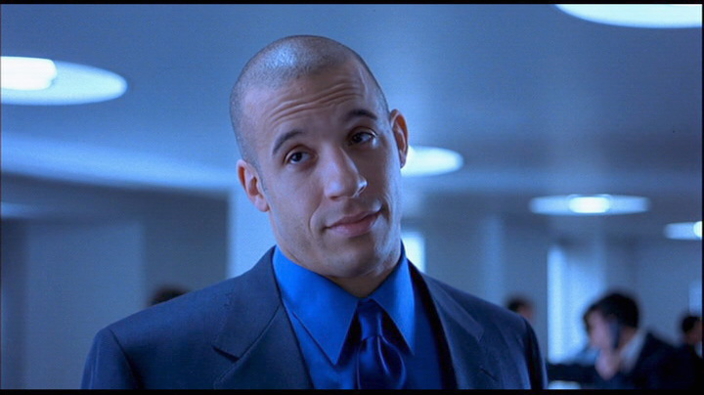 Bald as a coot. And, obviously, he wasn't using his Rogaine when he made Pitch Black.
Few actors, since the heyday of chrome dome Telly Savalas, have been as bald for as long as Mr. Diesel. You have to dig deep into his past, to a time when he was still known as Mark Sinclair, aspiring break-dancer, to find a hairdo on his head. And what a 'do it was, a tight Afro that wouldn't get in the way of a head spin or two.
No, if we're being honest, Vin Diesel with hair is like Arnold with an American accent or The Rock not smelling what anyone's cooking. It just doesn't make sense. But it has happened.
The first time Mr. Big Movie Star decided to play the follicle game was in the big budget Pitch Black sequel, The Chronicles of Riddick. That was 2004, just shy of a decade removed from his first real part in the movies. More chunky dreads than movie star locks, he looked a bit like he was making a movie about George Clinton taking over for Santa Claus.
We'd have to wait two more years for the Vin Diesel wig department's true tour de force. Find Me Guilty saw Diesel playing a wise guy who decides to defend himself in court. Hemmed in by the minor detail that he was portraying a real person, there was little choice but to slap some hair on that cue ball. Our man Vin sports a wig that would make The People vs. O.J. Simpson proud. The Big Short would use this wig as inspiration for their whole movie, that's how impressive it was. It's got pomp. It's got loads of forehead. It's beautiful.
The 2015 bomb The Last Witch Hunter would see Diesel's return to the wig game, with a short on the sides, long in the back style that looks more at home in a Macklemore video than in a gritty, historical action flick. Still, you can't blame the guy. What does he know about hair? The last time he got a haircut M.C Hammer was still legit enough to quit.
And then…nothing. Hair silence. And with news that Vin is developing a Kojack movie, we may be out of luck for a while. Still, an army of wigs stands ready and able, waiting for the call.