5 Stars Who Got Their Start on That '70s Show
Catch back-to-back That '70s Show episodes tonight starting at 6P.
Posted by Brian Steele on
Carsey-Werner Productions
When That '70s Show premiered back in 1998, the most famous cast member was probably Kurtwood Smith, who'd earned some notoriety for trying to kill Robocop. The teens responsible with carrying the series were largely unknown. Of course, they wouldn't remain that way for long. The show would become a hit, and the cast would become big stars. Even today, names like Ashton Kutcher and Mila Kunis are more famous for their tabloid exploits and award nominations than their sitcom roots. But the casting department that struck gold pulling together this ensemble didn't quit after the pilot. For eight seasons, That '70s Show managed to cast future stars in small roles. Here are a few of our favorite celebrities who got their start back in the '70s.
5. Reid Scott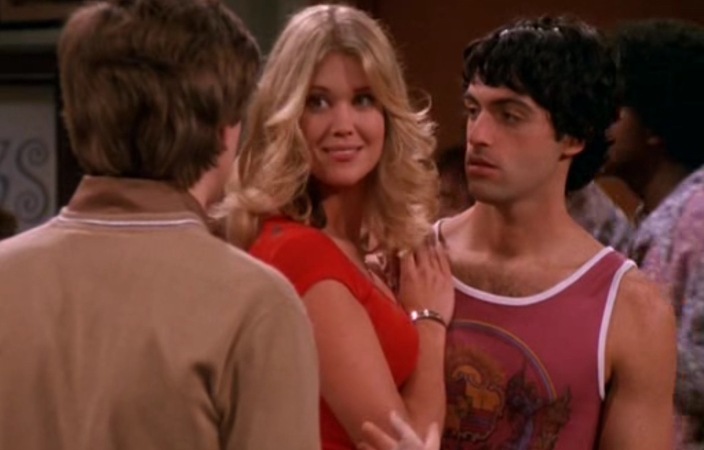 Reid Scott may be best known as the narcissistic, career-obsessed Deputy Assistant to the Vice President on the Emmy winning HBO sitcom Veep, but That '70s Show was actually his first gig on TV. He guest starred on the season 5 episode "Over the Hills and Far Away" as Eric's competition for college girls. As you can imagine Eric lost that particular battle.
---
4. Jim Rash
Jim Rash may be an Academy Award-winning screenwriter (and the scene-stealing standout of the cult comedy Community), but he was still a journeyman actor and member of the Groundlings comedy troupe when he booked a recurring role on That '70s Show as the flamboyant landlord of Fez and Kelso's apartment building. Fenton and Fez were mortal enemies, and while their hatred was never explained on the show, one popular theory was that they shared a tryst gone bad, meaning Dean Pelton wasn't Rash's first character with fluid sexuality.
---
3. Erika Christensen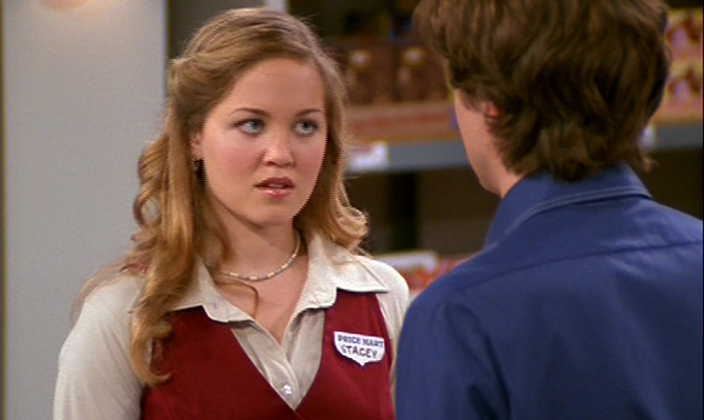 Erika Christensen was still a child actress in search of a grown-up part when she booked a guest star spot on That '70s Show back in 2001. She played a charming Pricemart cashier who Red wants to set up with Eric, until she starts coming on to him. After a childhood spent playing precocious kids on shows like Touched by an Angel, and a Leave It To Beaver reboot, this would be her coming out as a grown woman, leading to parts like Julia Braverman-Graham on the long running NBC drama Parenthood.
---
2. Jimmy Pardo
While not a household name, Jimmy Pardo has carved out a niche as Conan O'Brien's in-house comedian, warming up the crowd and popping up on the show in a variety of ways. He's also the host of the popular podcast Never Not Funny, which has hosted everyone from "Weird Al" Yankovic to Jon Hamm. But early in his career, he got a break playing Stan, the sexiest radio station manager who fires Donna for not doing an ad in a bikini. Unfortunately, his role would be overshadowed by another guest star on the episode, Eliza Dushku, playing radio station assistant "Sizzling Sarah." Maybe if he'd been willing to appear in that bikini himself, it would have made more of an impression.
---
1. Amy Adams
Amy Adams, Oscar nominee and modern day Lois Lane, only had a couple of parts to her name when she popped up in the season 2 episode "Burning Down the House," as an unwanted guest at a party gone out of control. She would soon run through a litany of guest starring roles, on everything from Buffy the Vampire Slayer to West Wing, before getting her big break in the indie hit Junebug.