15 Hilarious Movie Knockouts
Catch an all-day Rocky movie marathon Sunday, March 6th, on IFC.
Posted by Luke McKinney on
Photo Credit: Universal/courtesy Everett Collection FILM STILL
Movie violence is the wonderful opposite of the real thing: it solves problems, has no long-lasting effects and is frequently hilarious. The most magical of all attacks in the instant KO. It's an off-switch powered by pure rage or joy, and it never fails to crack us up. In honor of Rocky knocking out chumps this month on IFC, we've collected cinema's funniest knuckle sandwiches.
1. Groundhog Day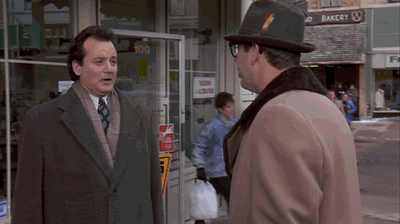 Groundhog Day traps Bill Murray in 24 hours, but (relatively) soon he realizes it's an infinite playground to indulge his every desire. Like knocking out Ned Ryerson, the insurance agent who's been annoying him every day.
---
2. Blazing Saddles
Blazing Saddles is still one of the funniest comedies every filmed, and the scene where muscle-bound menace Mongo drops a guy and his horse is so wrong we can't stop laughing. That's what you get for telling Mongo where to park his bull.
---
3. Conan the Barbarian
Conan promised to crush his enemies and hear the lamentations of the women. He forgot to include "punch any camels that get in my way."
---
4. Friday the 13th Part VIII: Jason Takes Manhattan
Always remember the three rules to surviving a Friday the 13th movie: 1. Don't stand in front of Jason. 2. Don't attack Jason. 3. Definitely don't challenge Jason to a boxing match unless you want to be the wrong part of the most hilarious knockout in horror history.
---
5. Friday
If you haven't seen this movie you have never truly understood uppercuts. The perfect parabola described by Red could only be improved by Chris Tucker, laying down the most perfect summary by saying "You got knocked the &*$% out!"
---
6. Happy Gilmore
Sure, Happy Gilmore gets in a few solid blows. But it's Bob Barker who shows Happy that the price is WRONG.
---
7. Back to the Future
The punch heard around the timeline, as George McFly finally focuses an entire lifetime of bullying into one perfect point. And that point was on the end of his fist. Actor Tom Wilson sold the punch like it was made of gold, and it was glorious.
---
8. She's Funny That Way
The screwball romantic comedy features all the standard romantic misunderstandings, though there's no misunderstanding Jennifer Aniston's feelings when she catches her boyfriend dating another woman. He probably won't be understanding anything at all for a while.
---
9. Slap Shot
Slap Shot is no mere movie — it's an ode to the beauty of violence on ice. The Hanson brothers provide more knockout punches than most action heroes, but it's hard to beat the majestic buildup to this single savage shot to the head.
---
10. Superbad
Feeble Fogell, aka McLovin, has faked an ID and spends the whole movie trying to live up to it. It's all going well until he runs into a robber who delivers one of the most beautiful left-field sucker punches.
---
11. Independence Day
Will Smith shows us how alien invaders should be welcomed to Earth. It doesn't matter how terrifying they are: if an alien has a face, you can punch it.
---
12. Hangover
Annoying Mike Tyson was never going to end well. Which makes it even more impressive that The Hangover could make it even more hilarious, painstakingly setting up the perfect stage by forcing our feeble heroes to sing "In The Air Tonight" before laying out Alan with an Iron Mike special.
---
13. The Avengers
HULK SMASH! That's, like, his entire deal. Even if you've just helped him take down an enemy of all humanity we have to recommend not being smug, or standing in punching distance, and those are two mistakes Thor makes all the time.
---
14. Dumb & Dumber
There are knockouts, and there are knockouts where both face and glass are smashed. This scene is a reminder of both how funnier Dumb & Dumber is, and also of a time when people actually had to wait to use the phone in public.
---
15. The Wicker Man
Nic Cage has made a superior career of late out of utterly demented roles, and nothing captures the meme-manufacturing machine he's become like The Wicker Man. If cinema has an apex, it is Nic Cage in a bear suit sucker-punching a poor woman.