15 Hilarious Soap Opera Parodies
Catch the classic sitcom Soap Saturday mornings on IFC.
Posted by Luke McKinney on
Photo Credit: Columbia Pictures Television
The soap opera is the indestructible core of television fandom. We celebrate modern series like The Wire and Breaking Bad with their ongoing storylines, but soap operas have been tangling more plot threads than a quilt for decades. Which is why pop culture enjoys parodying them so much.
Check out some of the funniest soap opera parodies below, and be sure to catch Soap Saturday mornings on IFC.
1. Mary Hartman, Mary Hartman
Mary Hartman, Mary Hartman was a cult hit soap parody from the mind of Norman Lear that poked daily fun at the genre with epic twists and WTF moments. The first season culminated in a perfect satire of ratings stunts, with Mary being both confined to a psychiatric facility and chosen to be part of a Nielsen ratings family.
---
2. IKEA Heights
IKEA Heights proves that the soap opera is alive and well, even if it has to be filmed undercover at a ready-to-assemble furniture store totally unaware of what's happening. This unique webseries brought the classic formula to a new medium. Even IKEA saw the funny side — but has asked that future filmmakers apply through proper channels.
---
3. Fresno
When you're parodying '80s nighttime soaps like Dallas and Dynasty , everything about your show has to equally sumptuous. The 1986 CBS miniseries Fresno delivered with a high-powered cast (Carol Burnett, Teri Garr and more in haute couture clothes!) locked in the struggle for the survival of a raisin cartel.
---
4. Soap
Soap was the nighttime response to daytime soap operas: a primetime skewering of everything both silly and satisfying about the source material. Plots including demonic possession and alien abduction made it a cult favorite, and necessitated the first televised "viewer discretion" disclaimer. It also broke ground for featuring one of the first gay characters on television in the form of Billy Crystal's Jodie Dallas. Revisit (or discover for the first time) this classic sitcom every Saturday morning on IFC.
---
5. Too Many Cooks
Possibly the most perfect viral video ever made, Too Many Cooks distilled almost every style of television in a single intro sequence. The soap opera elements are maybe the most hilarious, with more characters and sudden shocking twists in an intro than most TV scribes manage in an entire season.
---
6. Garth Marenghi's Darkplace
Garth Marenghi's Darkplace was more mockery than any one medium could handle. The endless complications of Darkplace Hospital are presented as an ongoing horror soap opera with behind-the-scenes anecdotes from writer, director, star, and self-described "dreamweaver visionary" Garth Marenghi and astoundingly incompetent actor/producer Dean Learner.
---
7. "Attitudes and Feelings, Both Desirable and Sometimes Secretive," MadTV
Soap opera connoisseurs know that the most melodramatic plots are found in Korea. MADtv's parody Tae Do  (translation: Attitudes and Feelings, Both Desirable and Sometimes Secretive) features the struggles of mild-mannered characters with far more feelings than their souls, or subtitles, could ever cope with.
---
8. Twin Peaks
Twin Peaks, the twisted parody of small town soaps like Peyton Place whose own creator repeatedly insists is not a parody, has endured through pop culture since it changed television forever when it debuted in 1990. The show even had it's own soap within in a soap called…
---
9. "Invitation to Love," Twin Peaks
Twin Peaks didn't just parody soap operas — it parodied itself parodying soap operas with the in-universe show Invitation to Love. That's more layers of deceit and drama than most televised love triangles.
---
10. "As The Stomach Turns," The Carol Burnett Show
The Carol Burnett Show poked fun at soaps with this enduring take on As The World Turns. In a case of life imitating art, one story involving demonic possession would go on to happen for "real" on Days of Our Lives.
---
11. Days of our Lives (Friends Edition)
Still airing today, Days of Our Lives is one of the most famous soap operas of all time. They're also excellent sports, as they allowed Friends star Joey Tribbiani to star as Dr Drake Ramoray, the only doctor to date his own stalker (while pretending to be his own evil twin). And then return after a brain-transplant.
And let's not forget the greatest soap opera parody line ever written: "Come on Joey, you're going up against a guy who survived his own cremation!"
---
12. Acorn Antiques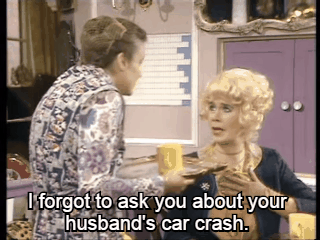 First appearing on the BBC sketch comedy series Victoria Wood As Seen on TV, Acorn Antiques combines almost every low-budget soap opera trope into one amazing whole. The staff of a small town antique store suffer a disproportional number of amnesiac love-triangles, while entire storylines suddenly appear and disappear without warning or resolution. Acorn Antiques was so popular, it went on to become a hit West End musical.
---
13. "Point Place," That 70s Show
In a memorable That '70s Show episode, an unemployed Red is reduced to watching soaps all day. He becomes obsessed despite the usual Red common-sense objections (like complaining that it's impossible to fall in love with someone in a coma). His dreams render his own life as Point Place, a melodramatic nightmare where Kitty leaves him because he's unemployed. (Click here to see all airings of That '70s Show on IFC.)
---
14. The Spoils of Babylon
Bursting from the minds of Will Ferrell and creators Andrew Steele and Matt Piedmont, The Spoils of Babylon was a spectacular parody of soap operas and epic mini-series like The Thorn Birds. Taking the parody even further, Ferrell himself played Eric Jonrosh, the author of the book on which the series was based. Jonrosh returned in The Spoils Before Dying, a jazzy murder mystery with its own share of soapy twists and turns.
---
15. All My Children Finale, SNL
SNL's final celebration of one of the biggest soaps of all time is interrupted by a relentless series of revelations from stage managers, lighting designers, make-up artists, and more. All of whom seem to have been married to or murdered by (or both) each other.