10 Romantic Horror Movies for Valentine's Day  
Catch My Bloody Valentine this Valentine's Day Sunday at 8P on IFC.
Posted by Luke McKinney on
Photo Credit: Paramount/courtesy Everett Collection
Watching hapless victims running for their lives might not sound romantic, but a scary movie is perfect for a cozy night on the couch with someone special. (Unless you're a character in a horror movie, as any romantic moment eventually turns into murderous mayhem.) Before you catch My Bloody Valentine this Valentine's Day on IFC, check out some horror movies that will both warm your heart and chill your bones.
1. Let The Right One In
A surprisingly touching tale of a bullied child and his vampire crush, the acclaimed 2008 Swedish horror film perfectly captures the feelings of being in the throes of naive first live. Pair it with the solid 2010 American remake, and be sure to have some tissues on hand to go with the blood red wine and dark chocolates.
---
2. Bram Stoker's Dracula
Francis Ford Coppola's 1992 take on Bram Stoker's classic tale upped the lavish romanticism with an ageless, yet alluring, Dracula driven by a centuries spanning love. For better or worse, we wouldn't have Twilight without this sumptuous gothic romance.
---
3. The Fly
One of the greatest body horror movies of all time centers on the most doomed relationship you've ever seen. If you find Jeff Goldblum as attractive as Geena Davis does, well, we advise you to make the most of it early on before Cronenberg's masterpiece mutilates him.
---
4. Bride of Chucky
Why can't movie monsters find love? Because it's literally horrifying. Luckily that's the point in Bride of Chucky, where the murderous puppet finds a soulmate who shares his penchant for sharp objects. A high point in the series that spoofed its own silliness while still scaring the hell out of us.
---
5. Bride of Frankenstein
Of course, there wouldn't be a Bride of Chucky without the original movie monster romance. James Whale's horror classic both introduced a new level of pathos to the Frankenstein story and gave us a lady monster for the ages.
---
6. Hellraiser
Lemarchand's box first broke the barriers between life and death as part of a (deeply unromantic) love story. An unfaithful wife seduces and murders men to resurrect her dead lover, and when her daughter finds out things get gorily complicated.
---
7. A Chinese Ghost Story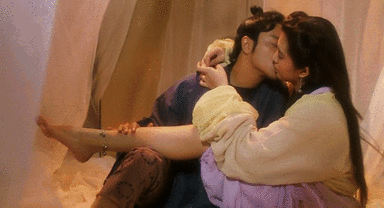 A night in a haunted temple has a man falling in love with a beautiful ghost in this horror comedy from director Ching Siu-tung. Oh, and he has to save her spirit from an evil tree demon. We haven't mentioned the swordsman or the gymnastic martial arts yet, but you'll definitely enjoy them too.
---
8. Candyman
The creepy Candyman is looking for love, which is a hard sell when you've got a hook for a hand and are usually covered in bees. Oh, and you're a revenge-fuelled murderous specter. Helen Lyle must deal with his romantic intentions as well as an unfaithful boyfriend, and it really doesn't go well for anyone. You'd think it'd be nice to have someone who always comes when you call…
---
9. Warm Bodies
An unlikely love story between the living and the dead, Warm Bodies follows "R" as he grunts and groans his affection for the chief zombie-hunter's daughter. No other story has ever so completely shown the healing power of love.
---
10. My Bloody Valentine
My Bloody Valentine stars the Grinch of the holiday, the murderous miner who has sworn that a small town should never again host a dance on that day. Of course a gang of sexy teens decide to ignore him. And of course he comes back, with wonderfully horrific results.