10 Brie Larson Performances Worth Checking Out
Find out if Brie Larson wins big at the 2016 Spirit Awards live Saturday Feb. 27th at 5P ET on IFC.
Posted by Emmy Potter on
Photo Credit: Universal Pictures
It's possible you hadn't heard of Brie Larson until she starred alongside Amy Schumer in last summer's hit comedy Trainwreck, or started winning every award these past few months for her remarkable turn in the emotionally-charged drama Room. But the immensely likable 26 year-old actress has been amassing credits for two decades in a variety of projects. She may not have always been the star, but her honest, natural performances have always stood out. Before you catch her at the 2016 Spirit Awards on February 27th on IFC, take a look at our list of Brie Larson performances you may have overlooked to see for yourself why she will soon be someone you won't forget.
1. Short Term 12
Destin Daniel Cretton's 2013 indie feature was a breakout role for Larson, earning her rave reviews, her first Spirit Award nomination, and plenty of Oscar buzz. The film, based on Cretton's own experiences, is about twentysomething Grace, a supervisor at a group home in Los Angeles for troubled adolescents who struggles to connect with a new female resident prone to violent outbursts. Complications arise when Grace becomes pregnant, and she is forced to make some difficult decisions regarding her future. Larson's performance as Grace, much like in Room, is alternately fierce and fragile and full of raw emotions simmering just below the surface.
---
2. The Spectacular Now
Though The Spectacular Now mostly focuses on the budding relationship between charismatic senior Sutter (Miles Teller) and shy girl Aimee (Shailene Woodley), it is Brie Larson's Cassidy who becomes the fulcrum for Sutter's sudden change in direction. A budding alcoholic, Sutter is the life of every party. Cassidy, realizing he has become more than she can handle, breaks up with him, causing Sutter to drink until he passes out on Aimee's lawn. As Sutter bonds with Aimee, he still finds himself longing for Cassidy, trying to talk to her at parties or through text messages. Cassidy reaches a breaking point and tells Sutter she can no longer have his influence in her life and has to grow up even if he refuses to. Larson's lovely, aching performance is imbued with an underlying strength: when you see Cassidy toward the end of the film, you know she's going to be okay.
---
3. The United States of Tara
Larson played a rebellious daughter struggling to deal with both her mother's dissociative identity disorder and her own personal foibles in Diablo Cody's acclaimed Showtime series. Both Toni Collette and Larson were singled out for their performances over the show's three season run, and for Larson especially, The United States of Tara proved to be yet another great launching pad for the actress.
---
4. 21 Jump Street
Nobody thought a film adaptation of the '80s teen series that launched Johnny Depp's career was a good idea at first, but filmmakers Chris Miller and Phil Lord managed to deliver a self-referential winking homage to the show and a bonafide box office hit. When former high school classmates turned bumbling police officers Schmidt (Hill) and Jenko (Channing Tatum) are assigned to go undercover at a local high school, they find themselves struggling to fit in. While Jenko finds his place with the nerds, Schmidt befriends popular kid-turned-drug dealer Eric (Dave Franco) and develops a crush on Eric's friend Molly (Brie Larson). While Larson has been relegated to "girlfriend" roles before, she makes Molly charming, relatable, and totally crush-worthy.
---
5. Scott Pilgrim vs. the World
Based on the graphic novel by Bryan Lee O'Malley, Edgar Wright's hyperkinetic film finds bass guitarist Scott Pilgrim (Michael Cera) battling his dream girl Ramona Flowers' (Mary Elizabeth Winstead) seven evil exes in highly stylized combat sequences. Brie Larson has a few memorable scenes as Scott's ex-girlfriend, Envy Adams, a famous rocker who is now dating Todd Ingram (Brandon Routh), one of Ramona's exes. Larson seems to relish playing the bad girl, commanding both Scott's and the audience's attention. With her leather jacket and prickly insults, she's one badass you don't want to mess with. Larson also did all her own singing for the film, performing a cover of "Black Sheep" by the band Metric.
---
6. The Gambler
Brie Larson plays second fiddle to Mark Wahlberg's titular gambler in this remake of the 1974 James Caan classic. As Amy, a gambling house waitress/brilliant lit student, Larson is once again a tough but charming tonic to a troubled leading man. The Gambler wasn't quite the critical or box office success as its 1974 incarnation, but both Larson and a terrific Jessica Lange received much praise.
---
7. Greenberg
Larson has a small but memorable role in Noah Baumbach's 2010 dramedy as the niece of Ben Stiller's misanthropic character. While he is house-sitting for brother Phillip (Chris Messina) in Los Angeles and romancing dog-walker Florence (Greta Gerwig), Roger throws a party with his niece, Sara, who invites all her friends over. They all do drugs together, and Sara invites Roger to join her on her trip to Australia the next day. Larson and Dave Franco would go on to work together again two years later in 21 Jump Street.
---
8. Rampart
In another small but memorable role, Brie Larson once again makes an impressive mark as the daughter of Woody Harrelson's volatile LAPD officer in this 2011 drama from director Oren Moverman. The film deals with the fallout from the Rampart scandal in the late '90s, which blew the lid on extreme police brutality in the Rampart district of Los Angeles. While Harrelson's life on the force is crumbling around him, so too is his personal life with his ex-wives and daughters. After her first day of shooting, Moverman was so impressed by Larson, he re-wrote the script to flesh out her relationship with Harrelson's character.
---
9. Community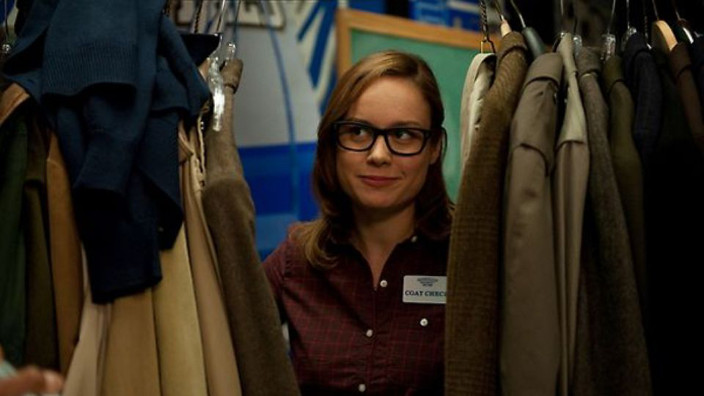 NBC
Due to its channel-hopping, schedule-misshaps, and showrunner-shuffling, you could be forgiven for forgetting Brie Larson guest-starred in three episodes of this cult comedy series. Her plucky coat-check girl, Rachel, was introduced in season four when she helped Abed (Danny Pudi) carry out his charade of escorting two different dates to the dance. Abed realized he was actually beginning to have feelings for Rachel instead and wound up escorting her for the remainder of the dance. Larson turned up again in season five, this time dating Abed and becoming the "Aww Couple," because everyone thinks they're so cute. Sadly, their romance winds up a brief one after a game night with Rachel's VCR board game goes disastrously wrong.
---
10. Digging for Fire
Director Joe Swanberg's dramedy may be about teacher/husband/father Tim (New Girl's Jake Johnson, who also co-wrote the script) finding a bone and rusty gun in the backyard of his vacation home, but it's really a tale of marriage, fidelity, and mortality. Larson turns up as Max, a beautiful young woman who peaks Tim's interest as they go looking for answers to the mystery of the bone and gun. The duo's will-they-or-won't-they tension provides plenty of complicated layers for Larson and Johnson to play, but they make it all look effortless, and Larson once again shines.