15 Things You Might Not Know About Beavis and Butt-Head
Catch Beavis and Butt-Head Do America this month on IFC.
Posted by Luke McKinney on
Photo Credit: Paramount/courtesy Everett Collection
Beavis and Butt-Head made spouting sarcastic comments while staring at a screen cool long before the Internet. But over the course of their eight season TV series (which was revived in 2011) and their 1996 big screen outing Beavis and Butt-Head Do America (airing this month on IFC), the giggling duo have left their mark (huh huh huh…we said "left their mark") on pop culture. Check out a few things you might not know about this groundbreaking animated duo.
1. They hang out at Butt-Head's house.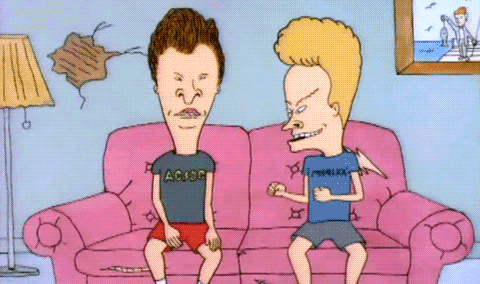 We know that Beavis and Butt-Head live in the humble burg of Highland, Texas. But whose house are they constantly watching music videos in? Their location was never established during the series, but creator Mike Judge has gone on record to confirm that they're watching TV in Butt-head's house. His TV presumably has more inches. Hehe. Hehe.
---
2. Burger World comes from "Weird Al" Yankovic.
The doofus duo "work" (we use the term loosely) part-time at "Burger World," a generic fast food joint which first appeared in "Weird Al" Yankovic's UHF. The fictional chain is also referenced in Al's classic "Fat" music video.
---
3. Kanye West wanted to be mocked by the duo.
There are few places Kanye can't appear, whether it's by invitation or simply bursting onto stage. But Beavis and Butt-Head were denied the chance to rip on Kanye in the recent batch of episodes when a minor stakeholder in the song Judge and the rest of the staff wanted to use declined MTV permission to show the video.
---
4. Hank Hill Was Almost Tom Anderson's Son.
In the early stages of King of the Hill's development, Mike Judge planned to make Hank Hill the son of Tom Anderson, the long-suffering neighbor and eternal victim to Beavis and Butt-Head's misadventures. (They are basically the same character, right down to the voice and their dislike of wayward youth.) Ultimately, though, Hank's father became the irascible Cotton, a character we imagine Beavis and Butt-Head would idolize.
---
5. An angry Beavis and Butt-Head caller inspired King of the Hill's Boomhauer.
However, there is a connection between Beavis and Butt-Head and another Arlen, TX resident. As Judge revealed to Jimmy Kimmel, an angry caller left him a voicemail during Beavis and Butt-Head's original run. The caller hated the show (which he thought was called "Porky's Butthole") and ranted about it in an incomprehensible accent. Judge found the caller hilarious and used him as the inspiration for King of the Hill's Boomhauer and his distinctive speech patterns.
---
6. The voice of Daria was in the pilot for The Real World.
Daria served as the smart, snarky voice of reason in both the Beavis and Butt-Head world and in her own cult favorite MTV series. Tracy Grandstaff, the voice of Daria, was a writer at MTV and also worked as a production assistant on season one of The Real World. Due to MTV's penchant at the time for putting staff members on-air, Grandstaff was selected to appear on the original un-aired pilot for The Real World. She eventually moved behind the scenes, but had things turned out differently, Daria might've been snarking on Eric Nies and his dumb '90s hats.
---
7. The South Park creators met Isaac Hayes at the Beavis and Butt-Head movie premiere.
South Park owes its existence to Beavis and Butt-Head in more ways than one. In fact, Matt Stone and Trey Parker first met their future collaborator Isaac Hayes (aka Chef) at the premiere of Beavis and Butt-Head Do America. (Hayes performed a song on the film's funky soundtrack.) We can almost imagine the characters looking down from the screen to pass on the torch. After lighting it with their own farts.
---
8. Chris Farley and David Spade almost played Beavis and Butt-Head on the big screen.
Beavis and Butt-Head were a huge phenomenon in the '90s, so naturally a live-action film was considered. Chris Farley and David Spade were suggested as the title characters, so have fun imagining that. Spade did end up voicing several characters on the show, including Mr. Manners in the infamous etiquette episode.
---
9. Johnny Depp and Marlon Brando were huge fans.
The show had many celebrity fans, including a couple of acting legends. Mike Judge related to Jimmy Kimmel how Johnny Depp and Marlon Brando would do the characters' voices on the set of Don Juan DeMarco. And that is an image you will never, ever forget.
---
10. "Buffcoat and Beaver" came from a real life Senator.
Beavis and Butt-Head never invaded the Janet Reno hearings on violence in television, but only because Senator Ernest "Fritz" Hollings (of South Carolina) couldn't remember their names, calling them "Buffcoat and Beavo, Beaver something." The show paid homage to the Senator when the Rush Limbaugh-esque character Gus Baker referred to our boys by this colorful mispronunciation.
---
11. There's a hidden message in the movie's desert scene.
Senators might say Beavis and Butt-Head are bad for society, but the movie's only hidden message is "Everybody go to college, study hard, study hard." This mind-expanding message can be heard in the desert hallucination scene if you reverse the audio of the background noises.
---
12. A scene where Beavis defaces the Declaration of Independence was cut from the film.
In a deleted scene from Beavis and Butt-Head Do America, Beavis is in need of "T.P for his bunghole" and comes across a group of tourists looking at the Declaration of Independence. He proceeds to break the glass on the case and, well, you can imagine where things go from there.
---
13. Mike Judge animated the first Beavis and Butt-Head short "Frog Baseball."
After a stint working in Silicon Valley, Judge created some animated shorts that caught the attention of MTV execs. One of the shorts, "Frog Baseball," featured two dimwitted teens who would go on to massive success. Judge animated the short himself, which first aired on MTV's Liquid Television.
---
14. Beavis and Butt-Head got their names from kids Mike Judge knew growing up.
Yes, there is a real Beavis. The fire-obsessed miscreant got his name from a kid named Bobby Beavis who lived three blocks from Judge in his youth. The real Beavis, however, was an athletic kid who wasn't a metal obsessed spaz. Judge got the idea for Butt-Head from another kid in his neighborhood who had the nickname "Iron Butt" due to claims that you could kick him in the butt as hard as you wanted and he wouldn't feel it. The kid was supposedly a terror, and once burned down a tree. He also had a friend everyone called "Butt-Head," and Judge used the name when he was creating the "Frog Baseball" storyboard. The name made him laugh, and the rest is history.
---
15. David Letterman May Be Their Dad.
David Letterman appeared in Beavis and Butt-Head Do America in an uncredited role (he is listed as "Earl Hofert") as one of the Motley Crue roadies the duo meet in the desert. The roadie, who bears quite the resemblance to Butt-Head, brags about "scoring with two chicks" in Highland 15 years back. The Beavis-ish roadie also claims to have scored, but as usual his counterpart takes all the credit. Though Letterman has never admitted his paternity, he did have the pair on his show back in the day.