7 Tips for Surviving Christmas from That '70s Show
Get cozy with a That '70s Show Christmas Fez-tival all Christmas Day on IFC.
Posted by Luke McKinney on
Photo Credit: Carsey Werner Productions
The holiday season means friends, family, food — and stress. The closest many will come to relaxing will be vegging out in front of the television. Luckily IFC's That '70s Show Christmas Fez-tival offers the perfect assistance with digestion, as well as advice for dealing with your nearest and dearest. What tips can Eric, Kelso, Red and the rest of the gang offer for  the holiday season? Grab a mug of egg nog (and a cold beer for Red), and take a look below.
1. Remember the importance of family.
Red Forman may be the greatest advice-giver of all time. Not only does he give good advice but he'll make sure you listen — even if that means shoving his foot so far up your ass he can wear you like a winter boot. Here he reminds us all that no matter how obligated we feel to spend time with people, we have a greater obligation to ourselves.
---
2. Keep your friends (and frenemies) close.
Christmas dinner means you can combine this advice into a single step and still be right. Because at Christmas dinner the line between friends and enemies is blurred all over your family tree. And if your greatest attack is feeding people with cookies, one way or another you'll quickly find you have no enemies.
---
3. It's never too late to tell someone you care.
Eric understands the most important part of the holiday season: appreciating those close to us. Take a moment to make sure they understand how you feel.
---
4. Watch the holiday classics on TV.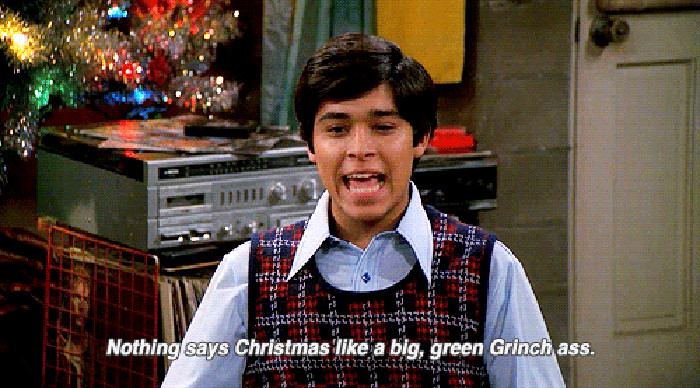 Fez's education in all things Christmas consists mainly of television specials. It's an excellent academic program and one we recommend everyone study this year.
---
5. Be open to change.
Donna identifies a slight gender imbalance in most traditional Christmas tales. The implication is that it's better to consider the feelings of the friends and family you're actually spending time with than the exact details of old traditions. Make sure everyone feels included!
---
6. Give the gift of face-melting rock.
Gift-giving is truly the spirit of the season, and Hyde arrives with an excellent combination of traditional items and something that anyone who wants to rock should own.
---
7. Be kind to those who want to watch their favorite TV shows (like That '70s Show!).
This is advice we can get behind 100%. Our ideal Christmas is a roaring fire, a That '70s Show marathon, an endless supply of snacks, and enough couch space for the whole family.
Happy holidays!