10 Best Christmas Sitcom Episodes
Get cozy with a That '70s Show marathon Christmas Day on IFC.
Posted by Jeff Finkle on
It's time to cozy up in your traditional Christmas Snuggie, next to the warm glow of electric sultriness emanating from your A Christmas Story leg lamp and your Nick Offerman Yule log. We hope you enjoy reminiscing about some of your favorite Christmas memories that don't involve your actual family. Here are the 10 Best Christmas Sitcom Episodes. Happy Holidays!
10. 30 Rock, "Ludachristmas"
Any 30 Rock episode with an appearance by Elaine Stritch as Jack's strict mother is always a classic, but when Liz's parents come in to town, it becomes a dysfunctional Christmas to remember. Conan fans are in for a treat as Andy Richter plays Liz's totally rad brother who has convinced Liz and her parents for decades that due to a skiing accident he is mentally stuck in 1985. Jack embraces the homespun goodness of the Lemons with their matching Christmas sweaters until his mother shows him the true meaning of Christmas — all families are screwed up.
---
9. Friends, "The One With The Holiday Armadillo"
When Ross can't find a Santa costume in in order to surprise his son Ben before Christmas, he buys a giant armadillo suit. In one of the funniest moments out of any Friends episode, he tries to give Ben a Christmas memory and teach him about the wonders of Judaism until Chandler comes along in a Santa costume to steal his Texas thunder. We're surprised the "The Holiday Arm-a-dilloooo" never caught on as a Christmas favorite. He's far less creepy than that Elf on the Shelf weirdo.
---
8. The Odd Couple, "Scrooge Gets an Oscar"
It's a time-honored Christmas sitcom tradition to do a parody of A Christmas Carol. No TV character was a more reluctant, yet hilarious Scrooge than Oscar Madison. Oscar is a literal Scrooge, refusing to play the character in a play that Feliz is directing for an orphanage. Tossing Felix out of the house at Christmas time is the equivalent of kicking the crutch away from Tiny Tim. Of course, Oscar has a hilarious dream in which he is Ebenezer Madison and Felix and his poker buddies become the characters in the Dickens classic. Oscar, like Scrooge, becomes a changed man and gets Felix what he's always wanted for Christmas — a humidifier.
---
7. The Office, "Christmas Party"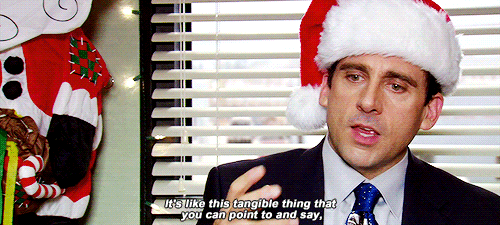 Leave it to Michael Scott to make the Dunder Mifflin Christmas party awkwardly hilarious as he rejects the "sucky" homemade oven mitt that Phyllis gave him for Secret Santa and introduced a "Yankee Swap" exchange in order to get a better present. In a classic "Jam" moment, Jim almost acts on his on his love for Pam by putting a series of items inside a teapot that were mementos of their friendship, before removing the love note when she finally gets the teapot. The episode is a reminder that office holiday parties can easily turn awkward and melancholy.
---
6. The Wonder Years, "Christmas"
The Wonder Years season two Christmas episode will make you instantly nostalgic for the craziness of family at the holidays. Kevin and Wayne are mad at their Dad for not getting them a color TV set, which seems trivial when he realizes why Winnie and her family left town for Christmas. The episode's use of Joni Mitchell's "River" with it's famous line "It's coming on Christmas, they're cutting down trees…" coupled with Daniel Stern's voiceover will have you reaching for the tissues at the end of this poignant episode.
---
5. Community, "Abed's Uncontrollable Christmas"
Leave it to Community, the show that loves to reference other TV shows, to do an entire episode in Claymation from the point of view of Abed. The instant holiday classic has all the pop culture references you'd expect plus an element of sadness as Abed's Claymation fantasy is caused by finding out his mother couldn't spend their special day together. The sight of the Greendale gang as bizarro versions of the Misfit toys is something that makes us chuckle every holiday season.
---
4. That '70s Show, "An Eric Forman Christmas"
"Hark the herald angels sing, glory to the newborn dumbass," is what Red probably sang at Eric's first Christmas. In this classic Christmas episode with the gang from That '70s Show, Eric takes on the role of Charlie Brown when he agrees to direct the Christmas play at Pastor Dave's Church. Sure, the Grinch was mean but he never threatened to put his mistlefoot in any Who's asses, like Red did to poor Bob.
---
3. Seinfeld, "The Strike"
Just like Christmas has its Santa story, anyone who watched Seinfeld knows about the Constanza family tradition of Festivus. It is the holiday that Frank Costanza devised while "raining blows" upon a fellow shopper one Christmas. The airing of family grievances by the Festivus pole as a child most likely set George on the course of his very George-like life. George brings back Festivus in order to show his boss Mr. Kruger why he was handing out fake gift cards to a "Human Fund" charity that didn't exist. The Festivus meal is hands down one of the funniest moments in holiday sitcom and Seinfeld history.
---
2. South Park, "Mr. Hankey, The Christmas Poo"
You know the song and you can't help but sing along. Mr. Hankey, that loveable Christmas character, first appears in this Season one episode after Kyle's mom complains that her son was cast in a Nativity play, which results in the removal of everything Christmas-y that might be offensive to other religions. Kyle is the "loneliest Jew on Christmas" before Mr. Hankey arrives with a "Hidey Ho!" to save the day.
---
1. The Simpsons, "Simpsons Roasting on an Open Fire"
"Ho-Ho-D'oh!" was Homer's first "D'oh!," uttered in this holiday special that introduced the family to America way back in the winter of 1989. Showcasing all the offbeat humor and warmth that would mark future Simpsons classics, Homer finds out that he lost his Christmas bonus and briefly takes a job as a mall Santa before catching Bart getting a tattoo. You can't get lower on Christmas than looking for discarded winning tickets in the parking lot of a dog track. When Santa's Little Helper is tossed aside by his owner, he becomes the Simpsons dog, making Homer a hero and for a brief moment, all is right with the world. At least until Bart's next prank.