The 10 Best Thanksgiving Sitcom Episodes
Catch That '70s Show all Thanksgiving Day during IFC's Sweatsgiving Marathon.
Posted by Jeff Finkle on
Whether it's the Connor family on Roseanne or the family of friends on That '70s Show, there's no holiday that brings out the comedy in dysfunctional families like Thanksgiving. Before you dig into IFC's Thanksgiving Day That '70s Show marathon, check out the 10 best sitcom episodes stuffed full of turkey, laughs and tears.
10. Family Ties, "No Nukes is Good Nukes"
Thanksgiving is ruined at the Keaton household, and for once you can't blame Alex because it's his parents Steven and Elyse who get thrown in jail for protesting a nuclear power plant. Unlike his do-gooder, aging hippie parents, the only thing Alex P. Keaton would ever protest is term limits on Ronald Reagan's presidency.
---
9. Modern Family, "Punkin Chunkin"
It's Thanksgiving time, and the intertwined families of Modern Family all have their own squabbles going on. This episode culminates at a football field with a classic Modern Family ending when Jay, Mitchell and Claire doubt that their partners, the self-proclaimed dreamers, can launch a pumpkin through a goal post.
---
8. Seinfeld, "The Mom and Pop Store"
If this Seinfeld outing was a Friends episode, it would be titled "The One with Jon Voight's car," because that is the hilarious storyline that everyone remembers. The Turkey Day plotline revolves around the gang attending Tim Whatley's pre-Thanksgiving party which happens to overlook the Macy's Thanksgiving Day Parade. Any appearance by Bryan Cranston as Tim Whatley is pretty memorable, and in this one he reveals to George who the real Jon (John) Voight is.
---
7. That '70s Show, "Thanksgiving"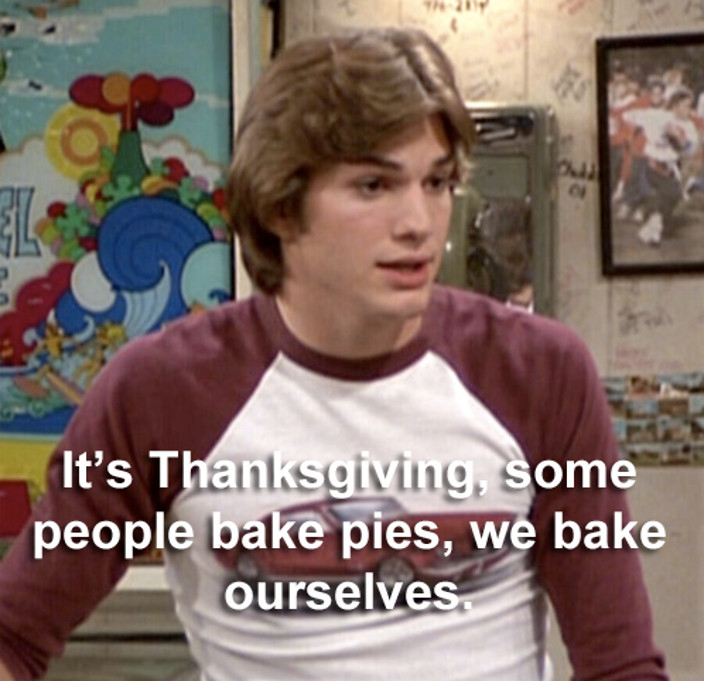 In the season one Thanksgiving episode of That '70s Show, the Formans (especially Kitty) dread the arrival of Red's mother. Laurie returns from college and brings her attractive friend Kate along, who flirts with Eric. The episode creates a classic Eric Forman dilemma as he kisses Kate and then tells Donna. Eric does get another valuable life lesson when he learns that bad things happen to him not because of rotten luck but because he's, as Red so aptly puts it, a "dumbass."
---
6. Roseanne, "Thanksgiving 1991"
Few sitcoms captured the stress of holiday get-togethers like Roseanne, and "Thanksgiving 1991" has all the family drama and hilarious moments that fans love about the show. Roseanne's mother Bev reveals that her husband Al has been unfaithful. Darlene is being her usual moody-but-loveable self and stays in her room while D.J. sits adorably alone at the kids table. The appearance of Roseanne's grandmother Nana Mary, played with crotchety glee by Shelley Winters, makes this episode an instant classic.
---
5. The League, "Thanksgiving"
In what has to be one of the most brilliant casting choices in TV history, Jeff Goldblum in all his Goldblum glory plays Ruxin's dad in this hilarious Thanksgiving episode. Sarah Silverman's appearance as Andre's promiscuous sister is the icing on the raunchy cake as the guys walk in on Goldblum right before he gives his "vinegar stroke" face. The moment is simultaneously disgusting and hilarious as Goldblum's look of ecstasy is eerily identical to Ruxin's look of disgust.
---
4. WKRP in Cincinnati, "Turkey's Away"
If you're old enough to have watched WKRP In Cincinnati, the first thing you probably remember is the catchy opening theme song (and rockin' closing credits song). But when it comes to remembering an episode, it might be the only sitcom where every fan thinks of the Thanksgiving installment first. This is the show that taught the world in hilarious fashion that turkeys can't fly, especially when dropped from a helicopter.
---
3. Cheers, "Thanksgiving Orphans"
A potluck dinner at Carla's house sets up one of TV's most famous food fights. This classic moment shows off the gang's camaraderie in a simultaneous moment of silliness and reflection as they remember the loss of Coach, played by Nicholas Colasanto, who died the year before. The episode also contains the closest thing the audience gets to seeing Norm's wife Vera, which make the episode even more memorable.
---
2. Friends, "The One With The Thanksgiving Flashbacks"
"The One With The Thanksgiving Flashbacks" is the Friends flashback episode fans had been waiting for ever since Ross was revealed to be Rachel's "lobster." Except in this episode, Monica is Chandler's turkey in an adorable scene. It's also the one where we learn why Monica got thin, the one where we find out that Chandler and Ross were way too into Miami Vice and the one where Chandler lost a toe. This episode would've been hilarious just for Ross' "Mr. Kotter" '80s look alone.
---
1. How I Met Your Mother, "Slapsgiving"
While the Friends creators obviously loved the fun of Thanksgiving episodes, the How I Met Your Mother writers took it to the next level with the "Slapsgiving" episodes. Slapsgiving was so beloved by fans, it became an epic holiday trilogy. The beloved Slapbet originated in the episode where Robin Sparkles is brought to glorious life, and it continues in "Slapsgiving" as Robin and Ted deal with trying to stay friends during the Thanksgiving following their breakup. Unlike the divisive series finale, Marshall's Slapsgiving slap of Barney is a "legen (wait for it) dary" moment in the show's history. If you've never seen Marshall's "You Just Got Slapped" video, you're in for a Thanksgiving treat.