7 Lost Ghostbusters Movies That Almost Happened
Catch a Ghostbusters marathon Saturday, Nov. 7th starting at 8P.
Posted by Brian Steele on
With a new Ghostbusters movie set to debut next year, it's time to start getting ready for an all out blitz of slime-flavored nostalgia. It's been 26 years since we've seen a Ghostbuster on the big screen, although it hasn't been for a lack of trying. Ray Stantz himself, Dan Aykroyd, has fought to make another movie in the franchise for decades. Bill Murray famously stood in the way of his efforts, refusing to even read a script. But behind this Ghostbusters Cold War, there were always a plethora of rumors, many coming from Aykroyd himself. Before you catch the Ghostbusters movies this month on IFC, check out a few of the Ghostbusters projects that could've been.
---
1. Ghostbusters in the Future
In Making Ghostbusters by Don Shay, director Ivan Reitman recalled the stacks of pages Aykroyd had spent years putting together when he first joined the project. Originally conceived as a Blues Brothers-esque romp for Aykroyd and John Belushi, the early versions of the script saw a team of "Ghostsmashers" battling demons through a variety of "different planets or dimensional planes." Reitman describes the first pages as one unending action sequence that was heavy on the ghost busting, light on anything else. He guessed those 50 pages would cost hundreds of millions of dollars (and these are '80s dollars, remember) so the team went back to the drawing board.
---
2. Ghostbusters: The Next Generation
Many considered Ghostbusters II a disappointment. Murray supposedly described it as "a whole lot of slime, and not much of us." Apparently Aykroyd wasn't in that camp, almost immediately starting work on ideas for a third film. The concept he quickly hit on, and has seemingly continued to champion in one form or another for the last two decades, was the idea of introducing a new, young crop of Ghostbusters. Over the years the rumors of who these new 'busters might be, often started by Aykroyd himself, have included everyone from comedy superstars to TV witches. Chris Farley, Will Smith, Chris Rock, and Ben Stiller all seem like obvious choices. As time went on Bill Hader, Seth Rogen and Anna Faris joined the list. But Alyssa Milano, Eliza Dushku and Criminal Minds actor Matthew Gray Gubler? Aykroyd may have been drinking a bit too much of his Crystal Skull vodka at that point.
---
3. Ghostbusters Vs. Greek Gods
In the late '90s, rumors started to circulate that a script for a third Ghostbusters was ready to go. An early indication of how to sidestep Murray's involvement, this outing would deal with Egon and Ray trying to keep the business afloat while battling Hades, Greek God of the Underworld. But it appears those rumors were just that. No script has ever seen the light of day.
---
4. Ghostbusters 3: Hellbent
Aykroyd, along with former SNL writer Tom Davis, penned the script for this iteration. The concept involved the Ghostbusters being sucked into an alternate version of Manhattan, called Manhellton, where the people and places of New York City were replaced by demonic versions. Of course, a new crew was involved. IGN reported at the time that the new team included a pierced New Jersey punk, a "pretty but uptight gymnast," a "Latino beauty," a "dread-locked dude" and a young genius whose giant brain made his head comically over-sized. The main villain was reportedly the Devil by way of Donald Trump, which shows Aykroyd may hate ghosts, but he might just be psychic. While the script was never produced (Murray dubbed it "too crazy to comprehend), the story was repurposed as a video game in 2009, with the original cast reprising their roles.
---
5. Ghostbusters: Cadets
In 2009, Aykroyd and Ramis were at it again, talking up the idea of a new generation of Ghostbusters. Though Murray still wasn't on board, Aykroyd laid out his vision for the threequel, which would center on the team "learning how to use the psychotron, the accelerators…all these great tools that they're going to have." Um…okay? What's wrong with good ol' fashioned proton packs?
---
6. Ghostbusters 3: Grumpy Old 'Busters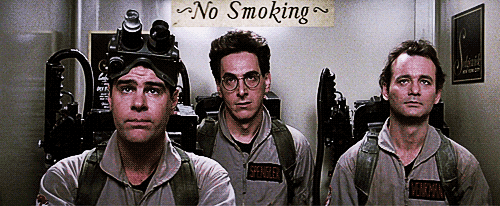 In 2011, Aykroyd dropped hints that the original Ghostbusters would return, even without Murray's involvement. This time the script would play up their age, adding "My character, Ray, is now blind in one eye and can't drive the Cadillac…He's got a bad knee and can't carry the packs…Egon is too large to get into the harness." Thank Gozer we never had to see Ray huffing and puffing while carrying a proton pack.
---
7. Ghostbusters 3: The Return of Oscar?
With Aykroyd trying, and failing, over and over again to get something going, Harold Ramis decided to step in. He hired The Office scribes Gene Stupnitsky and Lee Eisenberg, who also wrote Ramis' big screen comedy Year One, to put together a script from scratch. Supposedly centered on Peter Venkman and Dana Barrett's grown son Oscar joining the team, there was some momentum. Once again, Murray still refused to play ball, reportedly shredding a copy of the script and joking he would only appear in the film as a ghost. With the studio refusing to move ahead without Murray's involvement, the project petered out. The final nail in the coffin appears to be Year One itself. Murray said in a interview at the time, "Well, I never went to see Year One, but people who did, including other Ghostbusters, said it was one of the worst things they had ever seen in their lives."