8 Bizarre Alien Foods From Sci-Fi Movies
Catch the Star Trek movies this month on IFC.
Posted by Luke McKinney on
Some of the best science-fiction movies pose the most important question: what are we going to eat? When humans explore far off planets, it's inevitable that they will seek out new snacks. Before you catch the Star Trek movies on IFC this month, enjoy this buffet of strange alien foods.
8. Akrennian Beetle Sashimi, Titan A.E.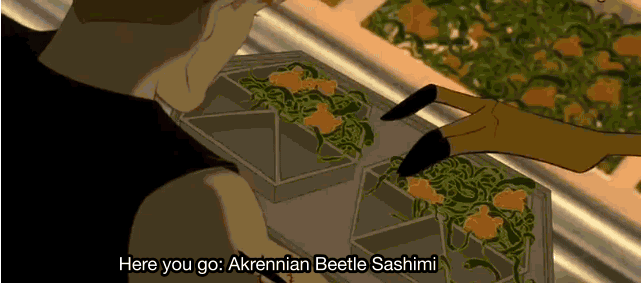 Titan A.E. reverses the usual science fiction plot by destroying Earth at the start of the movie. Planetarily homeless humans then have to get by however they can, and that includes eating live insects in xeno-cafeterias. Cale Tucker's simple requests for ketchup, or that the food at least be cooked, fall on deaf alien sensing organs.
---
7. Klingon Blood Wine, Star Trek franchise
Klingons are what happens when Vikings invent warp drive. Their favorite things are fighting and drinking, and Klingon Blood Wine lets them enjoy both passions simultaneously.
---
6. Alien Grubs, Enemy Mine
Aliens just can't get enough of that delicious insect goodness, and the only thing they enjoy more than biting a thorax in half is offering the other dripping chunk to the nearest disgusted human. Enemy Mine saw Dennis Quaid and an alien bond over roast bug so hard that they ended up having a kid. It's apparently a more romantic meal than we thought.
---
5. Kep-mok Blood Ticks, Galaxy Quest
When the Galaxy Quest crew find their fictional starship built by real aliens, they get to enjoy everything they ever acted out on television. Except for poor Doctor Lazarus, who's saddled with fictional beliefs, an adoring fan, and a big bowl of Kep-mok Blood Ticks.
---
4. Iguana-Chicken, Stargate
Stargate would spawn an incredibly popular TV series and is one of the few science-fiction franchises to explain why everyone in the galaxy is pretty much "humanoid with bits of stuff on their foreheads." Another common factor is apparently food. Dr. Daniel Jackson's professional opinion on a giant xeno-iguana is that it "tastes like chicken" — a sentiment he'd repeat during the rest of the series.
---
3. Racht, Star Trek franchise
Many aliens seem to insist on eating bugs, but the Klingons are higher-brow (pun intended) than that. A big bowl of "racht" is considered quite tasty, but must be served live and squishy. Any chef silly enough to kill or cook the worms may end up on the receiving end of a bat'leth swipe to the face.
---
2. Pizza the Hutt, Spaceballs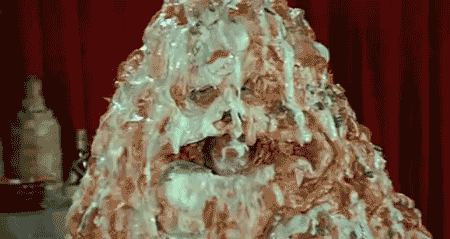 While also a living, talking character, Pizza the Hutt is the most accidentally horrific food ever filmed. Created as a pun-y joke for Spaceballs, the constantly-dripping Hutt is disturbing enough even before his assistant Vinnie starts eating him. Even Barf finds this pizza disgusting.
---
1. Humans, Return of the Jedi
Everyone forgets that the Ewoks wanted to eat Han, Luke, and the rest in Return of the Jedi. The cuddly cannibals would go on to become a franchising bonanza, with many kids of the '80s owning their own toy Ewok Village/"Human Barbecue" playset.