5 Great Moments in Sweatpants History
Spend Thanksgiving in sweatpants with IFC's Sweatsgiving Weekend.
Posted by IFC on
Photo Credit: United Artists/courtesy Everett Collection
Ah, sweatpants. They give us so much and ask for so little. Before you pull out your sweats for IFC's Sweatsgiving weekend, take a moment to remember some iconic moments in sweatpants history.
5. Regina George wears sweatpants in public, Mean Girls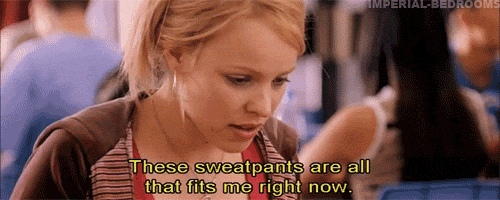 Head "mean girl" Regina George discovers the wonderfully elastic qualities of sweatpants after gaining weight from the Kalteen bars Cady gave her.
---
4. Meg Ryan watches TV in sweatpants, Sleepless in Seattle
In the ultimate meta movie moment, Meg Ryan watches TV on the couch in sweatpants while scarfing on popcorn. This process would be repeated a million times over in the real world with every Meg Ryan movie ever made.
---
3. Johnny Depp hangs out in sweats, A Nightmare on Elm Street
Johnny Depp burst onto the movie scene in the original Nightmare on Elm Street, forever immortalizing the sweatpants and a half-shirt look. And then he was never heard from again. Whatever happened to that guy? Be sure to catch his one and only film when A Nightmare on Elm Street airs Friday, November 27th during IFC's Sweatsgiving weekend.
---
2. Rocky jogs through Philly, Rocky franchise
Robert "Rocky" Balboa brought sweatpants into movie history thanks to his triumphant training montage in Rocky. The sweatpants returned in Rocky II and Rocky Balboa, hopefully thoroughly washed.
---
1. That time you hung out in sweatpants and watched awesome shows and movies, IFC's Sweatsgiving Weekend
What better way to spend Thanksgiving weekend than in your sweatpants while watching your favorite IFC shows and hit movies? All weekend long starting Thanksgiving day, IFC is airing marathons of That '70s Show and Todd Margaret. Plus, you can scare off the calories with Nightmare on Elm Street, The Exorcist and Resident Evil movie marathons. And since you're spending the weekend on the couch, be sure to tweet or Instagram a selfie while watching IFC with the hashtag #IFCSweatsgiving and you'll be entered to win a sweet pair of IFC pants. Because if history has taught us anything, it's that you can never have too many pairs of comfy pants.