10 Spooktacular Halloween TV Episodes
Catch That '70s Show Mondays and Tuesdays 6-11P on IFC.
Posted by Mike Schuster on
A great Halloween episode is like terrific fan fiction. Our beloved characters are thrust into a spooky predicament beyond their normal scope of storylines while wearing garish outfits and fearing for their lives. The annual tradition on-screen is a reflection of the holiday's appeal in real life: A chance to see the familiar skew towards the garish and macabre.
Fun, scary, and memorable, here are the 10 best Halloween episodes of all time.
10. That '70s Show, "Halloween"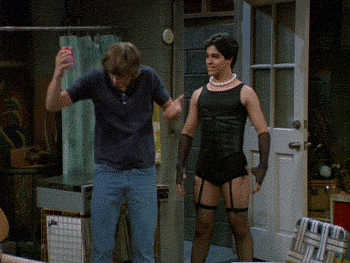 The siren song of an abandoned building on Halloween lures the That '70s Show gang to their burned-out grammar school where they discover their old permanent records. Secrets and backstories are revealed, such as Jackie's middle name, Kelso's real age, and an act of vandalism committed by a 7-year-old Eric which followed Hyde around his entire life.
---
9. Freaks and Geeks, "Tricks and Treats"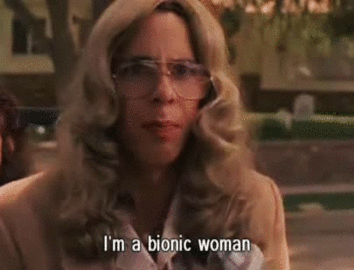 Expertly capturing the dilemma of kids too old to trick-or-treat but too young for drunken holiday revelry (legally, at least), Freaks and Geeks brings us back to the youthful pursuit of making the most out of Halloween. Wannabe freak Lindsay opts for petty vandalism while Sam and his geeky pals are humiliated by their costumed rounds through the neighborhood. On the plus side, Bill makes a very stately Bionic Woman.
---
8. Quantum Leap, "The Boogieman"

Leaping into a horror writer's life in 1964, Sam plays detective as the people around him start dying, Al's not quite himself, and a goat keeps appearing. The grisly plot culminates to a legitimately unsettling climax that's as scary as it is funny (seriously, it's hard to describe) and we find out the neighborhood boy goes on to become somebody very familiar.
---
7. Cheers, "Bar Wars V: The Final Judgement"
On Halloween, the bar's longtime rivalry with Gary's Olde Towne Tavern is curiously called off when Gary reveals his heart can't take it — literally. But Sam, not buying the medical diagnosis, stages an elaborate (and in reality, logistically impossible) prank involving Carla's holographic head that may have caused Gary to kick the bucket. (There's a humorous callback to this episode in the following season's "Bar Wars" episode.)
---
6. Amazing Stories, "Mummy Daddy"
Over a decade before Wes Craven upended horror movie tropes with Scream, this episode of the tragically short-lived Steven Spielberg-produced anthology series blurs the line between myth and Hollywood when an actor playing a mummy is pursued by (and mistaken for) an actual mummy. Pure pulp fun if only for the image of a mummy riding horseback.
---
5. Buffy the Vampire Slayer, "Fear, Itself"

Mixing a little Scarecrow villainry into the Whedonverse, this episode has Buffy and the gang attending a Halloween frat party where a demon that feeds on fear subjects everyone to their greatest nightmares. A delightful writing exercise that exposes each character's weaknesses and doubts, "Fear, Itself" is prime Buffy entertainment.
---
4. MacGyver, "Halloween Knights"
Less of an episode of television than a convergence of all things great, MacGyver is coerced into joining forces with longtime nemesis and super-assassin Murdoc when his former hitman employers kidnap his sister and threaten to execute her at a posh Halloween party. Complete with a booby-trapped funhouse and thinly veiled references to Raiders of the Lost Ark, this is hands down one of the greatest episodes from the series.
---
3. Roseanne, "BOO!"
Kicking off an annual tradition of Halloween with the Conners, "BOO!" from season two of Roseanne showcases the family's obsession with the holiday and the lengths to which they celebrate it. For a family just scraping by and the viewers who watch them, it's a cathartic outlet and an excuse to let freak flags fly. And from the first holiday go-around, it's instantly clear the show will do it again and again.
---
2. It's Always Sunny in Philadelphia, "Who Got Dee Pregnant?"
Narrowly edging out season eight's stellar, McPoyle-infested "Maureen Ponderosa Wedding Massacre," season six's "Who Got Dee Pregnant?" represents the very best of the Paddy's Pub crew. Dee reveals she's pregnant and the gang engage in drunken flashbacks Rashomon-style to determine who the father could be. Featuring the sexual exploits of the always-awesome Artemis, as well as Frank dressed as the canon-busting Man-Spider, "Who Got Dee Pregnant?" is top-notch.
---
1. The Simpsons, "Treehouse of Horror V"
Picking your favorite child would be far easier than picking your favorite Simpsons Halloween special — though they tend to be earlier seasons, don't they? However, "Treehouse of Horror V" from season six is simply too fantastic to be topped. Between the classic Shining parody, Homer's time-traveling advice from his father on his wedding night, and Groundskeeper Willie constantly getting an axe in the back, you can't find a better way to ring in October 31st than this half hour.
Missed Comedy Bang! Bang!'s Rocky Horror-tastic Halloween blowout? Watch it now.