10 Facts You May Not Know About the Nightmare on Elm Street Movies
Catch a Nightmare on Elm Street marathon Friday, November 27th as part of IFC's Sweatsgiving Weekend.
Posted by Mike Schuster on
Defining a film genre with a career that spanned five decades, horror auteur Wes Craven sadly passed away two months shy of his 76th Halloween. The spookmaster helmed some of the grittiest, slash-iest films ever to grace video rental shelves — The Hills Have Eyes, The Last House on the Left and of course, A Nightmare on Elm Street.
Released in the genre-packed year of 1984, the first Nightmare on Elm Street flick spawned a very successful franchise and an iconic character that, even 30 years later, is still a costume staple. And while Freddy Krueger and his dreamscape shenanigans have been watched countless times, there are a few facts about the cat nap killer you might not have known.
Before you catch IFC's Nightmare on Elm Street Sweatsgiving movie marathon, check out 10 facts about the Freddy movies every horror fan ought to be privy to.
1. There's a true story behind the original film.

New Line Cinema
It's a far-fetched premise: Young and otherwise healthy individuals have a nightmare and die from unknown causes shortly thereafter. But it actually happened to a group of Southeast Asian refugees who fled to America from the despotic rule of Pol Pot. Three men, in three separate cases, had terrifying nightmares and tried to keep themselves awake for as long as possible. After finally succumbing to exhaustion and dozing off, each man woke up screaming and died with no discernible medical cause. Wes Craven took notice of the cases and decided to work the mystery into a compellingly gruesome storyline.
---
2. The "Blood Geyser" used 500 gallons of blood and malfunctioned spectacularly.

New Line Cinema
Actor Johnny Depp has a pretty dynamic on-screen death for his feature film debut. As high schooler Glen, Depp is sucked into his bedroom mattress and erupts in a huge blood geyser, which was achieved with a rotating set, a mounted camera and 500 gallons of fake bloodpumped through the bed. However, during an early take, the room was rotated the wrong way and caused a wave of fake blood to splash onto the film equipment and electrical sockets. No one was hurt, but the power went out and Craven referred to the malfunction as a "Ferris wheel from hell" in the DVD commentary.
---
3. Freddy's famous sweater instills fear through science.

New Line Cinema
There's a reason why Christmas decorations trigger fear in the hearts of men and women — and it's not just from the prospect of spending time with family. While penning the original script, Craven read in Scientific American that red and green were the two most clashing colors to the human eye. (He shared a visual example last year on Twitter.) Therefore, if the scarred flesh and finger blades weren't upsetting enough, viewers are subliminally unsettled simply by looking at Freddy's choice in autumn wear.
---
4. Freddy's glove was also designed to tap into our deepest fears.

New Line Cinema
Speaking of finger blades, Freddy's signature weapon was also based on our primal fears. The glove was a product of Craven's wishes to give his lead a unique weapon that was both cheap and easy to transport. But the director had a eureka moment when he read about early man's fear of bear claws. The ingredients came together to produce a glove adorned with fishing knives, later changed to steak knives for the shooting script.
---
5. Freddy was inspired by a bully, a superhero, a homeless person and a pop song.

New Line Cinema
You'd have to make quite the impression on a writer to be immortalized as a serial killer who preys on sleeping children. But apparently, that's the case for at least two people in Craven's past. Craven has said he based Freddy on a bully named Fred Kreuger who menaced Craven in his youth who also inspired the character "Krug" in Last House on the Left. Freddy's famous hat and sweater is said to be influenced by a homeless man whom Craven remembers staring at him through his bedroom window when he was 10. (The colored sweater was also a nod to the DC Comics superhero Plastic Man.) Finally, Gary Wright's 1976 hit "Dream Weaver" inspired Craven to create a character who "weaved" through people's dreams.
---
6. A Nightmare on Elm Street 2: Freddy's Revenge is about a teen coming to terms with his homosexuality.

New Line Cinema
Since its release, viewers have noticed A Nightmare on Elm Street 2 has homosexual themes and subtext running throughout the story. (Lead character Jesse is noticeably attracted to his best friend Ron; a sign on his bedroom door forbids the entry of "chicks"; Freddy has no female victims; Jesse and his gym teacher engage in a shower room towel-snapping scene that could only be described as "intimate.") Turns out, it's no accident. Screenwriter David Chaskin explained in the documentary Never Sleep Again that he conceived the premise of Freddy entering Jesse's body as a metaphor for the character's closeted sexuality.
---
7. Freddy was originally written as a silent killer.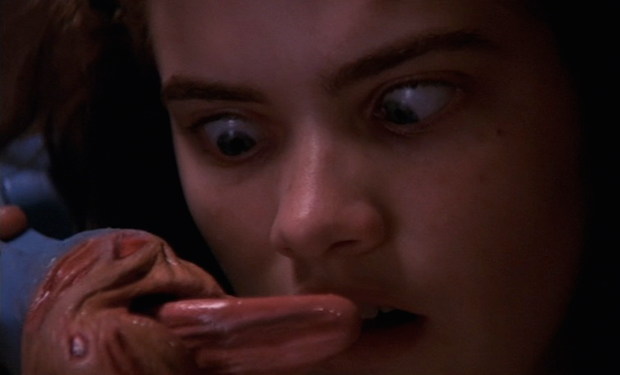 New Line Cinema
It's hard to believe anyone would want to tear out the dialogue for the ol' gloved wiseacre, but when he was conceived, Freddy Krueger wasn't going to have any lines. As viewers might notice in the original film, Freddy is more subdued (for Freddy) and closer in tone to his mute cohorts Jason Voorhees and Michael Myers. But as the franchise continued, the killer eventually became the throat-slashing one-liner factory we know him as today.
---
8. The lack of Freddy in the first film was on purpose.

New Line Cinema
Wes Craven didn't need Spielberg's deft use of a shark to know the unseen is far scarier than the visible, which is why Freddy Krueger only has 7 minutes of screen time in the original film. Obviously, the character quickly became a huge draw for audiences and was given ample time to shine in the sequels.
---
9. Dick Cavett really wanted Freddy to kill Zsa Zsa Gabor.

New Line Cinema
In a dream sequence in A Nightmare on Elm Street 3: Dream Warriors, talk show host Dick Cavett interviews the glamour punchline Zsa Zsa Gabor on TV, morphs into Freddy and goes in for the boa-bedecked kill. As it so happened, Cavett was given the choice of who to have on this fantasy show and he chose Gabor because, according to him, he'd never have her on and if there was any guest he'd like to kill off, it would be her.
---
10. Wes Craven doesn't like the ending to the first film.

New Line Cinema
If there's one thing about horror movies, the genre ain't short of sequels. And while the Nightmare on Elm Street series went back to the Freddy well more than a few times, Craven never wanted to tease a sequel at the end of the first film. Surprisingly, the first movie was to end on a happy, positive note with the plucky teens driving off. But according to the director's DVD commentary, studio head Bob Shaye insisted that Craven hint at future installments with Freddy appearing as the driver. Craven compromised with the sweater-striped convertible top and Mom being yanked through the front door window.