The 15 Funniest, Sweatiest Summer Camp Movies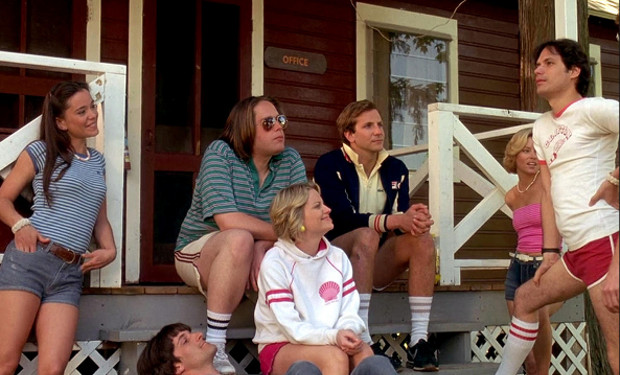 Posted by K Thor Jensen on
Ah, summer camp. There's something about being away from Mom and Dad and under the supervision of a bunch of college kids who really couldn't care less that sets the mischief and the hormones raging.
With Wet Hot American Summer airing this month on IFC, let's take a look at the ten summer camp movies that capture the hilariously awkward moments we all remember from long summer days of swimming, hiking, and raiding the girls' bunks.
1. Meatballs
A young Bill Murray anchors this classic '80s summer camp flick where he spends the season in pursuit of a lovely co­counselor. There's remarkably no actual nudity in this puppy (the many sequels more than made up for that), but lots of babes in bikinis and some very frank discussion about the birds and bees (and we're not talking about the ones on nature walks).
---
2. Wet Hot American Summer
[brightcove video="4470554594001″ og="false"/]
David Wain and Michael Showalter's cult comedy perfectly spoofed the amped up hormonal campers and counselors from '80s summer camp movies. Whether it's Victor trying to get his swerve on with Abby or Gene's dick cream issues, this one is dripping with sexual and comedic tension. (Click here to see all airings of Wet Hot American Summer on IFC.)
---
3. But I'm a Cheerleader
This underrated comedy stars Orange Is the New Black inmate Natasha Lyonne as a lesbian cheerleader sent by her parents to conversion therapy camp. The result is a fun and uplifting story about finding your true self with Cathy Moriarty in a hilarious turn as the insane camp leader.
---
4. Addams Family Values 
This sequel to the '90s favorite sends the Addams kids to rich kid summer retreat Camp Chippewa with darkly humorous results. You'll never look at aquatic life saving lessons the same way again.
---
5. Moonrise Kingdom
Is this the best movie about Boy Scout Camp? Probably. It also captures the awkwardly hilarious pangs of your first summer love.
---
6. Heavyweights
Judd Apatow cowrote this raccous '90s comedy about a fat camp that features a memorable turn from Ben Stiller as a fitness guru who takes weight loss to the extreme. He's basically Derek Zoolander's evil twin brother.
---
7. American Pie Presents: Band Camp
Yes, they've stretched this franchise well past the breaking point (this one stars Stifler's little brother, for God's sake), but we all know what happens at band camp: sexy shenanigans. This one features a scheme to make a Girls Gone Wild­-esque video series of music geeks getting their swerve on.
---
8. Camp
The generically­ titled Camp aimed to bring the '80s summer camp comedy into the 21st century with same-­sex relationships and a performing arts angle. There's a whole ton of sexual tension and laughs in this film, and it all boils over at a benefit concert for Stephen Sondheim.
---
9. Little Darlings
In hindsight, this 1980 flick seems more than a little creepy. Tatum O'Neal and Kristy MacNichol play a pair of 15 year old girls who battle to be the first to pop their cherries at summer camp. But honestly, if it were dudes it would seem completely normal, so loosen up.
---
10. Party Camp
When slacker Jerry spots the girl of his dreams working for a summer camp, he takes a counselor's job to get close to her and sexy hijinks ensue. All of the soft­porn tropes are here: hidden cameras in the girls' locker room, aphrodisiac herbs and more. If you're a fan of '80s Skinemax movies, this is the flick for you.
---
11. Fired Up!
A pair of high school football players skip out on the off-season to spend the summer at a cheerleading camp. Of course, the duo end up developing actual respect for the art of the cheer and all that feel­-good horsecrap, but until then there's plenty of short skirts to go around.
---
12. Ernest Goes to Camp
The movie that launched the Ernest franchise is still his best big screen outing. Which isn't saying all that much, but we enjoyed it when we were in first grade.
---
13. Camp Nowhere
'90s kids probably remember this wacky comedy where some students bribe their teacher (Christopher Lloyd) to help them start a camp where anything goes. Except time travel. That's a different Christopher Lloyd movie.
---
14. Gorp
Distributor American International Pictures was a mainstay of the exploitation era, so it's somehow fitting that their last flick was this 1980 sex comedy set at an all ­Jewish summer camp. The main characters are cooks who are all looking for love while contending with the stuck­up camp director.
---
15. Oddballs
This Canuck take on the sexy summer camp flick hits all of the bases — a hot nurse with lots of cleavage, a pact to lose your virginity, and an evil businessman who wants to bulldoze the camp and turn it into a shopping mall. Oddballs is a unique flick that's so choked with lousy jokes it becomes a surreal experience.