The Cast of That '70s Show: Where Are They Now?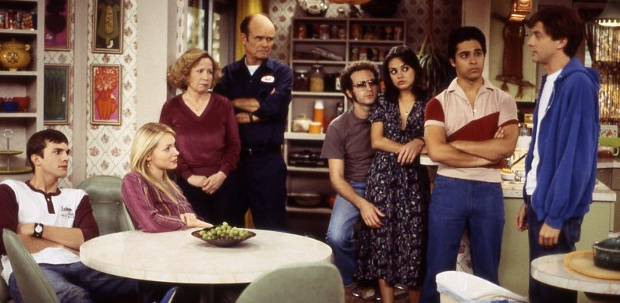 Posted by Brian Steele on
With a clever title, and a heaping dose of nostalgia, That '70s Show premiered on a late summer Sunday way back in 1998, in the plumb spot between The Simpsons and The X-Files. Neither animated nor full of aliens, it seemed at first blush to be just another typical sitcom. But as viewers fell in love with the residents of Point Place, Wisconsin, it became clear that it was something special. One big reason why was the quirky cast, which stood out from a television landscape ruled by the beautiful people of Friends. The only freshman show to survive Fox's 1998 season, That '70s Show would go on to run for 200 episodes. The youthful unknowns of the pilot would be turned into stars. Here is a look at what your favorite cast members are up to now.
---
Danny Masterson (Steven Hyde)
Then: Thanks to a childhood spent popping up in countless commercials, TV shows and movies, along with a run on the sitcom Cybill, Masterson was perhaps the most recognizable of the show's teens when it premiered. As the sarcastic Hyde, he quickly became a fan favorite.
Now: Sticking around for the show's entire run, Masterson spent the years after it went off the air focused on his work as a DJ and restaurateur. In 2012, he hopped back onto television, as a series regular on the TBS comedy Men at Work. Look for Danny on a new Netflix show called The Ranch, where he plays brothers with none other than Ashton Kutcher.
---
Laura Prepon (Donna Pinciotti)
Then: Prepon was best known for her work as a model and on the Internet soap opera They Go On, when she booked her part as feminist next door Donna on That '70s Show.
Now: Following her long run on the show, Prepon bounced between movie and TV work. She played the wife of a serial killer in the movie Karla, and fronted Chelsea Handler's NBC sitcom Are You There, Chelsea?, which lasted only one season. But that quick cancelation thankfully paved the way for her most popular role in years as Alex Vause, Piper Chapman's drug dealing ex-girlfriend on the Netflix hit Orange is the New Black.
---
Wilmer Valderrama (Fez)
Then: Valderrama had a few small roles to his name when he was cast as sweet, horny foreign exchange student Fez.
Now: Valderrama has spent the last few years bouncing between his acting, music and charity work. He created, produced and hosted the MTV game show Yo Mamma for three seasons, and has recently been starring in the El Rey networks From Dusk Till Dawn TV series. He has recorded music as alter ego Eduardo Fresco, and recently won an ALMA award for Outstanding Social Activism.
---
Mila Kunis (Jackie Burkhart)
Then: Kunis was only 14 when she auditioned for the role of sassy motormouth Jackie. Knowing they couldn't cast anyone under 18, she told them she would be 18 soon, leaving out the whole "in four years" part.
Now: Kunis is arguably the most successful That '70s Show alum, although her husband might have something to say about that. She's gone on to become a full-fledged movie star, starring in everything from hit comedies like Forgetting Sarah Marshall, to indie darling Black Swan, to whatever Jupiter Ascending was. And she's done all this while voicing the role of Meg Griffin on the long running hit Family Guy. But to fans of That '70s Show, her most popular role may be that of wife to Ashton Kutcher and mother to his child. That's right, Jackie and Kelso got together in real life! Those crazy kids actually made it work.
---
Ashton Kutcher (Michael Kelso)
Then: A Midwest boy moonlighting as a male model, Kutcher moved to LA after booking his first audition, as loveable dope Kelso.
Now: Kutcher would prove to be the first breakout hit of the cast, starring in Dude, Where's My Car? and The Butterfly Effect while still on the show. But not content to be just a movie and TV star, he went the full mogul route, creating and hosting MTV's Punk'd and helping to make sideways trucker hats THE look of the mid-aughts. He has since gone on to replace Charlie Sheen on Two and a Half Men, earning a whopping $750,000 an episode. He has also founded venture capital firm A-Grade Investments, and joined co-star Danny Masterson as a restaurateur. And, as mentioned above, he's married his longtime co-star Mila Kunis, and has a new show in the works with Danny Masterson, so he clearly loved That '70s Show as much as you did.
---
Topher Grace (Eric Forman)
Then: Grace was cast as lead Eric Forman after the show's creators saw him in a high school play. He had never acted professionally before.
Now: While Grace hasn't had the household name status of some of his peers following That 70s Show, he's become an in-demand character actor, co-starring in a series of big movies. He's played everything from smart-aleck villain Venom in Spiderman 3, to smart-aleck serial killer Edwin in Predators, to smart-aleck smart-aleck Jason Morris in Valentine's Day.
---
Debra Jo Rupp (Kitty Forman)
Then: After a long career in the theater, Rupp was cast as nervous laugher and superstar mom Kitty Forman.
Now: In the last few years, Rupp has largely returned to the stage, playing Olympia in Georges Feydeau's 1907 farce A Flea in Her Ear at the Williamstown Theatre Festival and Dr. Ruth Westheimer in Becoming Dr. Ruth Off-Broadway, which one would imagine had its own fair share of nervous laughter.
---
Kurtwood Smith (Reginald "Red" Forman)
Then: Smith was already a beloved character actor by the time he joined That '70s Show as "Red" Forman, Eric's dad who did not suffer fools well. Perhaps most famously, he played the villainous Clarence Boddicker in RoboCop, an overbearing father in Dead Poet's Society, and three different roles in the Star Trek universe.
Now: Since the show went off the air, Smith has returned to his character actor roots. He's played a senator on 24, a grieving father on ABC's Resurrection and is set to star in 2016's Amityville: The Awakening.
[brightcove video="4464112644001″ og="false"/]