10 '70s Stars Who Made Us Laugh on That '70s Show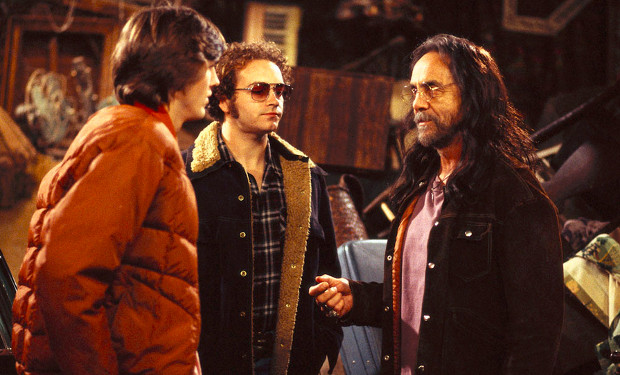 Posted by Brian Steele on
If you're a fan of That '70s Show, it's safe to say you are obsessed with the '70s and have an encyclopedic knowledge of all things Jan Brady and Pet Rocks. Luckily for fans of classic '70s pop culture, there were dozens of Me Decade cameos over the course of That '70s Show's eight season run, with everyone from football legend Joe Theismann to The Partridge Family mom Shirley Jones stopping by. To celebrate the That '70s Show gang coming to IFC on October 1st, check out a few of our favorite '70s celebs who popped up on the hit sitcom.
---
10. Barry Williams/Christopher Knight
For those of you who've been writing slash fiction about Greg and Peter Brady, this cameo was your lucky day. While Brady family members kissing was more subtext on The Brady Bunch, That '70s Show cast Barry Williams and Christopher Knight as a couple, which only served to befuddle old-fashioned pop Red Forman.
---
9. Tanya Roberts
After years of playing B-movie bombshells, Tanya Roberts got her big break as a replacement Charlie's Angel. While she spent the '80s as a Bond Girl and in some fun camp like The Beastmaster, her next big break would come on That '70s Show as Donna Pinciotti's cougar mom.
---
8. Charo
Few celebrities are as identified with the '70s as Charo, even though she gained most of her fame from being an All-Star guest star. A frequent passenger on The Love Boat helped keep Charo, and her "Cuchi-Cuchi" catchphrase, in the popular consciousness for years after the show went off the air. It's no surprise she whips out the catchphrase on That '70s Show, after finishing a Fiddler on the Roof sing-along with Kitty Forman and a Gene Simmons impersonator.
---
7. Alice Cooper
Alice Cooper is a master of the cameo, based off of this appearance on That '70s Show and his famous backstage moment in Wayne's World. On a memorable season three episode, the rock god is joined by Dr. Johnny Fever himself, Howard Hesseman, and '80s star Curtis Armstrong in a rousing game of Dungeons & Dragons.
---
6. Tommy Chong
With a cameo that lasted eight seasons, Tommy Chong brought '70s stoner gravitas to a show clearly inspired by his work in the Cheech and Chong movies. Playing dim bulb Leo throughout the show's run, his role was beefed up once dumbbell Kelso (and actor Ashton Kutcher) left the show.
---
5. Don Knotts
A pitch perfect recreation of a '70s sitcom theme song wouldn't be complete without a Mr. Furley cameo. While Knotts has been a star since the early '60s, his role as the nosy landlord on Three's Company kept him relevant long after his Mayberry heyday. This cameo just proves you can never have enough Don Knotts in your life.
---
4. Tim Reid
Our second appearance by a WKRP in Cincinnati cast member, Tim Reid left his Venus Flytrap days in the past to guest star as William Barnett, Hyde's biological father.
---
3. Isaac Hayes
Kids today may know Isaac Hayes as Chef on South Park, but to Gen-Xers he was the hit maker who won an Oscar singing about that sex machine to all the chicks, Shaft. That '70s Show fans will recall the time he helped Fez finally be cool by spreading a little music magic his way.
---
2. Richard Kline
When Midge and Bob started dating other people, it was only a matter of time before that ultimate '70s lothario, Larry from Three's Company, showed up. Still sleazy after all these years, he showed that being single might not be all it's cracked up to be.
---
1. Mary Tyler Moore
That '70s Show was filmed on the same soundstage as The Mary Tyler Moore Show, so this cameo feels almost inevitable. Moore played the anchor of a daily news show, What's Up Wisconsin?, a tip of the hat to her trailblazing sitcom.