Looking Back at the Cold War Fever Dream of Red Dawn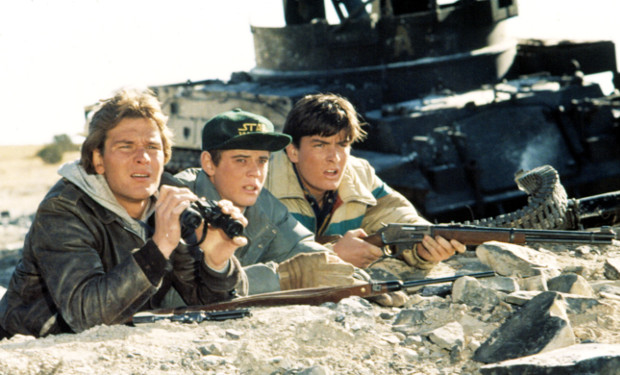 Posted by Lindsay Ellis on
Legend has it that Walter Sobchak, John Goodman's iconic character from The Big Lebowski, was based on John Milius, director of '80s classics such as Conan the Barbarian and Red Dawn. He was very fond of his guns, and was known to show off his pistols to studio executives during meetings. Milius never served in Vietnam, and didn't watch anybody die face-down in the mud, but boy he wishes he did.
I feel like knowing this is integral to truly appreciating Red Dawn.
Almost 30 years after its release, MGM decided to remake Red Dawn in 2012, an odd choice considering that Red Dawn is about as "of its own time" as it gets. The Cold War's over. Who's invading us now? China? (Answer: kind of. Sort of. Not really.) The original Red Dawn was a gritty, dour, proselytizing polemic piggybacking on the anxieties of an increasingly conservative culture during the twilight of the Cold War. Its remake was a typical, mid-budget actioneer piggybacking on the anxieties of nostalgia and brand name recognition.
There is no reason to remake Red Dawn other than a general sense of a recognizable property, as unless we're replacing the Soviets and Cubans with, say, aliens, the tale of a group of salt of the earth teenage guerrilla fighters fending off a land invasion of the United States doesn't make too much sense. But who cares? I'm going to compare them anyway. Let's take a look at what happens when one tries to remake a Cold War fever dream for the modern age.
Even with the original, one must suspend a metric fuckload of disbelief to accept that, even if the entire population of the rest of the world allied against the United States, a successful land invasion would be possible. This whole conceit would be hilarious if there weren't so many people who considered this situation in any way viable. The Sobchaks of the world, if you will.
Patrick Swayze (who was thirty-two-years-old in 1984) plays young Jed, who with his brother Matt (Charlie Sheen) and some of their classmates manage to escape into the wilderness when their small town in Colorado is suddenly invaded by paratroopers. The invading force appears to be Cubans and Central Americans backed by the Soviet Union, but it might as well be the United States government who's invading to round you up into FEMA camps and take your guns.
Fortunately, Jed and his brother were raised by a father who taught his boys the joys of hunting and the importance of responsible gun ownership, as well as to suppress un-manly things like human emotion. When they see their father for the last time, rounded up in a "reeducation camp," he tells his sons never to cry again, as long as they live. In fairness, Swayze makes some rather unpleasant noises when he cries in this movie.
The bad guys in the original Red Dawn are portrayed in a much more unsympathetic light than in the remake, forcing citizens to dig their own graves before being lined up for mass execution as the Soviet anthem blares. Jed and Matt witness their father killed in one of these mass executions. Before the triggers are pulled, the condemned start defiantly singing an off-key "America The Beautiful" in an attempt to drown out the Soviet anthem. It would be the stuff of beautiful pastiche if it weren't shot with such gruesome sincerity. Milius is not going for camp here. Oh no, son. This director has a vision.
An awful lot of movie goes down before these kids decide to militarize, unlike in the remake where they decide to fight back almost immediately. How these kids, brought up on hunting and fishing, learned how to use all this military equipment better than the Russians and the Cubans I'm not sure, but then again this is a Cold War revenge fantasy.
But if you thought the combined might of the Soviet Union and Central America was a stretch, get ready for North Korea. Let's look at the remake.
"North Korea?" says a Wolverine early on. "It doesn't make any sense." Indeed it doesn't, as the film was originally shot with China in mind. Because anxiety, sure, but mostly because it's the more, uh, feasible scenario?
(In a hilarious twist, China appears to be on our side in the original. And yet the combined might of China and the United States still have a hard time fending off the Soviets? Still?)
I must assume the studio had eyes on a younger audience, casting Josh Hutcherson and Chris Hemsworth, who starred in The Hunger Games and Thor, respectively. Once again the invaders land in suburbia instead of, you know, military targets. But then again it would be pretty hard to make a story about a citizen militia if that were the case. Where in the original they invaded America because they wanted our crops, here they appear to be invading because fuck you. However, the remake isn't straining so hard to reach some form of ideological purity, mostly because it seems wholly uninterested in ideology– look at how easy it was to change the bad guy from China to North Korea. The lack of conviction almost makes you miss Milius.
Hemsworth's character is a Marine, so it makes sense that he'd actually be trained in how to be useful, unlike Jed Prime and Matt Prime, who only know how to hunt and build campfires. "When I was overseas, we were the good guys. We enforced order," Hemsworth tells his guerilla troops, deluding himself. "Well, now we're the bad guys. We create chaos." Huh?
It's a bit of a stretch to discuss theme in the Red Dawn remake, because that implies they were going for one, but we're going to try to do it anyway. There are some scenes where speakers propagandize against the American greed and corporate irresponsibility that lead to the bad economy. So, like all Obama-era everything, this invasion is somehow about the economy.
This is probably at least partially a result of the PG-13 rating, but the remake also pulls far more punches. None of the Wolverines murder any prisoners of war, or one of their own. In the original, the Wolverines execute one POW and one friend-turned-traitor. The POW reminds Jed that the Geneva Conventions exist. "I ain't never heard of it!" Jed shouts, shooting his prisoner.
There is no Benedict Arnold character in the remake like in the original Red Dawn — one of them does have a tracker, but hey, he doesn't know about it (and therefore nobody has to execute him). It keeps everyone's hands clean, and carries zero emotional punch, despite it leading to Hemsworth's inglorious headshot. It's an odd inclusion, frankly, since it comes about four minutes before the movie ends and doesn't build to anything other than, hey, it was in the original (sort of).
The remake did keep the scene where Thor makes Peeta drink deer blood, although in this version, it's not out of some reverence to some made-up Native American mysticism, but because they're fucking with him.
There is a certain charm to the original Red Dawn, the gritty "war is hell" realism baked into cake made from the finest ingredients of batshit insanity. Say what you want about the Swayze/Sheen Red Dawn, at least it had an audience, and boy if it didn't speak to it. Aside from the aging fans of the original, itself a teensy niche market, few theatergoers in the younger demographic are interested in war dramas. Why remake Red Dawn when you have no Red Dawn-worthy adversary to rail against? When you can't even commit to an adversary in the first place?
I'm not sure who the audience was for the remake, other than the evergreen audience of brand name recognition and retaining film licenses. What do you think, Walter?