U2 Finally Talks to Scott Aukerman and Adam Scott on U Talkin' U2 To Me Podcast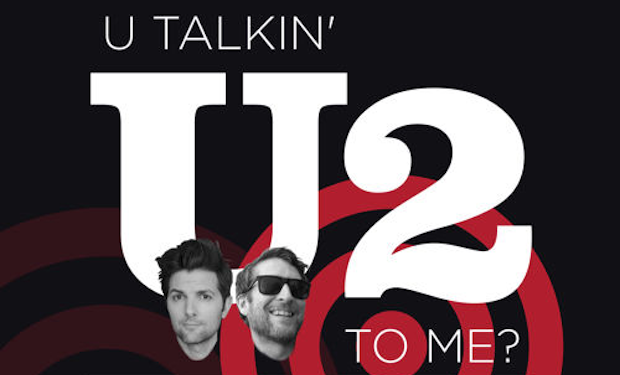 Posted by Derrick Rossignol on
Let's flashback to February 2014: Legendary rock band/soon-to-be-iPhone malware distributors U2 hadn't released an album since 2009's No Line on the Horizon, the reception of which was lukewarm… except for the head-scratching decision from Rolling Stone to declare it the year's best album. U2 could release a two-hour recording of Bono eating a whole mess of Irish potatoes and Rolling Stone would give it a five-star rating, but Rolling Stone be damned: the music-starved masses wanted something more.
Adam Scott and Comedy Bang! Bang!'s Scott Aukerman did, at least, so they started a podcast, U Talkin' U2 To Me?, on which they paid homage to the Irish four-piece and awaited the release of their next album. Today, about a year and a half since its inception, the two struck gold. Take a gander of the description of the podcast's latest episode, which dropped today:
It finally happened. Scott and Scott traveled to the legendary Electric Ladyland Studios in New York City for a monumental bare all confessional interview with the lovable lads Bonobos, Thedge, Larry Mullen Sr.'s Son & Adam Clay 2000 Pounds.
They actually got to talk to U2 singer Bonobos and bassist Adam Clay 2000 Pounds! Listen to Scott and Adam's chat with U2 below.