10 Snakes on a Plane Spoofs That'll Make You Nostalgic For 2006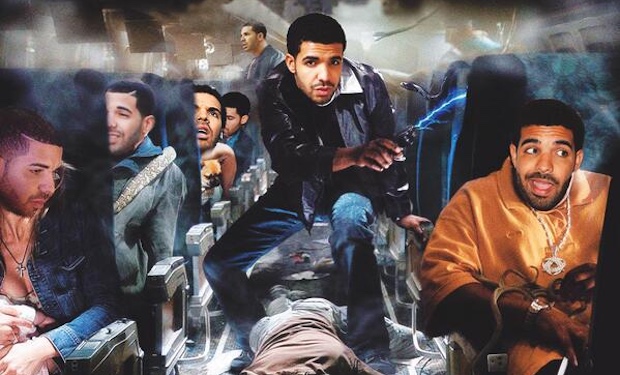 Posted by Derrick Rossignol on
Remember back in 2006 — before Facebook, Twitter, and pretty much everything else that rules the Internet now — when everyone was in love with Snakes on a Plane or at least the idea of it? It was a simpler time when nothing was funnier than Samuel L. Jackson yelling about motherf—ing snakes on a motherf—ing plane. Eventually the constant stream parodies caused the movie to be tied with Borat for the most overdone comedic reference of 2006. There are a few distinct types of motherf—in' parodies, most of which are quite bad, but a few of which are still fun in a nostalgic, early days of memes way. Here they are, from worst to first.
10. Celebrity Impressions on a Plane
What's great about this video is that it combines overdone impressions (Christopher Walken, Jack Nicholson) with a topical reference that was immediately dated by the time the video hit the Web. It's the 2006 equivalent of a YouTuber doing an impression of Stewie from Family Guy as one of the cops in True Detective.
---
9. Intentionally(?) Bad Parody on a Plane
There's stuff that is so unintentionally bad that it's funny, stuff that presents the aesthetic of a low quality production but still accomplishes laughs, and stuff that is just plain bad. Guess which category this and the army of videos like it fit into.
---
8. Mash-up Trailer on a Plane
Wouldn't it be funny if Samuel L. Jackson swore about snakes in movies that he's not really supposed to be in? What a hilarious contrast in tones! Now excuse us while we travel back in time to 2006 to explain to whoever made this what #sarcasm means.
---
7. Fan Fiction on a Plane
A literal, actual excerpt from some good ol' Snakes On A Plane fan fiction, titled Snakes On A Plane: The Montage: "A snake tore some poor f—'s eye out, but one look from Flynn told Honky-boy to roll with it if he wanted to keep the other eye. All right. It was show time. Officer Nelville Flynn was gonna go kill some muthaf—in' snakes — Badass Style." Folks, I think we have the script for the long-awaited Snakes sequel right here.
---
6. Math Joke on a Plane
Get it? Because in mathematics, a "plane" is a flat surface that has only length and width….wait, don't walk away!
---
5. Snakes on a Plane Before Snakes on a Plane
Tons of fans made parodies after the movie was announced, sure, but Steven Spielberg and George Lucas were downright soothsayers: They put slithery reptiles aboard an aircraft in Raiders of the Lost Ark 25 years before Samuel L. Jackson had to fight them off.
---
4. Pop Culture References on a Plane
There are two sub-categories for this one: fan-made pop culture references, like the terrific Drakes On A Plane as seen above, and pop culture referencing the movie, like the quick joke the developers of LEGO Marvel Super Heroes put into the game, seen below, since Nick Fury is portrayed on-onscreen by Jackson.
Speaking of our man Jackson…
---
3. Samuel L. Jackson Spoofing Samuel L. Jackson on a Plane
He's probably more tired of the lame jokes than us fans are, so he is a saint for still going along with them, for somebody's sake, all these years later.
---
2. [Creatures] on a [Vehicle] Other Than a Plane
Above is Bears On A Bus, a parody that replaces the animal and the type of vehicle and hopes hilarity ensues. Here are more [Things] On A [Vehicle] parodies on YouTube, which we will let speak for themselves: Raccoons On A Space Shuttle, Snake On A Windshield (this one seems fairly plausible), Kangaroos On A Jetski, Snails On A Plane (also plausible and more annoying than terrifying), Pigs On A Tram, and the frankly adorable sounding Sheep On A Car.
---
1. Edited for TV Snakes on a Plane
The absolute, hands-down, no-question, undoubtedly greatest Snakes On A Plane parody can be seen in the movie itself, as long as you're watching an edited version on TV. (Lucky for you IFC shows the movie uncut.) The movie actually might have been a lot more interesting if it featured monkey-fighting snakes on a Monday-to-Friday plane.