A Definitive Ranking of the Griswold Family's Adventures in the Vacation Franchise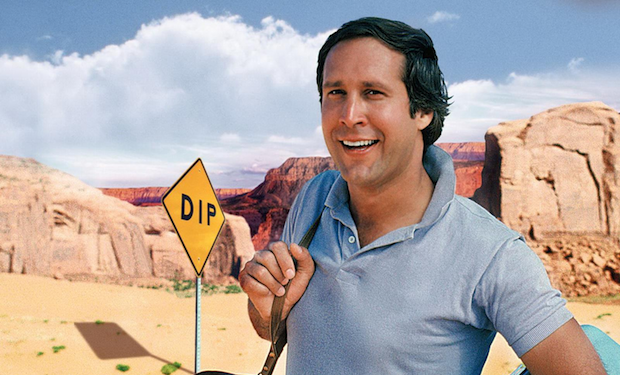 Posted by Derrick Rossignol on
Since 1983, Clark Griswold has come to represent all of our dads. (Maybe literally: Watch the Vacation movies again and you'll realize that he wanted to have an affair soooo bad. Thanks for ruining our family, dad!)
Regardless of its wishfully adulterous protagonist, the Vacation film franchise is an all-time classic, and each of the six movies — except for two, but we'll get to that — offer a different sort of off-the-rails, family fun charm that has yet to be replicated because it feels authentic. It's rare for a family trip to go as awry as the Griswolds' do, but the frustration, sexual yearning, desire for order and short shorts are all storied elements of the trips we went on as children.
We're basically trying to rank our own children here, but below is how we believe the Vacation movies to stack up against each other. (Note: We're not counting the new Vacation reboot/sequel thing currently in theaters. Let us know where that one fits in with the rest of the franchise in the comments.)
---
6. National Lampoon's Christmas Vacation 2: Cousin Eddie's Island Adventure
Clark and Ellen Griswold are nowhere to be found in this movie, which was a made-for-TV vehicle for Randy Quaid that came out in 2003. Uncle Eddie's family gets shipwrecked on a deserted island. Uncle Eddie loses a game of tic-tac-toe to a monkey…you get the idea. Monty Python's Eric Idle is in it, so that's something.
---
5. Hotel Hell Vacation
Okay, technically this isn't a movie: it's literally a 15-minute advertisement for HomeAway.com from 2010. As you can imagine, Clark and Ellen go to a bad hotel and have a bad time. At the very least, seeing white-haired Chevy Chase makes us imagine the possibility of a Vacation story starring his Community character Pierce Hawthorne.
---
4. European Vacation
The Vacation sequel takes the Griswolds through London, France, Germany and Italy with predictably wacky results. The best parts of this film offer something that none of the others do: a look at Clark as a typically obnoxious American tourist, thinking he has Europe all figured out while a pervy waiter checks out his underage daughter or his wife inadvertently stars in a porn flick.
---
3. Vegas Vacation
The family's Las Vegas adventure, which holds a 13% rating on Rotten Tomatoes, is criminally underrated. Critics thought the film was the final gasp of a dying franchise, but really, there's so much going on: Clark and Uncle Eddie digging up dollar bills in the desert, Rusty unable to stop winning cars, and Clark blowing the family's money at the casinos. He should have known to never go in against a Sicilian.
---
2. Christmas Vacation
Though technically a stay-cation movie, the Griswold family still has plenty of hilarious holiday-themed adventures in this outing. From rabid squirrels in their Christmas tree to runaway sleds, the seasonal misfortunes pile up to uproarious effect, culminating in what may be the greatest movie freak-out of all time. While ranting about getting a membership to the Jelly-of-the-Month club instead of a big fat check for his Christmas bonus, Clark throws awkward dad insults like "snake-licking" and "dog-kissing" into the mix, and ends on a perfect note: "Hallelujah, holy shit! Where's the Tylenol?"
---
1. National Lampoon's Vacation
It's hard to argue against the movie that established the monolithic franchise. The road to Wally World is paved with all sorts of mishaps that are so memorable, the new movie is basically redoing all of them. It also has a bunch of great subtle jokes, like Rusty downing his "first beer" like a creatine-filled college freshman at a frat house during rush week.