A Guide to Quentin Tarantino's Best and Worst Acting Roles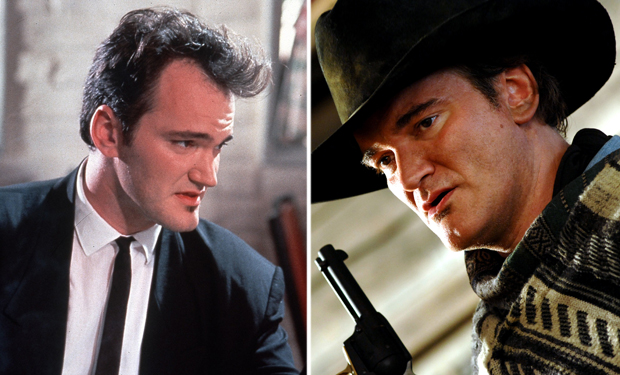 Posted by IFC on
By Brian Steele and Nick Nadel
If you're a fan of film director Quentin Tarantino, you've likely wondered why he keeps hiring a quirky actor named Quentin Tarantino to be in all his movies. Heck, he's a cornerstone of the Tarantino canon, having appeared in everything from Reservoir Dog to Django Unchained, where his shaky Australian accent nearly derailed the movie. Unlike other actors in his films, Tarantino isn't a major star. He's not a reclamation project from the '70s. He's got a certain manic charm to him, but he always seems a bit overmatched in the acting department. The reason Tarantino keeps appearing in Tarantino movies is simple — he IS Quentin Tarantino.
Okay, I guess we all knew that, but it's a little more complicated. Tarantino started his career as a video clerk with a dream. That dream, to be an…actor? Wait, what? Apparently, Tarantino has said he only fell into writing and directing because he needed scenes to perform in acting class. Finding that he had a gift, he kept going, but never gave up on his first dream, which has sometimes led him to appear in some unlikely places. Here's a look at the bizarre wonderful, confusing, and admirably stubborn acting career of Quentin Tarantino. (Warning: Some clips are NSFW.)
Best: My Best Friend's Birthday, Clarence Pool
Quentin Tarantino has been casting himself from the very beginning. His first on-screen role came in this unfinished film, which he co-wrote with another video store clerk, Craig Hamann, and directed over four years. While a lab accident destroyed portions of film, leaving the movie unfinished, what remains is classic Tarantino. His manic delivery style is evident from the get-go, as he delivers a monologue about being a suicidal three-year-old obsessed with the Partridge Family.
---
Best: The Golden Girls, Elvis Impersonator
Tarantino's first professional acting gig was also one of his most bizarre. Having lucked into a new manager through a video store friend, he booked the first part he went out for. It didn't hurt that the manager billed him as "Elvis meets Charlie Manson." The part was as an Elvis impersonator on an episode of The Golden Girls, and Tarantino even wore his own clothes, saying he was "the Sun Records Elvis. I was the hillbilly cat Elvis. I was the real Elvis; everyone else was Elvis after he sold out." He claims to have lived off the residuals from the episode for a year.
---
Best: Eddie Presley, Asylum Attendant
Tarantino's next role oddly dovetails with his previous one. In a movie about an Elvis impersonator suffering a nervous breakdown, Tarantino wasn't the one doing the hip swinging. Instead, he played the small part of an attendant at an insane asylum. The other attendant? None other than Bruce Campbell. Talk about two great tastes that go great together.
---
Best: Reservoir Dogs, Mr. Brown
The same year that Tarantino appeared in Eddie Presley, he also released a little crime caper that forever changed the world of independent film. His role as a "Like a Virgin"-obsessed crook immediately introduced Tarantino's distinctive dialogue to the world and inspired a generation of filmmakers to cast themselves in their magnum opuses.
---
Best: Pulp Fiction, Jimmie
1994 was a big year for Tarantino. Pulp Fiction became a box office and cultural sensation, with the cowriter/director himself playing a memorable role as Jimmie, the coffee snob who lets Vincent and Jules clean up a dead body at his house provided that they leave before his wife Bonnie gets home from work.
---
Best: Sleep With Me, Sid
This 1994 indie rom-com wasn't a big hit, but it is notable for one reason: unlike many of the other movies on this list, this film is perhaps most famous for the iconoclast director's passionate performance. Sure, there was probably a bit of typecasting here. If ever Tarantino knew how to play a part to perfection, it's this one, as a manic loudmouth who corners you at a party and screams about movies. Still, in just under three minutes Tarantino makes an impression that has kept the film relevant for the last 20 years.
---
Best: Somebody to Love, Bartender
This forgotten indie romance features a star-studded cast of acting greats like Harvey Keitel, Stanley Tucci, Anthony Quinn, and Steve Buscemi as a drag queen. Oh, and Tarantino as a bartender. The film's director, Alexandre Rockwell, would reteam with Tarantino a few years later for Four Rooms.
---
Worst: All-American Girl, Desmond
How many directors, at the height of their powers, take a one-off part on a cheesy ABC sitcom? This 1995 episode, the second to last of the series, played as an extended parody of Tarantino's films. He agreed to appear because he was friends with the show's creator and lead, comedian Margaret Cho. Still, it's hard to shake the feeling that this is like Scorsese following up Taxi Driver by doing a cameo on Welcome Back, Kotter.
---
Worst: Destiny Turns on the Radio, Johnny Destiny
The late '90s saw a rash of Tarantino knock-offs. Suddenly, every movie was full of pop culture-quoting criminals, mixed with retro music and dark comedy. They were everywhere, and by and large, they were awful. (Do yourself a favor and never see Things to Do in Denver When You're Dead.) What separated Destiny Turns on the Radio from the bunch is that, for some reason, Quentin Tarantino stars in it, as a possibly supernatural weirdo who pops in and out of the other characters' lives. You've got to admire his commitment to booking parts, even if they're blatant rip-offs of his own work.
---
Best: Desperado, Pick-up Guy
By 1995, filmmakers started to figure out how to best use Tarantino's acting abilities. Have him show up, deliver a singular, weird moment, and then disappear. Don't give him too much of a character, or responsibility to the plot. Here, his good friend Robert Rodriguez has Quentin tell a joke, and then disappear. And he nails it, in his own unique way.
---
Worst: Four Rooms, Chester
Four directors (including Tarantino) teamed up for this uneven anthology film set during one wacky night at a hotel featuring various unsavory characters. Tarantino's segment is basically an extended riff on the Steve McQueen and Peter Lorre episode of Alfred Hitchcock Presents that itself was an adaptation of the Roald Dahl story "Man from the South." Basically, it involves Tarantino giving a long, hammy monologue before Tim Roth's butler character chops off some dude's finger. And Bruce Willis and Jennifer Beals hang out in the background because, hey, it's the '90s. Fun fact: Bruce Willis went uncredited in the film since he broke SAG rules by doing the role for free as a favor to Tarantino.
---
Best: From Dusk Till Dawn, Richard Gecko
Many fans still consider Tarantino's trigger-happy psycho Richard Gecko to be his best performance. We really can't argue with that. It's one of the few times he plays an actual character and not Quentin Tarantino.
---
Worst: Girl 6, "QT"
The feud between Spike Lee and Quentin Tarantino has been well documented. Spike has taken exception to Quentin's liberal use of the "N-word." Quentin has mostly ignored him, continuing his bizarre quest to be viewed as a cartoon black man. But for one shining moment, the two men came together, in Lee's satire of the phone sex industry. (Again, it was the '90s.) Here, Tarantino plays an over-the-top (even for him) director of a modern blaxploitation flick who tries to take advantage of the film's lead. You have to wonder if this whole part was a middle finger to Tarantino, and that he just didn't pick up on it.
---
Best: Curdled, Richard Gecko
Tarantino produced this 1996 dark comedy, which holds an interesting place in his filmography. Angela Jones, who played the murder-obsessed cab driver in Pulp Fiction, stars here as a murder-obsessed crime scene cleaner who encounters a serial killer played by '90s charmer William Baldwin. Tarantino has a brief cameo when the Gecko Brothers' mugshots turn up on a fake true crime show called Miami D.O.A. Yet another example of how all of Tarantino's movies are connected.
---
Worst: Steven Spielberg's Director's Chair, Jack Cavello
In 1996, Tarantino starred in a Steven Spielberg co-directed drama as a convict facing execution who must rely on his girlfriend (Jennifer Aniston) to prove his innocence. Also, Penn and Teller star as killer magicians. What, you've never heard of it? Well, anyone who played the interactive movie game Steven Spielberg's Director's Chair has seen it and experienced Tarantino delivering a performance that could be best described as Sean Penn in Dead Man Walking meets The Three Stooges. It's begging to be rediscovered as a lost classic from the era when Tarantino would say yes to any acting role he was offered.
---
Worst: Little Nicky, Deacon
Except for a voice cameo on an answering machine in Jackie Brown, Tarantino stayed off the screen for much of the late '90s. But in 2000, he turned up in this Adam Sandler bomb, in which the famous director went full-on Rob Schneider, as a (possibly) Southern preacher whose life turns into a series of pratfalls once the titular Little Nicky shows up. Tarantino is clearly giving it his all here, which you have to admire, considering he's an Oscar-winning writer, and this movie's script was the result of a stoned chimpanzee and a copy of Final Draft having a baby.
---
Best: Alias, McKenas Cole
And now we get to Quentin Tarantino the actor's big break. After a cameo-filled career, he finally got to dig into a real character that he didn't write himself. Tarantino is comfortably quirky as this recurring Alias villain, and you can almost picture him parlaying it into bad guy roles on 24 and Heroes if his work as a successful filmmaker hadn't gotten in the way.
---
Best: Duck Dodgers, Master Moloch
Tarantino voices a martial arts master who trains Duck Dodgers and his Space Cadet in this clearly Kill Bill-inspired episode.
---
Best: Grindhouse, Rapist (Planet Terror)/Warren (Death Proof)
Tarantino plays one of his signature creep roles in Robert Rodriguez's segment of Grindhouse. (You definitely want to cheer when Cherry Darling stabs him in the eye with her wooden leg.) In Death Proof, Tarantino directs himself as Warren, the guy that the ladies do shots of chartreuse with. (Stealing from himself, Tarantino comments on the "tasty beverage" in a nod to Samuel L. Jackson's famous line from Pulp Fiction.)
---
Best: Sukiyaki Western Django, Piringo
Tarantino appears to be having a blast in this Japanese spin on the Spaghetti Western, directed by his friend Takashi Miike. He gets to play the Clint Eastwood part in this high camp affair, delivering an intense monologue before slaughtering a bunch of colorful bad guys. Why he was the perfect person for this role isn't entirely clear, but this cameo seems to have helped spark Tarantino's current love of Westerns, so we can be grateful for that. And let's all remember, Tarantino is still a young man. Sure, he's got a lot of great movies left in him, but he's also got years and years to pop up in distracting cameos, full bad accents and hyper line delivery. You be you, Quentin. We wouldn't want it any other way.
---
Best: Inglourious Basterds, Scalped Nazi/American Soldier in Nation's Pride
Eagle-eyed viewers might have noticed Tarantino's two brief cameos in his World War II epic. First, the director is visible as a Nazi soldier who gets scalped by Aldo's crew. He then switches sides, playing an American soldier in the propaganda film Nation's Pride.
---
Best and Worst: Django Unchained, LeQuint Dickey Mining Co. Employee
We're not sure what's most memorable about Tarantino's role in Django Unchained — his explosive exit or his Crocodile Dundee-esque Australian accent.