Tom Cruise and Jimmy Fallon Recreated the Top Gun Karaoke Duet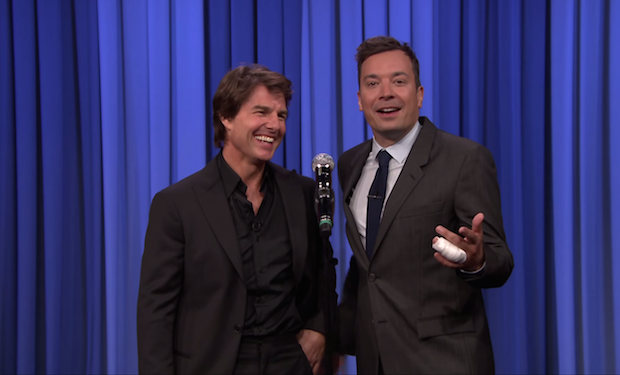 Posted by Mike Schuster on
Individually, megastar Tom Cruise and Tonight Show host Jimmy Fallon are two of the most unsettlingly upbeat, effusive people you could ever bear to meet. But with their forces combined, Cruise and Fallon project an unrelenting torrent of super-positivity that no human being could hope to make it out alive.
This week, Cruise dropped by Fallon's set to wage a battle over, you guessed it, lip syncing. And through toothy grins and steadfast giggling, they managed to move their mouths along to tunes by the Weekend, the Rolling Stones, Meat Loaf, and the Righteous Brothers, capping it off with a serenade to a young lady in the audience. Even with the audio muted, you can tell they had a great time.
Check out Cruise and Fallon's salute to Top Gun below.