Watch The Muppets Spoof 'The Office' in New Sitcom Preview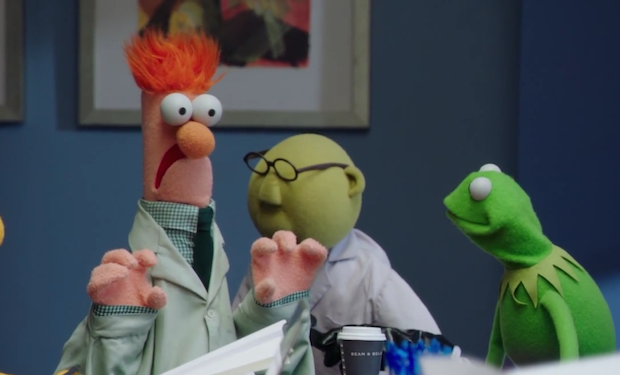 Posted by Derrick Rossignol on
Newly-minted celebrities who are just starting to break out, listen: You will probably fade into obscurity, but maybe if you keep an eye on The Muppets, you can learn something. They've been cultural icons since the 1970s, and we're not tired of them yet! In fact, not only are we not over the felt legends, but when a short pilot presentation of a new ABC series screened at Comic-Con, people went bananas. The network took note of the reaction and posted the pilot on YouTube, suggesting that this show might be phenomenal.
The Office was a TV juggernaut and is now a Netflix binging favorite, but with it came the imitators of the faux-documentary, single-camera style that has grown a bit dry. So of course Kermit and company are the ones to make the format interesting again. This series looks like it will have everything: there are tasers, Elizabeth Banks, and also a terrifically unsettling "incredibly obscure Muppet that no one remembers" who might have "been in a holiday special or something."
As Sam The Eagle said, "God bless America and its magnificent broadcasting company!" Once again, Sam the Eagle says what we're all thinking.