Watch Conan O'Brien Travel to Comic-Con 2015 Mad Max Style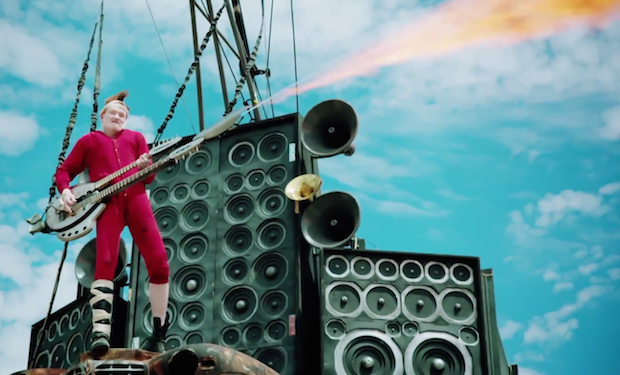 Posted by Mike Schuster on
Although we have half a year left, it's safe to say Mad Max: Fury Road is the most jaw-dropping, pulse-pounding movie of 2015. Blindsiding us with spectacular car wrecks, over-the-top characters, and simply being better than the fourth entry in a franchise spanning four decades has any right to be, the movie unsurprisingly became fodder for parody by late night hosts. But broadcasting live this week from San Diego's Comic-Con, Conan and Co. managed to trump their talk show cohorts with a full-on salute to the Doof Warrior's bass-thumping ride.
Bedecked in Immortan Joe's facemask and makeup, Andy drives the heavy metal rig down a deserted road as Conan's band provides the drumbeat and the host rocks out on the infamous flamethrowing guitar while suspended over the chaos in a red onesie. Unfortunately, the thrumming cacophony distracts Andy from his phone's GPS directions and, well, take a look for yourself…
Conan's Comic Con week has been pretty geek-tastic so far, with guests like Elijah Wood and Chris Hardwick and Patton Oswalt, Thomas Middleditch and more auditioning to play Wolverine. And because you legally can't host a talk show in 2015 without having a segment where a young celebrity sings a song from the '90s, here's Jennifer Lawrence performing a bit of Cher's "Believe":
Happy nerd prom, everyone!