Go Back to Camp With the Star-Studded Wet Hot American Summer Trailer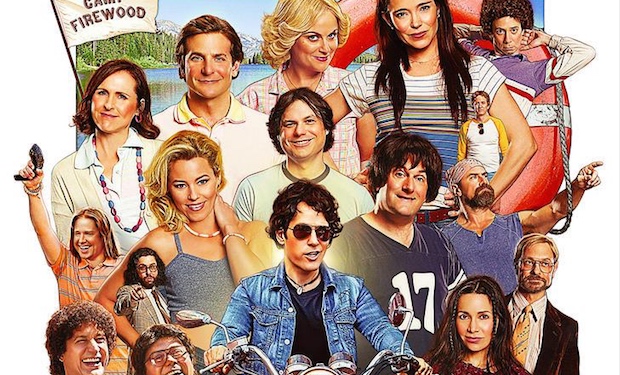 Posted by Derrick Rossignol on
One of the hardest parts of rebooting an old film franchise is figuring out how to reconcile the fact that the actors are, and therefore appear, years older than they were when the source material was first released however many years ago. The knee-jerk reaction is to bring back the original characters in the original setting, but in the later stages of their lives. So of course the minds behind the upcoming Netflix series Wet Hot American Summer: First Day of Camp decided it should be a prequel, making their aged actors play even younger versions of who they played nearly 15 years ago.
Netflix released a full-length trailer for the series today, and what's surprising isn't how hilarious it looks, because of course it's going to be phenomenal, but the sheer volume of fame they've packed into a single program.
The original film got lucky with its cast, most of whom achieved greater success after attending or working at Camp Firewood, and they're all (deep breath) back: Paul Rudd, Amy Poehler, Bradley Cooper, Janeane Garofalo, Elizabeth Banks, Christopher Meloni, Michael Ian Black, Marguerite Moreau, Molly Shannon, Michael Showalter, Ken Marino, David Hyde Pierce, A.D. Miles, Joe Lo Truglio, Zak Orth, Kevin Sussman, Judah Friedlander, H. Jon Benjamin and the rest.
That list is overwhelming, but THERE'S MORE: New cast members joining the camp crew include Jon Hamm, Jason Schwartzman, The Spoils Before Dying's Kristen Wiig, Lake Bell, Josh Charles, John Slattery, Michael Cera, Chris Pine, Jordan Peele and Weird Al Yankovic. Oh yeah, Michael Showalter also throws a few punches while playing former U.S. president Ronald Reagan this time.
We realize it is impossible to wait for the series to start streaming on Netflix on July 31st, but we're all going to have to look deep inside ourselves and find a way. Watching the trailer on a loop and staring at the poster below might help.