The Simpsons Meet Akira in Stylish Mash-Up Trailer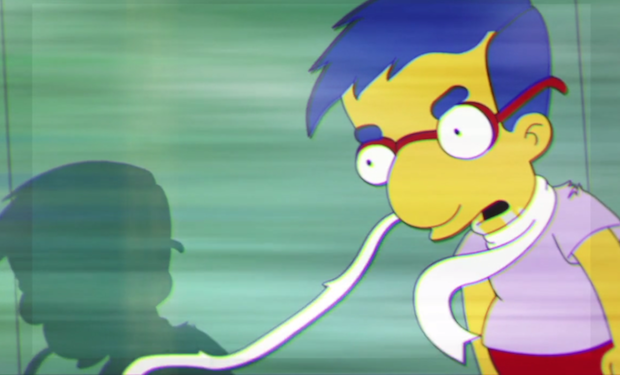 Posted by Mike Schuster on
A triumph in cel-drawn animation and a staple in any cult classic movie library, the 1988 film Akira depicts a dystopian world filled with rowdy teens, unorthodox police force, and a plucky young boy with impulse-control issues. And while those elements make it sound very similar to another animated town, the fact that Akira is so unlike The Simpsons makes this fan-made mashup a mesmerizing (albeit unnerving and NSFW) must-watch.
Beginning as an anime tribute to both works, Bartkira assembled hundreds of artists to re-envision Tetsuo, Kaneda, and the rest of Neo-Tokyo in the original graphic novel as Simpsons regulars — creating a fantastic art experiment with a heavy unauthorized, underground feel. And like a bootleg Bart Simpson t-shirt come to life, this video faithfully animates this Neo-Springfield with a shot-for-shot remake of the original Akira trailer. While the image of a sickly Ned Flanders dying in a hail of bullets is a disturbing sight that can't be unseen, the dreamlike animation style mixed with the nostalgic cyberpunk world — not to mention the artificial VHS filter — reminds us of a cult treasure from a pre-Internet era.
Check out this unsettling, yet very cool, fan-made trailer below. With the news that Harry Shearer is returning to the show, it looks like everything is coming up Simpsons today.