Seth Rogen Spends the Holidays on Mushrooms In The Night Before Trailer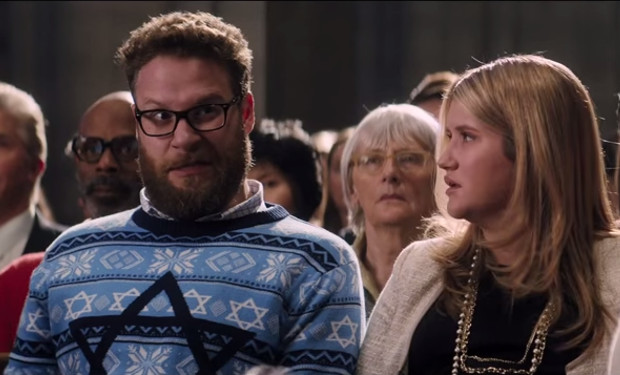 Posted by Nick Romano on
'Twas the night before Christmas, when all through the house, Seth Rogen was stirring and tripping about — literally. The funny man from such raunchy comedy greats as Pineapple Express, Neighbors and The Interview is back to bring some holiday cheer and a whole lot of drugs. Joseph Gordon-Levitt and Anthony Mackie star opposite Rogen in The Night Before, and Sony just dropped the first trailer online.
Check it out below, but be warned it is rather NSFW.
Rogen, Gordon-Levitt and Mackie play best buds who set out on one last debauchery-filled Christmas Eve before Rogen's character settles into daddyhood. And since this is a bro comedy, Rogen has an extremely understanding pregnant wife (played by the hilarious Jillian Bell who deserves her own raunchy big screen vehicle) who gives him a box full of drugs, including shrooms and cocaine. While on his mind-trip, Isaac joins Ethan and Chris in search of the ultimate Christmas party known as The Nutcracka Ball. By the looks of this first trailer, it's going to be a wild ride.
The main focus of the film seems to center on Rogen's Isaac, but it's great to see Gordon-Levitt and Marvel movie star Mackie cutting loose in a crazy comedy. The trio putting a modern on the Big keyboard scene might be worth the price of admission.
The Night Before will spike your egg nog on November 25th.