10 One-Eyed Movie Characters You Don't Want to Mess With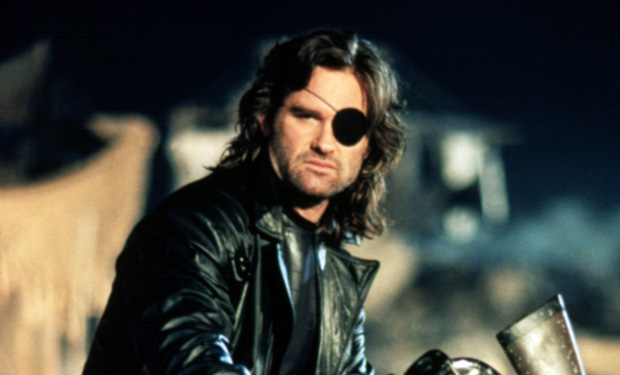 Posted by IFC on
By Bruce Cherry 
"In the land of the blind, the one-eyed man is king." The theologian (and literal Renaissance man) Erasmus of Rotterdam said that. What he couldn't have known is that one-eyed men (along with the occasional one-eyed woman, monster, minion, and sea plankton) would one day rule the world of cinema. With the Minions taking over movie screens and Facebook feeds everywhere, we thought it would be a good time to salute filmdom's greatest one-eyed characters.
1. Snake Plissken (Kurt Russell) from Escape from New York and Escape from L.A.
With his Dirty Harry delivery and pirate eyepatch, Snake Plissken is the king of One-Eyed Attitude. He doesn't stand on ceremony ("Call me Snake") and between the two movies he's bicoastal too! Sadly a planned sequel, Escape from the Flyover States, never materialized.
---
2. Big Dan Teague (John Goodman) from O Brother, Where Art Thou?
O Brother is based on Homer's Odyssey (very loosely, Homer doesn't mention Dapper Dan pomade) which means that Big Dan is based on the Cyclops in the original story. That makes him a one-eyed character created by a blind poet, a case of pupil envy if there ever was one.
---
3. Nick Fury (Samuel L. Jackson) from the Marvel Universe franchise
He's a superhero AND an effective upper level executive. As the list of Marvel films and TV shows he's appeared in makes clear, Samuel L. Jackson's Nick Fury is absolutely indispensable because he handles the bureaucratic behind-the-scenes chores that make modern super-heroism possible… as well as taking part in the occasional car chase or perfectly timed intervention. Still, as upper management, he tends to take a lot of lunch meetings.
---
4. Alastor "Mad Eye" Moody (Brendan Gleeson) from the Harry Potter franchise
When Scottish wizard and Auror, Alastor "Mad Eye" Moody, lost an eye during the Wizarding Wars, he replaced it with a Magic Eye that rotates in a complete circle and can see through almost anything, including the back of his head. (Best. Replacement Eye. Ever.) The eye was so effective that it lived on after Moody's death—so instead of a character missing an eye, we had an eye that was missing a character.
---
5. Elle Driver (Daryl Hannah) from Kill Bill: Vol. 1 and Vol. 2
Elle Driver, AKA "California Mountain Snake" is one of the rare female one-eyed characters in the movies. Why there are so few is a mystery, since the eye-patch is a great look for this assassin. That fact is completely lost upon her now, though, since she loses her other eye in a fight. Still, she may be one of the only Viper Assassination Squad members to survive both Kill Bill movies. If there's a Kill Bill: Vol. 3, Elle could be the even rarer female character who is completely eyeless.
---
6. Rooster Cogburn (Jeff Bridges, John Wayne) from True Grit (2010) and True Grit (1969)
We've seen one-eyed characters who are threatening, sexy, funny, and even cute. But nothing goes with the one-eyed look better than plain old grizzled, and both Jeff Bridges and John Wayne have faces that are as leathery as their eyepatch. And that's the kind of face that a one-eyed fat man needs if they want to deliver bold talk. Old Rooster Cogburn has seen it all… though not with any depth perception.
---
7. Odin (Anthony Hopkins) from Thor and Thor: The Dark World
Portrayed by Anthony Hopkins, and sporting a solid gold eyepatch, Odin has to be the classiest one-eye in cinema. In Viking mythology, Odin sacrificed his eye to attain wisdom. I'd be afraid that the first thing I would find out is not to sacrifice your eye for wisdom.
---
8. Sheldon J. Plankton (Mr. Lawrence) from The SpongeBob SquarePants Movie and The SpongeBob Movie: Sponge Out of Water
Why does Sheldon rule? He's one-eyed, borderline microscopic, and he occupies the very bottom of the food chain. Yet he wants to take over the world, by making his Chum Bucket restaurant successful, no less. Plankton is the very epitome of dreaming big. He won't give up, no matter how many times he gets stepped on, which is pretty much every scene he appears in.
---
9. The Deacon (Dennis Hopper), Waterworld
Having only one eye is perfect here—Dennis Hopper's over-the-top performance as the Deacon is the only thing that made this soggy mess half-way watchable.
---
10. Emilio Largo (Adolfo Celi) from Thunderball
In the case of this classic James Bond villain, the eyepatch is just there to look cool. Really, the Largo character in Ian Fleming's original novel doesn't have an eyepatch. The reason for it is never mentioned in the movie. But Largo's mono-ocular menace as SPECTRE's "Number 2" is the granddaddy of modern one-eyed villainy. It inspired memorable parodies by Robert Wagner and Rob Lowe as "Number 2" in the Austin Powers movies, where Dr. Evil forever branded the one-eyed bad guy character as "my cycloptic colleague."