16 Movies that Share the Same Title and Not Much Else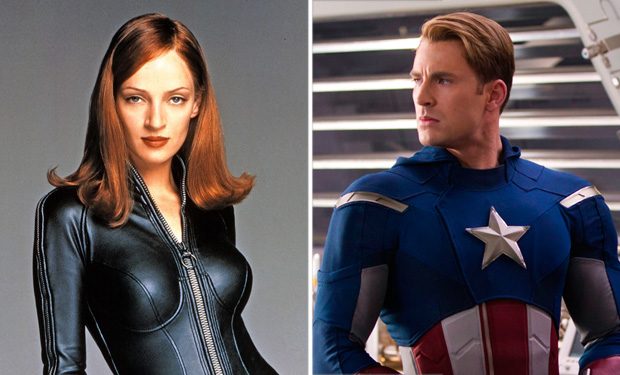 Posted by Jeff Finkle on
Every once in a while you will see a trailer for a movie whose name instills a sense of déjà vu because you've seen it before, even though the new movie isn't a reboot. This lazy film phenomenon doesn't happen often but when it does, usually the two movies have nothing in common. The movies below all share the same name and (spoiler alert!) Mr. Magoriam's Wonder Emporium is not on this list.
16. Hot Pursuit (1987) and 15. Hot Pursuit (2015)
Judging from the previews of the Reese Witherspoon/Sophia Vergara opposites forced together/buddy cop/chase movie Hot Pursuit, it looks they are trying to recreate the success of the movie The Heat with Sandra Bullock and Melissa McCarthy, except with more jokes about aging and feminine hygiene "lady business." (Definitely a project Witherspoon should have made a Midnight Run away from.)
Hot Pursuit shares the same name as a 1987 comedy starring John Cusack as a college student who misses a flight to join his girlfriend and her family on a Caribbean vacation. He spends the majority of the movie trying to catch up to them and, naturally, some '80s wackiness ensues. This movie actually has some funny moments and is noteworthy for Ben Stiller in a small role as a dumb, young bad guy way before his part in Dodgeball. Plus, it's got one crucial thing his year's Hot Pursuit lacks — Robert Loggia.
---
14. Bad Boys (1983) and 13. Bad Boys (1995)
Will Smith's career was just taking off when he teamed with Martin Lawrence in their version of Lethal Weapon, and the popularity of the movie with fans in 1996 earned them a prestigious MTV Movie Award nomination for Best On-Screen Duo (although they rightfully lost to the magic that was Farley Spade in Tommy Boy).
Years before the song "Parents Just Don't Understand" was even a dream in Will Smith's head, Bad Boys was an appropriately titled movie about tough teens trying to get through their stint in juvie. Sean Penn plays a bad boy who ends up ruling the roost in this classic cult movie, with the help of a pillow case full of soda cans.
---
12. The Avengers (1998) and 11. The Avengers (2012)
In 2012, Marvel Studios' The Avengers was the biggest blockbuster superhero movie of this century and the reason this post-aughts era will most likely be known in the future as "The Age of Ultron."
There was, however, another movie also named The Avengers that came out in 1998 and was based on the 1960s British spy series of the same name. Ralph Fiennes is definitely more dapper in a top hat than Mark Ruffalo is in stretchy jeans but Uma Thurman's skintight outfit is actually not that far off from Scarlett Johansen's Black Widow. But that's where the similarities end between the two movies. Unlike the Hulk-sized blockbuster that was Marvel's The Avengers, the 1998 film bombed big time, making only $48 million worldwide, a gross earning so low, Tony Stark would consider it chump change.
---
10. Kicking and Screaming (1995) and 9. Kicking and Screaming (2005)
Will Ferrell can usually do no wrong when it comes to all things funny, but surprisingly, even he couldn't bring too many laughs to 2005's Kicking and Screaming, where our favorite goofball was pitted against his hardass father as the two duke it out as pee-wee coaches to their kids' soccer teams. (Ferrell's father, played by Robert Duvall, has remarried and has a son the same age as his own grandson). Duvall's character shows all the warmth of The Great Santini (pun intended) and the kid-friendly movie is just as hard for adults to like. Although, there is something to be said about a movie that gives its funniest lines to Iron Mike Ditka.
While the title Kicking and Screaming is used very literally in the movie about soccer coaches fighting, it has a little more subtle meaning in the 1995 indie film that launched the directing career of Noah Baumbach. Over a decade before mumblecore became a thing, Baumbach put his stamp on the slacker indie film genre as Kicking and Screaming captured that feeling, you know the one, of finally graduating from college and then fighting like hell to stay there before life drags you off into adulthood.
---
8. Twilight (1998) and 7. Twilight (2008)
Everybody in the world knows the plot of the Twilight saga, so we won't bother rehashing that one. But there once was another Twilight film, a neo-noir detective thriller made in 1998 that didn't do well at the box office, as it was even slower-paced than the vampire Twilight. It was however packed with quite an impressive cast. Any film that stars Paul Newman, Susan Sarandon and Gene Hackman is at least worth a second look on cable one afternoon.
---
6. Project X (1987) and 5. Project X (2012)
Project X might seem like an odd title for a high school party movie, reason being that the title was actually a working title that stuck as it helped market this movie to the teen/college guy crowd, who helped it make a surprising amount of money. The events of the ultimate party unfold from the point of view of a video camera used by one of the partygoers. With its handheld, found footage look, Project X seems like it's going for a cross between The Blair Witch Project and Superbad. 
Never to be confused with 2012's Project X is 1987's Project X, a sci-fi drama in which Matthew Broderick is assigned to work on a top secret Air Force project that performs experiments on chimps. This Project X is more like Rise of the Planet of the Apes meets Silkwood than a teen party sex comedy. Plus, a highly communicative chimp was more believable at the time than Matthew Broderick as an Air Force pilot.
---
4. Rush (1991) and 3. Rush (2013)
2013's Rush is a Ron Howard-helmed drama that captures the non-stop action, macho rivalries and epic hairstyles of 1970s auto racing. Chris Hemsworth plays the cool British driver, James Hunt, with the long blonde hair and Daniel Bruhl is great as the Austrian rival, whose name most women will never remember since they came to see Chris Hemsworth.
There is another kind of rush besides adrenaline and in the 1991 film Rush, which also takes place in the '70s. Jennifer Jason Leigh and Jason Patric play cops who go way too deep undercover as they try and take down a local drug lord. The film contains some intense sequences and earned rave reviews for its depiction of drug addiction. (Jason Patric successfully hides his Lost Boys good looks under his Al Pacino-as- Serpico beard.) It's tough to say which Rush is the better film, but with Gregg Allman playing a Texas drug dealer, the real question is: how did the producers hold back from naming the 1991 Rush, "Whipping Post" instead?
2. Crash (1996) and 1. Crash (2004)
Perhaps the gold standard of movies that share the same title yet have absolutely nothing in common, this pair has likely caused much confusion in the home rental market. If one were to, say, watch 1998's Crash thinking they were getting the Oscar-winning Matt Dillon/Don Cheadle drama about race relations, they would instead get a twisted tale couples who take the phrase "autoerotic" quite literally.
Interestingly enough, both films proved to be controversial in their time. David Cronenberg's 1998 Crash drew controversy for its racy mix of sex and violent car crash imagery. (It forever became known as the movie where James Spader makes sweet love to Rosanna Arquette's leg scar.) Flash forward to 2004, when Paul Haggis' Crash becomes a surprise Best Picture winner, beating out the more critically-favored Brokeback Mountain. Both movies also feature scenes with cars. And that's about the extent of their similarities.