Milla Jovovich Kicks Ass in Funny or Die's 'Pippi Longstocking' Reboot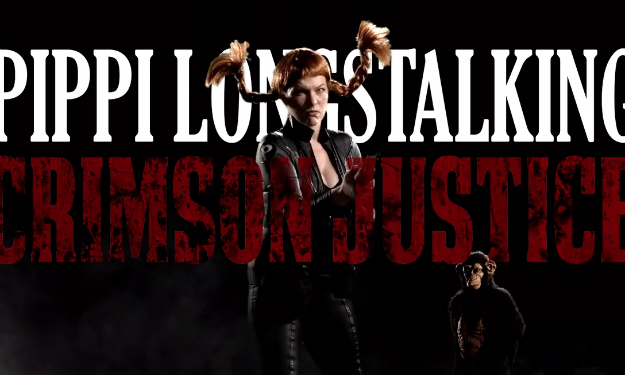 Posted by Nick Romano on
In case you didn't get the memo, superhero movies are all the rage. Between Marvel and DC, we're in an age where Hollywood is trying to make the most epic BLANK vs. BLANK movie of all time. But for some reason, no one has transformed Pippi Longstocking into the next big hero. If anyone can do it, it's Milla Jovovich. The zombie-fighting action starlet suited up as the freckled redhead with mismatched socks for a new Funny or Die sketch, and the most depressing moment of the entire video is realizing this is not an actual movie.
Producer Clint "brother of Ron" Howard's reasoning for an action-packed Pippi Longstocking movie is fairly sound. If Gremlins, Point Break, RoboCop, Mad Max, Terminator, Spider-Man, Escape From New York, Big Trouble In Little China and every other film and concept from pop culture history can all be rebooted, why can't Pippi? She's the hero we might all be waiting for.
Unfortunately for Howard, the idea was just too provocative for the Hollywood execs, which is crazy when you think about how Snow White became a soldier in Snow White and the Huntsman and Frankenstein's monster became a demon-fighting vigilante. But, in their defense, a love interest by the name of Assius who can fire lightning bolts out his dung hole is not the easiest character to digest. The moral of the story, though, is that it just takes the right person to sell it, as we see when Ed Begley Jr. gets his hands on the material.
Pippi is basically the Joe Dirt of superhero movies and is probably a major cash cow. Although, we discovered with Ant-Man that not all heroes are created equal; the C-list comic book character earned Marvel its lowest opening weekend numbers since 2008, even though it still earned the top spot at the box office. Perhaps they need a touch of James Gunn. If that guy can make a talking raccoon lovable, then why not Pippi and her comrade with lightning farts?